Graduating from Adversity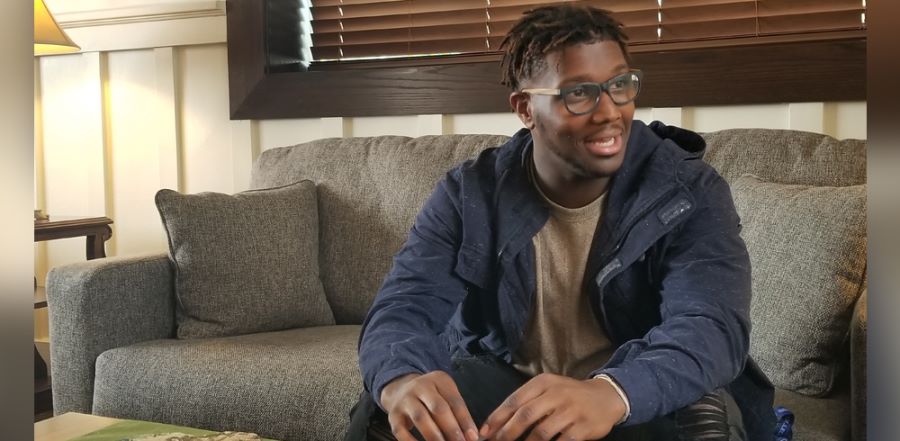 Don't miss any stories. Follow AG News!
ELLENDALE, North Dakota — David Steeves had an inauspicious beginning in life. His Nigerian immigrant father met his mother, fleeing civil war in Ethiopia, in a refugee camp in Istanbul.
At the age of 6, Steeves fled with his mother, Janet, to Winnipeg, Canada. The marriage didn't last, and Steeves hasn't seen his father for 15 years. But his mother found protection in Jesus in the refugee camp and instilled faith in her only child. Steeves calls his mother, now a nurse's assistant, a prayer warrior.
Steeves, 21, is a pastoral studies major in his final year at
Trinity Bible College
, the small Assemblies of God school in remote Ellendale, North Dakota.
However, the transition to a remote, overwhelmingly white American school proved a culture shock for the African-Canadian immigrant. He didn't pay attention to his studies the first year.
"It can be lonely here if you don't make an effort to engage in conversations," says Steeves, who admittedly connected only with the few people who looked like him his freshman year.
But in his second year, Steeves sought widespread friendships and made first team All American as a Trinity Lions football player.
"Jesus was a people person," Steeves says. "He didn't do ministry with only white people or only black people. I don't want to set up roadblocks because of the way people look."
Yet his junior year proved toughest of all. His girlfriend, Amelia Speltz, died in a vehicular wreck in March on the heels of returning from a Trinity missions trip to Egypt. Trinity students and professors rallied to his side to comfort him.
"Over the summer I had to learn how to really submit to God, how to let Him be my Father," Steeves says. "At the end of the day, God is in control."
Rick Wadholm Jr.
, associate professor of biblical and theological studies, has taught Steeves in half a dozen classes over the years. Wadholm says he has seen Steeves discover his identity, take responsibility for his actions, grow in communication skills, and overcome adversity.
"He persists through the brokenness," says Wadholm, who, with his wife, Jenn, has four children. "We've shed plenty of tears together. He feels like part of my family."
Wadholm
says when churches or other ministries are looking for a speaker, he won't hesitate to recommend Steeves once he graduates.
"It's hard for me to imagine limitations for him," Wadholm says. "He's going to have a global impact."
Eric Slivoskey
, the Trinity Lions football coach the past two seasons, says Steeves, who stands 5 feet 11 inches and weighs 215 pounds, has worked hard in the weight room to reshape his body to become a stronger football player.
"On the field, that translates into more explosiveness and power," Slivoskey says. "He is a physical player. He impacts a game."
Steeves primarily is an inside linebacker. He has led the defense in tackles in a majority of games this season, averaging around a dozen per game. Yet he also plays on around 60 percent of the snaps on offense, often blocking as a fullback. With a student body of only 268, Trinity has just 28 players on its football roster — less than a third of most of the schools it is playing. Last season, Steeves set a Trinity Lions single game record for tackles for loss (6) as well as the school record for season tackles for loss (16) — a mark he equaled Sept. 29 this season.
"Primarily he's a defensive stopper for us," says Slivoskey, whose team is 4-4 this season. "He's the heart and soul of our defense."
Steeves says he welcomes Slivoskey's competitiveness as a coach, but he really appreciates his care for him as a person.
"He makes sure the men on his team are men of integrity," Steeves says.
Slivoskey finds Steeves to be personable, encouraging, humorous, and magnetic.
"He's not afraid to challenge people during practice," Slivoskey says. "He doesn't shy away from saying what needs to be said. He has great natural leadership abilities."
Citing his young player's intangible qualities, Slivoskey believes Steeves has a shot at making the Canadian Football League. Scouts have inquired about him.
Whether his future is playing in the Canadian Football League or serving on a church staff, Steeves says he will focus on being a witness for Christ.
"Being a disciple is more important than playing football," Steeves says. "I want people to be in true relationship with God. Our intended life is to be with the Father. People shouldn't miss out."