Gratitude for Chaplains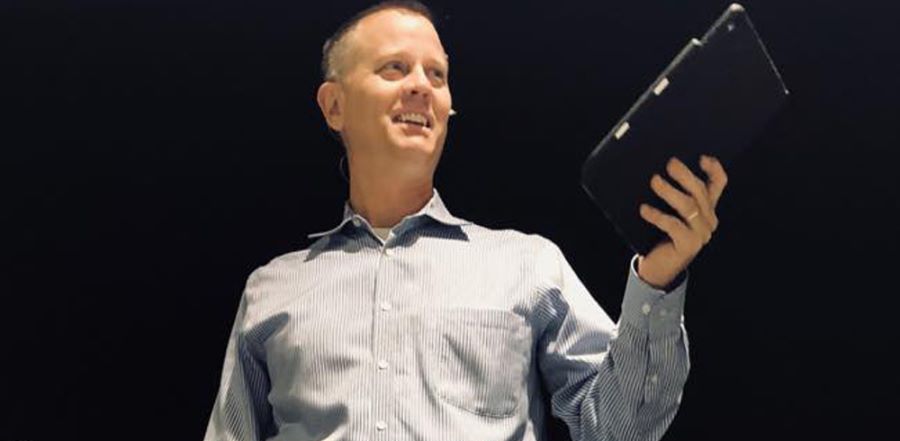 Don't miss any stories. Follow AG News!
Pastor Ted L. Cederblom says his love for the nation's military and its chaplains may have begun as early as infancy, when U.S. Marines rescued his missionary family from the midst of a war zone.
Born in the Dominican Republic to missionary parents Larry and Dorothy Cederblom, he was barely a year old in 1965, when a military coup threw the Caribbean island nation into a four-month civil war. Chaos ensued, with foreigners — especially Americans — being targeted by guerrillas.
"We were evacuated by helicopter out to a troop ship and then went on to Puerto Rico and finally by plane to the United States," says Cederblom, 54. "So, in a very real way, our military saved my family and me."
Larry and Dorothy Cederblom went on to missionary work in Panama. Contacts with, and respect for, G.I.s and their families were a big part of Ted's upbringing.
"Some of my best friends were so-called 'military brats' who lived on the American bases in the Canal Zone," says Cederblom, today pastor of the Springfield, Missouri-based seven-campus Life360 Church. "That, and the way the military protected us while we were there, gave me a great sense of the value of our military personnel."
So, it may not be too surprising when, eight years ago, the pastor of the 900-strong Life360 dedicated the congregation — already regularly feting and financially blessing candidates from Assemblies of God Theological Seminary — to helping would-be chaplains fulfill the military's requirement of serving two years in formal ministry before taking on their spiritual roles in the armed forces. Four have completed the program. Life360 also tailors the experience to individual candidates, utilizing the "Basecamp" software suite.
"We have our military chaplains program set up specific to each candidate," says Cederblom. "They follow and track their progress, making weekly entries about the different tasks they need to accomplish, online. This (program) helps us make the experience more than relational, giving structure to each person as they identify and keep focused on their targets."
U.S. Army Capt. Peter K. Pyo, a 2016 AGTS Master of Divinity graduate, focused first on leading worship at Life360. He then completed gathering his preaching and other prerequisite pastoral experience at the fellowship's Fairbanks campus and then Jefferson City Assembly of God.
Since November 2017, Pyo, 29, has served as chaplain for 2nd Battalion, 27th Infantry Regiment "Wolfhounds" in the 25th Infantry Division's 3rd Brigade Combat Team, stationed at Schofield Barracks at O'ahu, Hawaii. He is following in the footsteps of his father, Lt. Col. Kwon Pyo, who served 24 years as an Army chaplain.
"I love my ministry in the Army," says Pyo, a U.S. Missions chaplain. "I am a pastor and counselor and religion 'subject matter expert' for 700 soldiers and their families." Pyo also serves as associate pastor at the Wheeler Army Airfield Chapel, leading worship, preaching and providing pastoral care for 100 congregants. When warriors go on field training or combat operations, the chaplain is with them, helping raise morale, encouraging faith, and providing an understanding ear under tense conditions.
"We constantly train for war, to defend our nation and our allies," Pyo says. "That means structuring everything I do in ministry around future combat operations." It might include holding a wounded soldier's hand and praying to get right with God before meeting his or her Maker.
"It's a sacred bond of trust, caring for the souls of men and women whose job involves life and death," Pyo says.
For U.S. Army 2nd Lt. Chris VanNatta, 35, who recently began Life360's ministerial experience program, chaplaincy marks a change in a military career already 14 years in the making. As an active duty U.S. Army criminal investigation special agent, VanNatta assisted investigations.
"Now I want to help others through holy investments," says VanNatta, who is raising three boys, ages 7, 10 and 14, with his wife, Megan. VanNatta, a reservist, completed the Army's basic officer chaplaincy training in December 2018. He is juggling classes at AGTS — aimed at a Master of Divinity degree by 2021 — while gathering the needed pastoral experience at Life360. That latter process has just begun, but VanNatta says he is looking forward to working with Cederblom and other staff at the Chesterfield campus.
"Everything that I learn during this time I know God will use to glorify Him in the future, as a U.S. Army chaplain," VanNatta says. "Having the faith to step out and do what God has planned for one's life is the first step in the right direction."
Life360 also has a history of helping missionary candidates reach the field.