Holy Spirit Is Welcome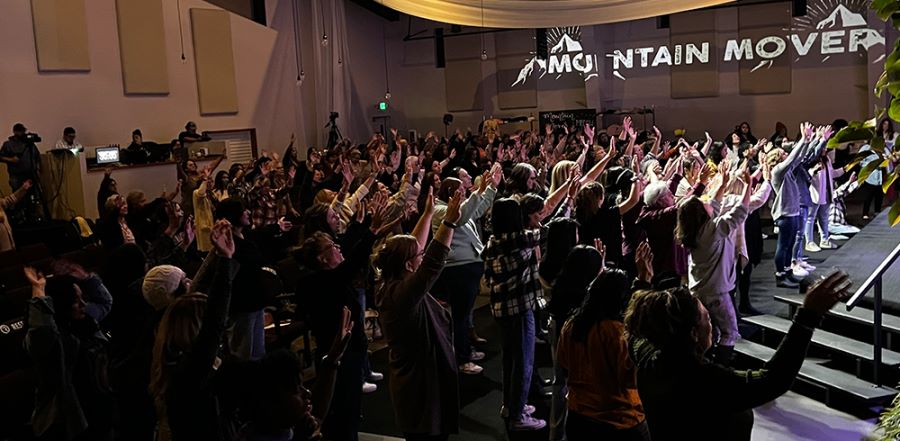 Don't miss any stories. Follow AG News!
Mike Alvarado
, pastor of
Restore City Church
in Moses Lake, Washington, came to a place in 2020 where he wondered if his time as a pastor had run its course.
"I went through a funk and didn't know if God still wanted to use me," says the third-generation Hispanic Assemblies of God minister. "We had a little staff gathering and God really spoke to me and said,
Mike, I'm not done with you. You need to hold on
."
Alvarado obeyed, but the pathway proved rough. "We didn't know exactly how it would be," he says.
Fast-forward to 2023 and Restore City Church (formerly
Sendero Life Center
) has grown 50% from its pre-COVID-19 numbers, now drawing nearly 900 people to three Sunday morning services. More importantly, the Holy Spirit is moving powerfully.
"We make a concerted effort to welcome the Holy Spirit in our services," says Alvarado, 48. "People are getting healed and saved. People say they come to our church because of the presence of God."
One hundred people have come to know the Lord at the church already this year, and many stream forward during worship times on Sunday mornings to receive prayer for help and healing. Leaders encourage the practice of the gifts of the Spirit in all services.
"You're going to hear speaking in tongues, words of knowledge, interpretation of tongues," Alvarado says. "The day I stop allowing that in our services is the day I need to step away from ministry."
The church also welcomes prophetic ministry with accountability, meaning that trusted people are allowed to share a word from the Lord at the microphone after getting Alvarado's approval.
Jesse Regalado, 59, and wife Olivia, 33, have experienced personal transformation at Restore Church. The couple decided in 2020 to look for a local place to worship.
"We felt we needed to start connecting with people," Olivia says. "Sitting at home wasn't working for us."
A friend invited them to Restore City.
"When we first walked in, God's presence was truly overwhelming to both of us," says Jesse, his voice cracking with emotion.
Olivia says she had held onto much bitterness since youth.
"I would sit there and cry every week, it was so intense," she recalls. "After a while, I gave it all to Jesus. The peace and love we have now is amazing."
The couple bought Bibles and look forward each week to Wednesday night Bible study and Sunday morning service. Olivia, with her doctor's agreement, stopped taking the antidepressants she had been on for 15 years.
"Coming to church has changed my life 180 degrees," she says. "What I really needed was God and the Holy Spirit. He's our healer, and He healed me from the depression and anxiety."
Jesse says he is pleased that "God's Word is preached unapologetically, spoken with sincere love from the pulpit."
Restore City draws an unusually diverse group of people, with regular attendees from at least 16 different countries including Nigeria, Australia, Samoa, South Korea, and nations in South America. Lately, the church has experienced an influx of Ukrainian refugees.
"Where we live there is a big Slavic population," Vaughn says. "Young people and their grandparents are finding our church and coming. They're using Google Translate."
Some Ukrainians have joined the worship team. Alvarado notes that it's uncommon for a Hispanic church to be so multiethnic.
Restore City
added a campus
65 miles away in Pasco, which today draws 70 people per week. Both campuses emphasize ministry to families, such as marriage counseling and parenting classes.