Lighting the Arctic Darkness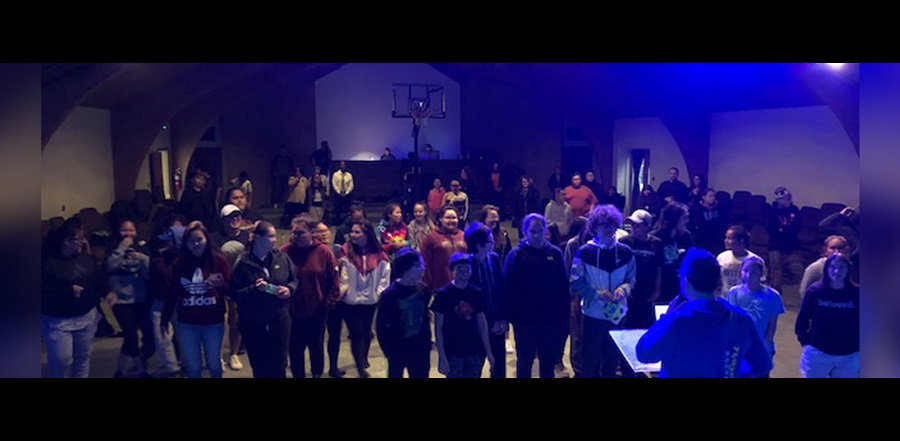 Don't miss any stories. Follow AG News!
Despite 65 sunless days from mid-November through the end of January, not to mention frostbiting subzero temperatures, the gospel's light warms Utqiaġvik, Alaska, home to the northernmost Assemblies of God church in the U.S.
"We emphasize the work of the Holy Spirit that ignites a hunger for more of God," says Gene O. Markle Jr., lead pastor of Iñupiat Assembly of God (IAG). "A lot of our young people are getting filled with the Holy Spirit and finding new joy in their lives."
Utqiaġvik, formerly known as Barrow, sits on the frozen tundra at the edge of the Alaska North Slope on the Arctic Ocean. The average high temperature in February is 8 degrees below zero, with the average low dipping to 20 below. The Iñupiat, an Inuit ethnic group, have settled there for many centuries. They account for about 70 percent of the remote town's 4,300 residents. Many rely on subsistence living as they hunt caribou, walrus, whale, and fish. Normal supermarket food is expensive. A gallon of milk costs $9.49 and bananas are $2.84 per pound.
Christianity in the region dates back to the late 1800s, when missionaries shadowed Yankee whaling fleets. Beyond that, a revival swept the area in the 1950s, resulting in the planting of a mission congregation, which eventually became a General Council AG church in 1990. Markle, a native Alaskan, and his wife, Rochelle, have served AG churches in the 49th state for 27 years.
IAG, with 65 congregants, is one of five evangelical churches in Utqiaġvik. More than half of the locals are practicing Christians. Other residents hold to animism and shamanism beliefs.
The close-knit community shares both happy and sad events. Families gather in churches on Thanksgiving and Christmas for a traditional meal. Prayer and gratitude to God, hugs, and laughter open the feast. Each family receives a share of muktuk, a delicacy of frozen whale skin and blubber, and whale meat. The elders receive white fish. Partnering with whaling crews, IAG served 175 people on Thanksgiving.
Recently the community joined together to comfort families who lost two men at sea. A rogue wave overturned a vessel towing a massive bowhead whale to shore, trapping the captain and a crew member underwater in the wheelhouse cabin.
"We show concern and God's love so people can see the gospel lived out," Markle says.
IAG stresses youth ministries led by Brendan Hollis, associate pastor.
"Middle and high school students are finding Christ as Savior and having a huge impact on the community," Hollis says. "They are excited for the things of God and hanging out during the school lunch hour talking about Jesus to their friends."
In the past 18 months a sovereign move of God has impacted students contemplating suicide or self-harm due to severe bullying. Many have found emotional healing and peace in Christ during summer camp and Wednesday evening youth services. When he addresses students, Hollis gives space for the Holy Spirit. He stays quiet with no music, asking students to listen to the voice of God.
"These are special moments with much weeping," he says.
The Markles have adapted well to the harsh weather conditions of Alaska's North Slope and the culture of the Iñupiat people.
"We have found experienced people who have enduring faith and believe God can do anything," Markle says.