New Life in Rural Wisconsin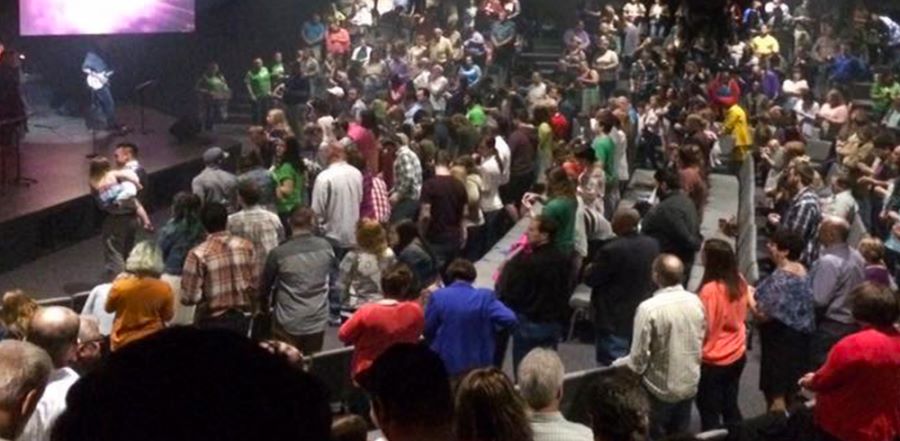 Don't miss any stories. Follow AG News!
Aaron J. Hubert, pastor of New Life Church in Peshtigo, Wisconsin, doesn't think a church needs to be in a metropolitan area to make a big impact. New Life is living proof.
New Life is located a little under an hour north of Green Bay. The church draws around 700 people to two campuses each weekend — in a town of only 3,400 people. Hubert and his wife, Bobbi, planted the church in 2007. He says the Lord called him back to his hometown of Peshtigo as a newlywed, when he served on the staff of Bethany Community Church in Mendon, Massachusetts.
"I dreamt about this movie theater that was full and I was the pastor," recalls Hubert, 38. "I was welcoming people."
Over the next few months, the Huberts prayed about returning to rural Wisconsin and sensed God prompting them to take a step of faith. Back in the Badger State they started a church in a living room with a borrowed video projector and four families. In a few months, the growing gathering moved to a local elementary school — the one Hubert attended as a boy.
"We grew in the grade school gym to about 100, then we approached the movie theater that I dreamt about," Hubert says. The theater owner accepted an offer of $100 a week to rent the facility. Once attendance hit 250, the church shifted to a high school. In the midst of the growth and transitions, Trinity Assembly of God — a church that had dwindled to 10 attendees in Crivitz, about 30 miles away — approached Hubert.
New Life agreed to unite with the church in that community of under 1,000 residents, invest in the building's renovation, and make it a satellite campus. That congregation now draws about 170 people on Sundays. New Life went multisite while still searching for a permanent home in Peshtigo after 10 years.
"Being mobile for that long has its own challenges, but it also has its own blessings," Hubert says.
In a region of factories and blue-collar workers, New Life is connecting with residents looking for a family atmosphere. The church also gets outside the four walls with no-strings-attached community service involving local schools, such as paying for meals, clothes, and school supplies for low-income kids. Hubert, who is chaplain for the local police department, also oversaw a church project to help raise money for a K9 unit.
Gary Rietz is one of the people impacted by New Life. Rietz, an Iraqi War veteran, says combat injuries led him down a dark path.
"For 10 years I was in and out of the hospital for various surgeries, riding a roller-coaster of pain pills," Rietz says. That journey led him to heroin addiction, and ultimately prison. He joined a Bible study when incarcerated and started his walk with Jesus. When released a little more than six months ago, he began attending New Life.
"I have never been to a church that is so caring and accepting of everyone who walks in the door," says Rietz, who was water baptized on March 18. "I proclaimed before my church family and God that I will walk with Him."
More than once, New Life has welcomed Sunday morning attendees who spent Saturday in jail.
New Life finally has moved into a permanent facility, a former Harley Davidson dealership once located in an industrial zone.