Optimism in the Midst of Addiction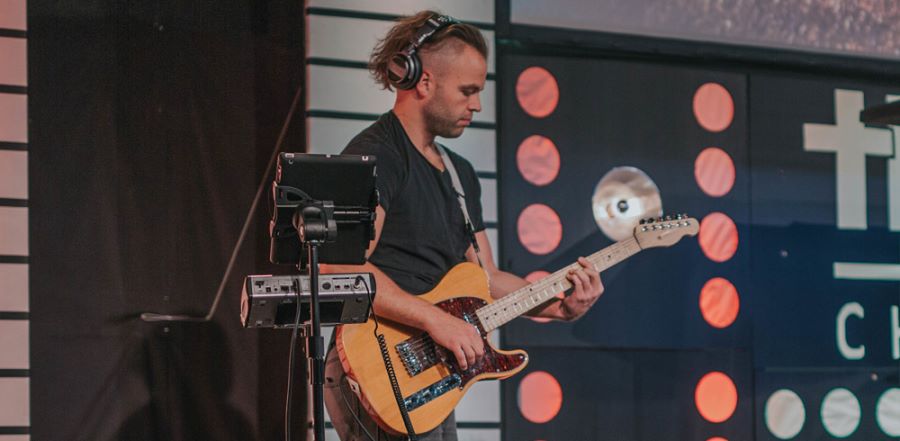 Don't miss any stories. Follow AG News!
When Eddie Pinter stepped into Hope Church in La Grange, Illinois, more than four years ago, it changed his life in a way that years of rehabilitation programs could not.
By age 26, Pinter had spent a dozen years battling drug and alcohol addiction. But one night, lying in a dark alley after taking cocaine, he decided he'd had enough. Looking for a way out, he took the advice of his stepmother and decided to give the church's Celebrate Recovery group a shot.
Pinter has been clean since November 2014. He plays guitar on the church's worship team and serves as a group leader for the church's Celebrate Recovery program, where he hopes to use his testimony to inspire others on their own journeys out of addiction.
"When I tell people my story, they don't believe me," says Pinter, now 30. "Even the way I look, it's a complete transformation by the hand of God."
In his early teen years in Woodridge, Illinois, Pinter began hanging out with the wrong crowds, drinking alcohol and smoking marijuana. He got into trouble at school and first went into in a rehab program at 16. It didn't work.
Pinter began experimenting with other drugs, which led to stints in other recovery programs and time in jail.
When Mary Ann Pinter — who as a single mom had raised him — died in June 2013, Pinter spiraled harder into his addiction to cope with the grief.
In his mid-20s, Pinter began using cocaine heavily. He reached his lowest point behind a garage in a dark alleyway, taking drugs by himself and veering toward the brink of death.
He then found a card that his stepmother, Cheryl, who attended Hope Church, had slipped him with information for the church's Celebrate Recovery group, a Bible-based program for people struggling with addiction. The moment he walked into his first meeting at the church, something seemed different.
"I remember feeling this peace and ease I'd never felt before, like this is where I'm supposed to be," Pinter says.
Pinter says earlier programs had acknowledged the need to draw strength from a "higher power." While fellow enrollees nature or their own made-up ideas for motivation, nothing resonated with Pinter. As he began attending church and committed his life to Christ, he says something finally clicked.
"It pulled out that root and let God fill that space," he says. "I had tried to fill it with worldly stuff all my life, but that obviously never did the job."
Celebrate Recovery ministry leader Bruce Stefancich says Pinter came in determined to get clean and progressed quickly through the steps of the program.
"It's almost a complete 180-degree turn," Stefancich says. "God worked right in front of our eyes."
As he progressed through recovery, Pinter picked up a guitar that had been lying in his closet and began teaching himself chords. He caught on quickly and joined the church worship team. He also helps lead worship at Celebrate Recovery meetings.
Last year, the church featured Pinter's testimony in a video during its Easter service. Dawn Kooistra, wife of Hope Church lead pastor Hal Kooistra, says God is able to use the mess Pinter went through to help others.
"There's nothing lost in his story," she says.
Pinter now manages a local Starbucks. As a Celebrate Recovery group leader, he hopes to help others to find the same strength he did four years ago.
"There have been multiple times throughout my life that I should've died, that I should've just been another statistic," he says. "But God's always been there. And now I see that."