Overall Turnaround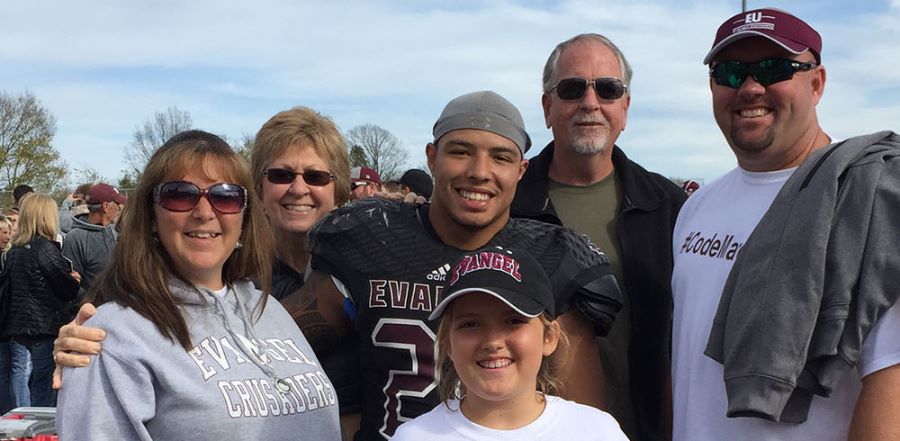 Don't miss any stories. Follow AG News!
Devon Overall was 6 the night his father's mugshot appeared on the evening news.
He remembers sitting by the television next to his grandfather, shocked as he recognized the face pictured with three others on the screen. The four suspects faced charges connected to several bank robberies in St. Louis County, Missouri.
"I stood up and I was like, what's going on?" Overall remembers. "My grandfather was trying to turn the TV off and fumbling with the remote."
Overall's father, later convicted, would serve the next 15 years in prison.
It marked the second time Overall lost a parent. His mother was murdered when he was 2 years old, too young to remember. He never called anyone mom.
But Overall didn't let those early setbacks define him.
In May, Overall, 22, graduated from Evangel University in Springfield, Missouri, with a degree in business management and marketing, following a standout football career. He's now living in Gulf Breeze, Florida, working as an independent operator at Emerald Coast Snacks.
Looking back, he says he can see the footprints of God walking through his life, even in the dark times.
"Everything in life happens for a sure reason," Overall says. "You have to make the best of what it is."
For 10 years following his father's arrest, Overall and his half-brother stayed with their grandfather and his wife on the east side of St. Louis. They later moved to Monett, a small southwest Missouri town.
There, his grandfather regularly took the family to a nearby Baptist church on Sundays. However, some of the more than a dozen people rooming in the house abused drugs. That made living conditions tense. Overall found refuge with his friends and teammates.
"If it hadn't been for football and wrestling coaches and my buddies on the team, I don't know if I would have graduated," he says.
His sophomore year, a neighbor couple, Jason and Andrea Huff, befriended Overall. They hired him for yard work and began attending his football games.
As tensions grew at home, Overall gathered the courage to ask the Huffs if he could move in with them. They accepted, and the state granted them custody in 2012.
For the first time since being a toddler, Overall had a mom and a dad.
Overall attended Evangel to play football as a walk-on. He was voted a team captain three of his four years and received all-conference honors at linebacker his final two.
Brenton Illum, the Crusaders' head coach during his first three years, admired Overall's leadership.
"There's nobody that I have a higher opinion of as an individual than Devon Overall," Illum says. "From a character standpoint, from a work ethic standpoint, from a loyalty standpoint, he's one-of-a-kind."
Along with football, Overall volunteered with the Springfield Boys and Girls Club. He says his professors and coaches helped him grow.
Bernie Dana, a business professor who served as Overall's adviser, says Overall's dedication impressed him.
"There's just a determination about him," Dana says. "He sets his mind on something and goes after it."
Following graduation, Overall moved to Florida. He now lives near the Huffs and has some contact with his biological father, released from prison 2 years ago.
Today, Overall says his background drives him to encourage others that God is in control, no matter what.
"If today is your worst day ever, tomorrow is going to be better," Overall says.