Pastor Answers Burning Call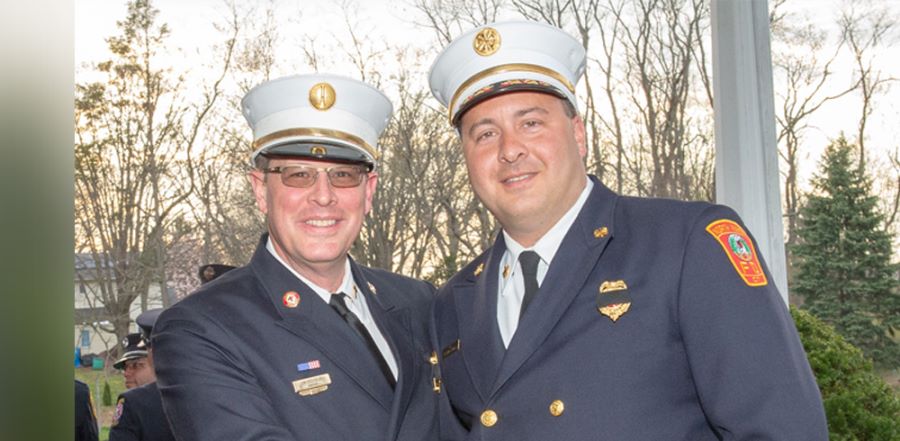 Don't miss any stories. Follow AG News!
After becoming acquainted with a couple of firefighters who attended
Hope Christian Church
, lead pastor Jim S. Detweiler took steps to initiate an annual firefighter appreciation day in North Haven, Connecticut.
That led Detweiler to wonder what else he might do for the
department
. In 2012, Detweiler became first fire department chaplain in the community of 24,000. The department has 32 full-time personnel and around 65 volunteers.
Detweiler completed specific courses, including 12 weeks of Federal Emergency Management Agency training for Community Emergency Response Team certification to assist fire and police personnel in disasters. Although a volunteer, he is on call around the clock — while continuing to pastor Hope Christian Church. Detweiler, an energetic and youthful-looking 57, became an endorsed chaplain with
Chaplaincy Ministries
in 2014. Chaplaincy Ministries is a department of U.S. Missions.
As chaplain Detweiler has defined the job description. He hasn't shied away from
a multitude of duties
, such as responding to structure fires, counseling department employees and their families, working as a liaison with the Red Cross to find housing for those whose residences have burned, and delivering death notifications to relatives of fatal fire victims.
Now five firefighters attend Hope Christian. Several on the department remain unchurched, however, and that prompted Detweiler, with Fire Chief Paul M. Januszewski's consent, to begin a monthly Bible study for first responders at the main firehouse. Eight attend regularly.
"The chief has been an encourager," Detweiler says. "He has expanded my role and found ways to develop more for me to do."
Januszewski says Detweiler's background as associate pastor of
Seaport Community Church
in Groton correlates well with the fire department's milieu. More than 40 percent of the Seaport attendees are part of a
Naval base
in Groton, and while there Detweiler helped train lay leaders on submarines, discipled military members, and counseled couples.
"Jim has created a bond with multiple members of the department," says Januszewski, 38. The chief says he has no qualms about asking Detweiler to meet with firefighters who may be struggling emotionally after seeing someone hurt or killed in a blaze. Detweiler also fills the same role for residents who have lost property or loved ones in a conflagration.
"Often when first responders are hands on trying to mitigate the hazards at a scene, the family is forgotten," Januszewski says. "Jim serves as a liaison to the family, not just at the scene, but for several weeks afterward."
Detweiler credits his wife, Sharon, with helping him stay grounded.
Sharon
is church administrator at Hope Christian. They have two adult sons, Nathan and Joshua, who is campus pastor at Morning Star Fellowship in Pottstown, Pennsylvania.
"The biggest challenge is the time commitment," says Detweiler, a graduate of
Northpoint Bible College
. "But being both a pastor and missionary in the community opens many doors. Churches have to be missional. Chaplaincy has given me the vehicle to get out into the community."