Pray for Sri Lanka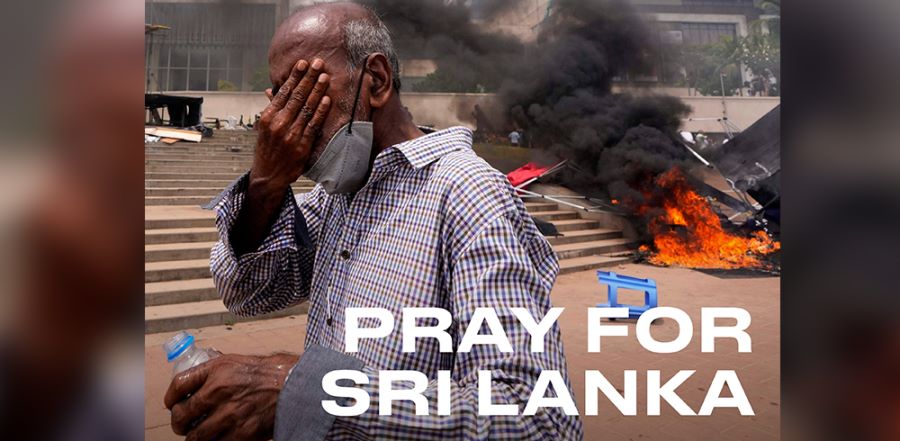 Don't miss any stories. Follow AG News!
On May 10, 2022, the United Nations Human Rights Office (OHCHR) reported seven deaths in the city of Colombo amid unbridled attacks that have spread throughout the country of Sri Lanka. The country's economic crisis has resulted in the outcry of its people, with escalated violence killing several, including a parliament member and two local officials. Hundreds have also been injured and property destroyed as many have taken to the streets, targeting the property of political figures including Mahinda Rajapaksa, who has stepped down as prime minister.
The island nation, located off the southeast coast of India, remains in a current state of lockdown as a result, limiting civilians to one meal a day. Power cuts continue to take place across the island and very limited fuel is available. "While in a discussion with the former president and two members of parliament I was made aware how desperate the food situation is in Sri Lanka," writes the superintendent of the Assemblies of God in Sri Lanka. "Three times during the conversation the former president mentioned that there are hundreds of thousands of Sri Lankans just living off a single meal currently."
Sri Lanka continues to adjust curfew times in response to current events. They seek to allow citizens to leave their homes for food and other necessities. The president has brought back a former prime minister to bring stability to the country. The most recent Prime Minister and several members of parliament are being held in secure locations with some on military installations; the Sri Lanka High Court has forbidden their request to leave the country until there is a complete investigation into Monday's events.
In the midst of this crisis, please continue in prayer for those suffering due to hunger, increased violence, and a lack of resources. AG World Missions is raising funds to help assist Sri Lankans amid the food scarcity taking place. The funds will aid in the distribution of food to those in need while serving as an evangelistic effort for the local church, reaching church members as well as community members. The goal is for every pack that is distributed to an identified church member, a second pack is provided to a community member, extending the hand and heart of Jesus to those in need. To give to the Sri Lanka relief and outreach effort,
click here
.