Re-Fired, Not Retired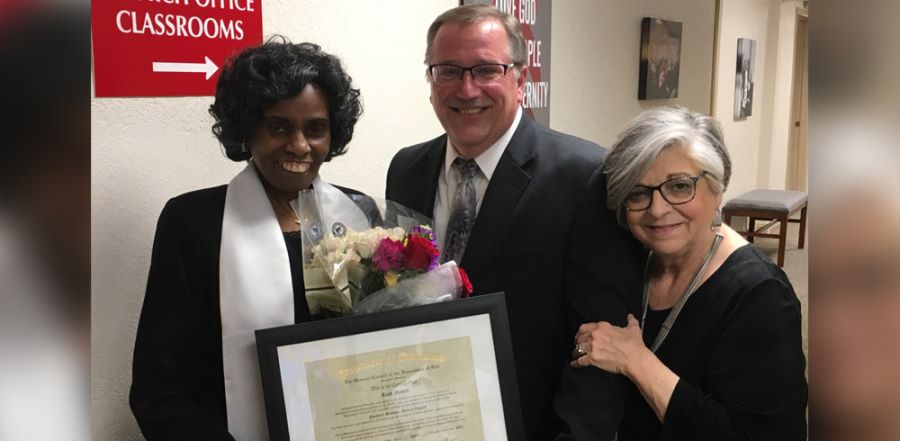 Don't miss any stories. Follow AG News!
At 77 years old, Ruth Myvett is thriving in her ministry and believes that she has not been called to be retired but re-fired.
After her salvation at 12 years of age, Myvett knew that God had a unique call on her life and had gifted her in the area of teaching. At 16, she started teaching Sunday school in her local church and continued to serve until she went to Bible college in Chicago, Illinois.
Although she had not known about the Assemblies of God before starting college, while attending university, she started going to an AG Church, Southside Tabernacle, in Chicago, Illinois. While there, Myvett met her husband with whom she would share her life and her ministry for the next 35 years.
Ten years into her marriage, after doing youth ministry with her husband, Myvett started the credentialing process through the Assemblies of God and obtained her certification in 1984. Despite being fully dedicated to the ministry, she states this is when "life happened."
Beginning in 1990, Myvett would face a 15-year stretch of intense health battles which included lupus, scleroderma, fibromyalgia, diabetes induced blindness, and serious blood clots. Additionally, other life circumstances affected her marriage and caused her to let her credentials lapse. She stayed out of ministry for many years. Seven years into her illnesses, she states that God gave her a vision in which He encouraged her to continue speaking life, just as she had done when in the prime of her ministry. "Although I really didn't have the energy, I continued to speak over and minister to myself and others and that is when my healing began," she says. Although it took several more years for Myvett to return to complete health, she remained steadfast in her faith and in prayer and eventually found herself on the other side of every single illness that she had battled.
"This is when I knew I had been re-fired for God," she says.
As Myvett got back on her feet, she found herself moving to Missouri to be near her son. While settling into the Kansas City area, Myvett began attending Bethel Church in Liberty, Missouri.
Having only been at the church for a year, Bethel Church's senior pastor, Les W. Clark, states that he came to the church with a desire to steward people in their callings and their giftings. "When Ruth came," he says, "I told her that I really thought she was supposed to use her giftings to shepherd the people around her."
Myvett began to reflect on Clark's words and eventually felt that God was calling her to be a pastor to those in her retirement complex. As she and Clark journeyed down the path of starting the church, Myvett met with building administrators who granted her permission to hold services on Sunday afternoons.
Services were an instant success but soon came to a complete halt due to the COVID-19 pandemic. Although they could no longer meet in person, Myvett was determined to continue ministering to those to whom she had been called. "That's when she started doing call-in church," says Clark. Call-in church, a term Myvett used to describe her new method of ministry, was a conference call during which people could phone in and still hear the gospel each week. "She did this for two whole years until she could re-open her in person services," Clark says.
Today, Myvett continues to pastor her complex's church, is serving her third term as an elder of Bethel Church, leads a Bible study on Wednesday evenings, and receives invitations to preach both at Bethel and in the community. Clark recalls telling Myvett that God is restoring everything the enemy tried to steal from her all those years ago.
Myvett has continued to advance her ministry and at 74 years old, in April of 2021, became fully ordained by the Northern Missouri District of the Assemblies of God. Her ordination journey is one which Clark says he was able to walk with her and was honored to be the one who prayed over her at her ordination service.
"My whole life feels like a dream because I know I am right in the middle of God's will for my life," she says. Myvett's prayer is for everyone to experience the blessing of God and His "re-firing" in their life no matter their age or current circumstance.