Rekindling a Son's Dormant Love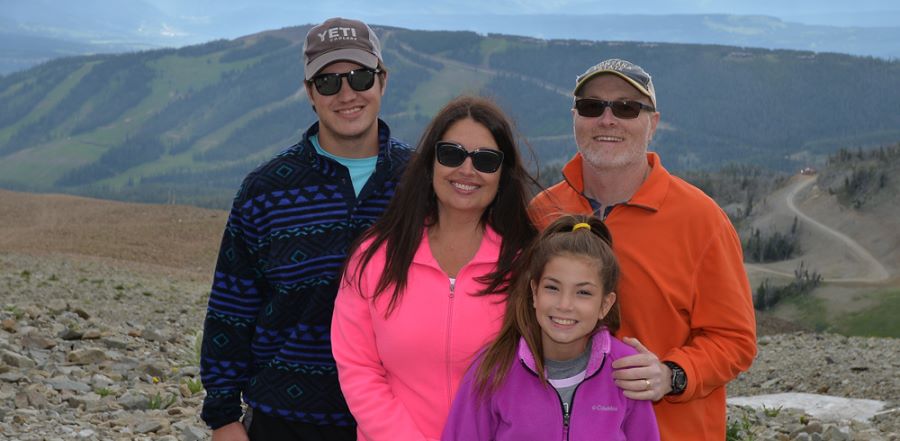 Don't miss any stories. Follow AG News!
Adults admired high school student Kye Johnson. The compliant youth earned straight A's in school, never missed services at the Baptist church his family attended, and behaved like a model citizen to his parents, Matt and Karla Johnson of Sulphur Springs, Texas.
But just before his junior year started in 2014, Matt and Karla noticed drastic deviations in their only son's normally placid behavior.
Kye can't pinpoint where his life went off the rails. The divorce of his grandparents impacted him, as did the influence of his girlfriend, whose parents saw nothing wrong with their sexual activity. In any case, instead of studying and making good grades, drinking alcohol and abusing drugs became a pattern for the 17-year-old boy.
Moreover, Kye experienced a personality change. His sullen moods intimidated the rest of the family, including 8-year-old sister, Alaina.
"He constantly said he hated us and he wished we were dead," recalls Karla, who at 5 feet, 5 inches is half a foot shorter than her son.
After Kye punched holes in the home's plasterboard walls and tore framed family photos in half, Matt and Karla brought Alaina into their bedroom at night.
"The three of us slept in the same room with the door locked," Karla says. "We didn't know what Kye might do."
Frantically, Matt and Karla searched the internet for a solution and came upon
Teen Challenge Adventure Ranch
near Morrow, Arkansas. The facility appealed to Matt because of its faith-based recovery program, relatively close proximity to the family's home,
outdoor adventure emphasis
, and the fact that Kye would have his own dorm room (with reinforced walls that no student has ever damaged with a fist or a foot).
Instead of Kye returning to school, the Johnsons sent their son to
Teen Challenge
, a department of U.S. Missions. En route, an angry Kye destroyed a visor and damaged the glove compartment of the family's Toyota Tundra. Upon arrival, an emotionless Kye went off with a staff member without speaking to his parents.
"I was so angry to be there," Kye says. "I hated it. I wouldn't talk to my parents."
Darren J. Reynolds
, executive director of
Adventure Ranch
, prayed with Matt and Karla and tried to set their minds at ease.
After an intentional family separation period, Matt and Karla reconnected with Kye via a phone call six weeks later. Kye didn't say a word in the allotted 15 minutes.
"Matt and I tried to engage him," Karla remembers. "We told him we loved him, cared for him, and prayed for him."
Kye returned to his room, leaving his mom in tears on the line with case manager Ronnie Jones, the father of six children. Despite Kye's silence, Jones found a positive in the one-sided call.
"Look at the blessing," Jones told Karla. "He didn't hang up on you."
Nevertheless, months went by and Kye's attitude didn't improve. His parents received a string of vile letters from him with troubling messages:
I hate you with all my heart. I want to put a gun to my head and a knife to my flesh. You are failures.
Two months into Kye's stay, his parents saw him for the first time at a family reconnect weekend at Adventure Ranch. Other boys ran to the embracing arms of parents. Not Kye.
"Don't touch me, don't look at me," he warned. Kye remained rigid and hateful the entire weekend.
Kye came home for a visit at Christmas. But by that time, Karla had stopped trying to force her son to respond to her desperate pleas. She clung to Psalm 66:20:
Praise be to God, who has not rejected my prayer or withheld His love for me!
Again, Kye relayed that he hated his mother and he never would love her. This time she didn't react with tears.
"I said, 'Kye, it's OK that you don't love me. I love you, but I don't need you to love me; the Lord's love is enough for me,'" Karla responded, putting tough love into practice. Kye walked away dumbstruck.
A glimmer of hope came after Kye attended a service at a Missouri church with other teen students from the center.
"My eyes opened up that I was really the one at fault," Kye remembers.
When Kye finished the program in August 2015, Karla perceived a change in his countenance and demeanor. As he prepared to go home, Kye put his arm around his mom and told her that he loved her. Still, some tensions and temptations remained.
Three months later, Kye relapsed, trying LSD for the first time at a friend's invitation. Matt, who is a dentist, had told his son upon graduating from Teen Challenge that if he ever started using drugs again he would be kicked out of the home. Kye dreaded the prospect of confessing his regretful experiment.
However, Matt calmly asked Kye if he had tried the hallucinogenic drug before. Kye said no, and Matt, not a father known for grace, offered forgiveness.
"His response surprised me," Kye says. "I had spent a lot of my childhood grounded."
The episode changed the atmosphere in the home. Kye started interacting with his parents on a regular basis.
Karla says the whole experience helped her not only realize her identity is in Christ, but also made her appreciate dynamics with loved ones.
"Teen Challenge is not just restoring boys, but rather it's a process for the entire family learning how to respond and react," says Karla, 52. In retrospect, both Karla and Kye believe Kye went through a period of demonic oppression.
Kye now writes loving letters to his parents and he has returned repeatedly to Teen Challenge Adventure Ranch to talk to students and to encourage visiting parents.
"I have an understanding of what the gospel actually is now," says Kye, now a 21-year-old student at Montana State University in Bozeman. He attends church weekly and sees a counselor regularly.
The Johnsons, married for 29 years, are fully reconciled with their once-wayward son. Matt recently spent a week skiing with Kye.
"I definitely feel bad for the way I treated my parents," Kye says. "I should have realized they only wanted me to get better."