Revival at Every Level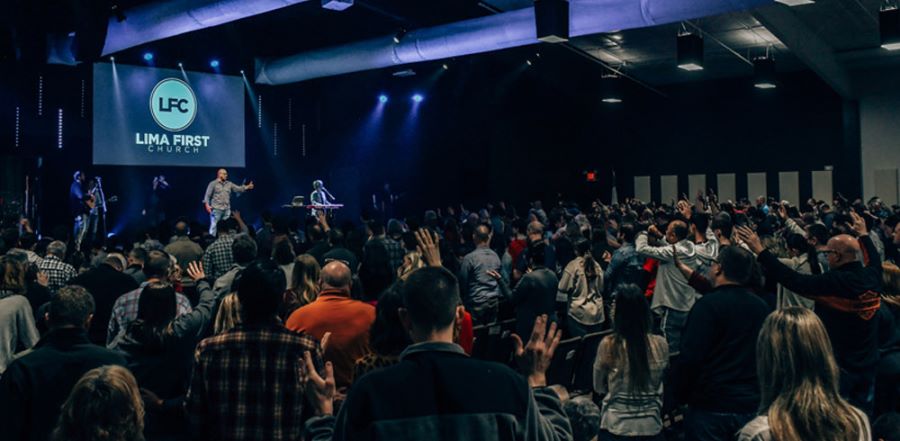 Don't miss any stories. Follow AG News!
Darrell R. Bucher, 53, and his wife, Lori L. Bucher, 51, have served in full time ministry for over 30 years. Within three days of graduating from Central Bible College in Springfield, Missouri, Bucher and his wife started their full-time ministry journey. For 29 of their 30 years, the Buchers have served in Ohio. After planting and leading a church for over 12 years in the South Dayton, Ohio area, which has since merged with Miamisburg Assembly of God, they began to feel God shifting things in their spirit. "Although we had heard about a church in Lima that was needing senior leadership, we were uncertain about transitioning there," says Bucher. However, pieces in their life began to come together in a way that made a transition to Lima seem like it was where God was directing them.
Within 10 weeks of each other, both of Buchers' children got married which caused them to clean and update the house to accommodate guests who were coming in for one or both weddings. As Lori was getting her hair done one day, her hairdresser of 10 years said she felt like the couple was going to sell their home. Although selling their home was not a thought that the Buchers had ever considered, the stylist went on to say that if they wanted to sell, she knew a couple who would be interested in buying. "We didn't need to sell and we didn't even necessarily want to sell," says Bucher, "so we set the stakes high to see what the potential buyers would do." Without any hesitation, the couple accepted the conditions of the sale. Still uncertain of what all of this meant and what God had next for them, the following day the Buchers met with Jim Palmer, who was the former assistant district superintendent and missions director for the Ohio Ministry Network. "Jim encouraged us to strongly consider going to Lima," recalls Bucher, "and I think his conversations with us are part of the reason we went."
Lima First Church had once been a healthy church of around 500 weekly attendees. However, due to some tragedy and missteps, the church was in decline and had lost more than half of its regular attenders. "We have always had a heart for revival and been passionate about seeing God stir up things within believers to advance his cause," says Bucher. So, revival is what they started praying and fasting for. In 2019, Lima First saw 300 decisions for Christ and growth started an upward trend. However, due to the COVID-19 pandemic of 2020, the church was forced to shift the way it did ministry. Knowing that they could not let the momentum die, the staff hosted drive-through prayer time on Sunday morning and kept the congregation going by using online tools. This faithfulness was rewarded and as soon as the church re-opened, the church continued its growth as if its ministry had never been interrupted.
Over the next two years, Lima First saw another 1,200 salvations but the Buchers continued to cry out for an even deeper revival. "We started the 2023 year with a 21-day fast and that is when God opened the floodgates," says Bucher. So far this year there have been 1,006 salvations and baptisms, dramatic healings, and the breaking of chains are happening every time the doors of the church open. John Wootton, the district superintendent of the Ohio Ministry Network says, "the move of God at Lima First is legitimate and sustained in a fashion that I have rarely seen during my time of leadership." He goes on to report that, "every single week there are dozens and dozens of salvations, baptisms, Holy Spirit baptisms, and incredible healings of the kind that happen right in front of people's eyes."
However, the spirit of revival is not just on the adults. "The youth group and kids ministry are booming and the Holy Spirit is doing miracles in them as well," says Bucher. "This every-level revival is woven throughout the entire fabric of the church and is infusing their kids and their youth" Wootton echoes. "The amazing thing is," says Bucher, "we are seeing families, not just individuals experience God together. Grandparents, aunts, uncles, and cousins are coming and being delivered and transformed."
The Buchers shared that their ministry journey has not always been easy, nor has the journey of Lima First. However, persistence through trial, they believe, is what has led to revival. Lori recalled the words Jim Palmer spoke to them when he met with them early on. "He said that in five years God would give us the growth we had been praying so hard for," she says. August of 2023 will be the five year mark that Palmer felt would be the tipping point for the church. Due to Palmer's unexpected death early in 2020, he did not get to see the growth he was so confident of but the Buchers are certain that he will meet the thousands who will be in heaven due to mighty move of God at Lima First.