Taking the Community's Pulse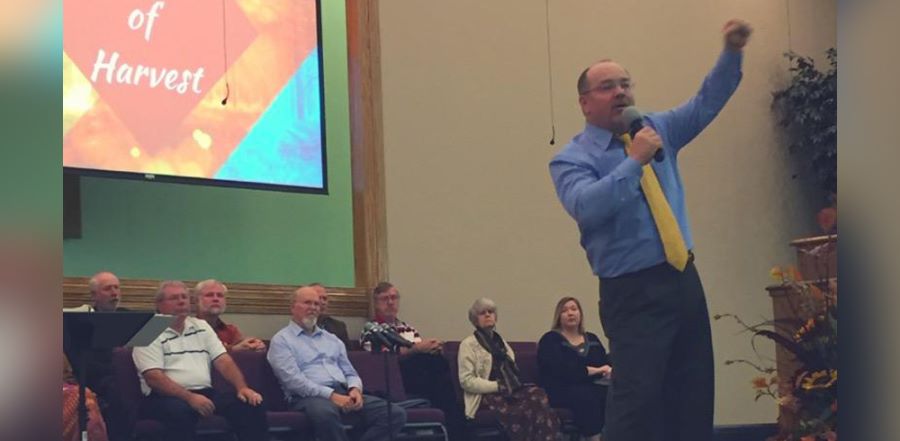 Don't miss any stories. Follow AG News!
Paris is located at the foot of Mount Magazine, the highest point in Arkansas. Kenny A. Maness, pastor of
Paris First Assembly
, likens the town of 3,400 to the fictional Mayberry of
The Andy Griffith Show
in the 1960s.
Maness
, in his only senior pastorate, has been leading the church for 26 years. The population of the town, where the average age has been on the rise, has gradually declined over the span.
"We've conducted a lot of funerals," says Maness, 57. "But the greatest thing we have going for us is the move of the Holy Spirit."
That's reflective of the crowds that gather for Sunday morning service, a figure that has risen to 450 from 125 during the pastor's tenure.
Paris has many of the troubles associated with rural America: generational poverty, methamphetamines abuse, shuttered businesses. But First Assembly has bucked the trend of declining rural churches by, in part, plugging people into
life groups
. Maness also is a firm believer in the effectiveness of the
Acts 2 Journey
, a yearlong AG program designed to help local congregations better meet community needs.
Paris First Assembly completed the program in 2009 when National Men's Ministries Director
Rick C. Allen
led sessions. The church had 11 weeks of revival afterwards. Paris First Assembly recently finished a new round of quarterly cohorts sponsored by
AGTrust
and led by AG Assistant General Superintendent
Alton Garrison
.
The church also has grown by emphasizing
student
and
children's
ministries. While Maness, who also is an Arkansas AG
executive presbyter
, has been at Paris First Assembly, 30 people from the congregation have gone on to serve in ministry church plants or revitalization efforts.
Lee McCaulley has attended the church for virtually the entire time Maness has been pastor, and he credits Maness for impacting the community at large. That pastoral concern stretches to a genuine concern about hurting residents, according to McCaulley, a 51-year-old banker.
County judges recently started court-ordering drug and alcohol defendants to attend Christ-centered support group classes at the church. Judges also are requiring offenders to take newly implemented anger management parenting classes at Paris First Assembly.
"Our pastor has long had a burden and concern for folks in our community who battle life-controlling issues," says McCaulley, who serves on the deacon board, is an adult Sunday School teacher, and plays on the worship team. "Over the years we have had different strategies and approaches in trying to reach that group of people. Our pastor jumped at the opportunity when the door opened through the court system."
Another area where the church is thriving is with teenagers. Keith Bullock has been the full-time student pastor for almost three years, although Maness led him to the Lord 18 years ago when he was 24. Bullock, who has a dozen volunteers assisting him, also has enlisted some senior citizens in the church to pray and fast for kids who attend.
"You really have to earn their trust," Bullock says of the youth. "Many are from dysfunctional homes with uninvolved parents. Several have attempted suicide."
Bullock, who spent 11 years in the military and fought in Iraq, says many of the middle-aged and elderly adherents at Paris First Assembly can bridge the generation gap because they grew up in church with loving parents.
"We're trying to educate adult leaders on how they can help students who don't feel loved and accepted," Bullock says.
First Assembly isn't the Fellowship's only active, growing church in the small town. Harmony Assembly of God has grown to 180 regular attendees from just a handful when pastor Tammy J. Frederick came in 2007. Harmony AG also went through the recent Acts 2 Journey classes in Arkansas.