200-Mile Ride on Horseback for STL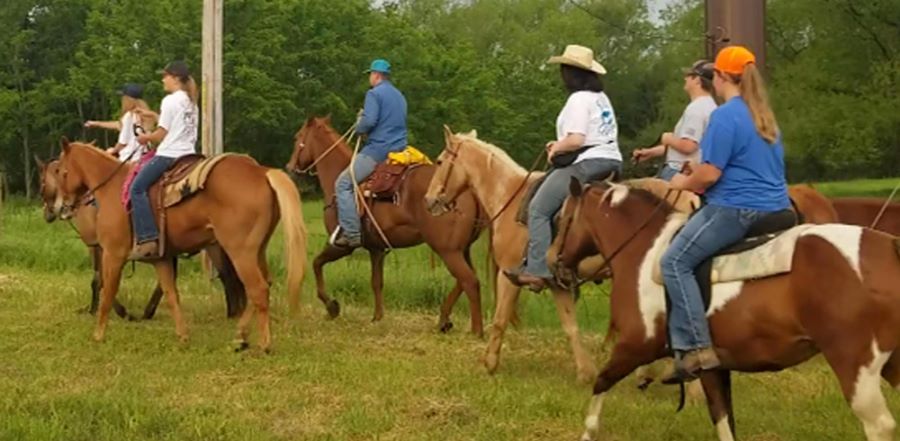 Don't miss any stories. Follow AG News!
When Kyle Self, youth pastor for
Skiatook (Oklahoma) First Assembly
first suggested that his students ride horses to raise money for
Speed the Light
(STL) and meet their $1,500 goal, he was admittedly surprised by the positive response given — this was not going to be some "ride-in-the-park" play day, but a 200-mile trek. Still, the students loved the idea.
There was one small problem — up to this point, the only horseback-riding experience most of the students had could be summed up in three words: "fairground pony rides."
Undeterred, Self spent nearly four months teaching students, who wanted to take part in the May 6-11 challenge, how to ride and prepare for a six-day, 200-mile journey they now referred to as the "Ride4Christ." And along the way, they raised more than $3,000!
Since before he can remember, Self, 31, has been riding horses. He's been involved in raising, training, and selling horses and spent time in the rodeo — it has been a passion for him, but one that left him uneasy as his passion for horses and youth pastoring didn't seem to mesh very well.
"A student from my youth group, Austin Wade, bought a horse from my little brother about a 1½ years ago, and I've been teaching him how to ride," Self says. "One day, he and I were talking, trying to come up with our own way to raise money for Speed the Light. Austin then asked me where I was from (Rattan, Oklahoma) and suggested we ride horses from here to Rattan. That was a 200-mile ride! I just laughed."
But that night, Self couldn't sleep. Thoughts kept rolling through his mind.
Could he and Austin do that? No. It needed to be a youth group effort . . . but they couldn't do that. Could they? Would pastor Eddie (McElhannon) like it? Would parents permit it? How could they make this happen?
"I started to really pray about it," Self says. "I told my wife, Megan, about it and she began praying with me. Then I went to pastor Eddie, and he backed me 100%."
Eleven of the 40 to 45 students that regularly attend youth signed up for the effort. Nearly every day, from mid-January and into May, the students, ages 12 to 18, met on rotating schedules to learn how to ride at Self's ranch.
Wade, now 18, became Self's assistant instructor. He says it wasn't easy at first.
"Teaching the kids how to connect with their horse, work with their horse, and control the horse was definitely challenging," he says.
"There's a difference between sitting in a saddle and knowing how to move with the horse," Self explains. "So, one day we pulled off the saddles, brought the horses to the pond, and let the kids swim on horses, which taught them how to balance and move with their horse."
A unique aspect about the Ride4Christ is that the training began before and continued through the pandemic. Self explains they were careful to observe social distancing rules, but it wasn't a big problem, especially when on horseback.
Tom Lemke, 40, the children's pastor at Skiatook AG, was an enthusiastic supporter of the Ride4Christ idea. Not only were his daughters, Jessica (16) and Erica (14), part of the group training for the ride, he became the chuckwagon master, first aid provider, and "scout" for the effort, hauling the trailer and supplies, and preparing campsites.
"I'm a big fan of
Cowboy Kent Rollins
," Lemke says, explaining that Rollins is a master of chuckwagon cooking with his own website and YouTube channel. "Wherever we stopped, I was cooking up meals — bacon, eggs, cowboy potatoes, chicken fried steak, you name it."
Lemke, explains that the trip was as real "cowboying it" as they could make it — each rider carried their own bedroll, they slept on the ground, and the restroom was of the "portable variety" in the back of the horse trailer.
"The first day the kids kinda went through withdrawals — no energy drinks, no digital devices, no distractions," Lemke says. "The luxuries were gone, even the shower was a bag of water hanging from a limb with holes poked in it and surrounded by tarps."
However, both Self and Lemke say that the trip brought the students together and created bonds that didn't exist before. In addition to candid conversations that took place during the 10- to 14-hour-day rides following US-69 (and numerous other roads) southward, each evening concluded with devotions around a large campfire.
"What was really awesome for me to see as a youth pastor was the kids to start believing in themselves, when they didn't really before," Self says. "They have a spiritual boldness now, a confidence in what they believe. They don't fear talking to people about God . . . four months ago compared to today — it's just crazy how far they've come!"
Jessica Lemke says the trip was a growing experience for her, mentioning that the first few nights it was very cold. Then, in the mornings, the tents were drenched with dew, which dripped on them, soaking their beds.
"But I thought it was kinda cool that people would see us riding, honk, or pull over and ask about what we were doing," she says. "We then were able to tell them about our Ride4Christ and what it was all about . . . it was cool to impact people and spread the message." Some people, once they learned what they were doing, donated money to the effort.
Nevaeh Bowman, 15, says that the training provided by Self and Wade, from the very first day, set her at ease about the ride. She also notes that the months of riding preparation helped her from getting sore, even after consecutive all-day rides.
"This trip has definitely changed me," she says. "I don't know exactly what happened, but it's really been life changing. I'm wanting God more than ever!"
Teagan, Nevaeh's sister, is 12 and she also participated, demonstrating a fortitude others might not have; during training, she was bucked off a horse twice.
"I was scared to get back on the second time I was bucked off," she admits, "but I was determined to get back on."
Throughout the training and the ride, attention was repeatedly brought back to the purpose of the ride — raising funds for STL so that people they may never meet could come to know Christ.
"Not everyone is called to missions," Self says, "but everyone can help send those who are."
Yet the purpose almost became secondary, as the ride became one of discovery and discipleship.
"There were no guards, no barriers," Tom Lemke says, "kids just started sharing their worries and fears . . . and then Kyle reassuring them, sharing how God loves them, watches over them, and explaining why what they were doing was so important."
Self says that the days on the trail weren't all trouble-free. On the second day, two horses were injured, one seriously — with a gash from a roadside metal barrier nearly slicing an artery.
"When two of the horses got hurt, that was hard on us," Teagan says. "We had a bond with the horses over the nearly four months we were training with them. It also meant some of us had to split time on the ride."
Wade, who admits that he didn't know the other students in the group very well, says the training and the trip opened the door to new friendships.
"It was pretty cool getting closer to the kids and getting to know them," he says. "When we are finally able to get back to regular church services, I think the youth group will be on a whole other level."
For Self, he says the trip not only brought the youth together, but gave God a chance to really speak into his heart and life as well.
"The ride has shown me that God can make a difference through me, which I've sometimes doubted because of my past, but God really reassured himself to me," he says with conviction. "Being able to integrate what I love to do into ministry, to use it for God, was amazing. I'll never be the same."
Neveah, however, wraps the experience up neatly: "I want to tell a lot of people that you can accomplish anything for and through God!"
. . . and oh, by the way, pastors Kyle and Tom? Nevaeh says for the next STL ride, she wants to do
400
miles.