A Church Camp Like Few Others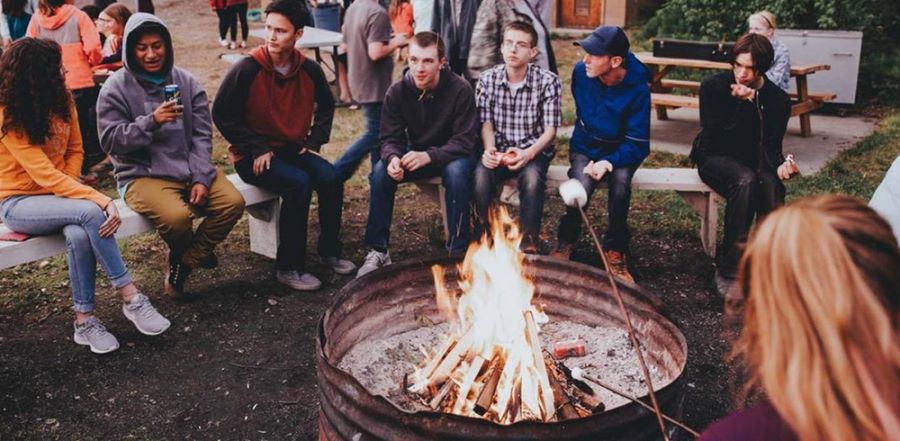 Don't miss any stories. Follow AG News!
Church camp for kids in Alaska has quite a few differences than most kids experience at an Assemblies of God camp — differences that many people might not realize.
For example, while most kids in the Lower 48 might be "awwing" over the sight of a deer, at the Alaska Ministry Network's
Little Beaver Camp and Retreat Center
, the odds are better it will be a bear or moose that catch the kids' attention. And while kids are tipping their toes in the water to test the temperature in the pool or sheltered lake "down south," at Little Beaver it's blue-lips and laughter as kids plunge into 48-degree icy waters, swimming and being flung into the water off a blob.
"Oh, but the water warms up," comforts Barry Orzalli, 49, the camp director. "By midsummer, it can get up to 65 in the lake." Pool water is considered cold below 77 degrees.
The camp also places large salt blocks into the lake around the swimming area each year, otherwise the kids come out covered in leaches. And when it comes to those nature documentaries, where all kinds of bugs are swarming the migrating caribou? Despite having insect capturing devices all over the camp, Orzalli warns that if kids get too close to the woods during paint ball games, it's not uncommon for them to prefer to get hit by a paint ball than remain in a blood-sucking cloud of insects.
Of course, another unmistakable difference is that during the church camp season, there's roughly 22 hours of pure daylight and two hours of twilight — it never gets "dark" outside!
Although these differences might be seen as challenges for those from other states, it's just the way of life in Alaska. However, on Nov. 30, the camp faced something even it wasn't used to. Big Lake, where the church camp is located, was near the epicenter of a powerful 7.2 earthquake.
"The quake knocked four buildings off their foundations, broke all the water pipes, disabled the boiler systems, the water storage tanks that contained 2,100 gallons of water were damaged, and our cabin septic lines were broken," Orzalli says.
Orzalli's list of damages, however, didn't include interior issues, such as the damages to the kitchen, a two-story collapsed rock chimney, interior plumbing damages, cracking of sheet rock, and other breakage and connection issues caused by powerful shifting vibrations.
"J.D. Steel, a local company sent workers the next day to help get our heat back on as in November it's down to 15 degrees at night," Orzalli explains. "We were also able to get a lot of the significant interior issues repaired in the main buildings through other local help and volunteer teams."
However, the cabins — as well as their water and septic lines — faced a more difficult hurdle.
"Since the initial earthquake, we've had something like 7,000 aftershocks, with some of them being quite strong," Orzalli shares. "You don't want to be under a building, jacking it up onto its foundation or repairing lines during one of those."
Over the spring months, several groups came to the camp to clean and work on repairs. However, with only about a week before around 150 campers arrived, the cabins, water lines, and septic lines still hadn't been repaired.
Then "Pastor Charlie" (Arsenault) and 13 other volunteers from
Evangel Temple
in Springfield, Missouri, arrived. In just five days, the cabins were reset, a new 12-foot trench was dug and new water lines were placed, and the septic lines were fixed — along with a multitude of other painting and repair jobs.
"We've been there four times now," Arsenault says. "We were up there last October, putting in restrooms in the chapel facility and then later we heard about the earthquake and that they couldn't open kids' camp without some major work, so we went up there again (in May)."
Arsenault says that they did a lot of grader work, put in about 150 feet of gas pipe, and did a lot of plumbing repair.
"It was a wonderful privilege for us and a rewarding experience for us here as a church," Arsenault states. "God has blessed us because of reaching out beyond our four walls."
Getting to go to church camp is a big deal for a lot of kids, but for far too many kids in Alaska, there are few "bigger deals" in the entire year. Orzilla shares that child abuse is all too common and significant issue in Alaska.
"It is quite alarming," he says. "Volunteer workers come thinking that they're here to help the camp. What they don't realize is that they're actually participating in suicide prevention. There are kids coming from all over the state who think suicide is their only answer, but then God meets them at camp and sets them free."
Orzilla explains that because high levels of abuse exist in homes and villages, oftentimes church camp is a child's only "safe zone," where they can meet God as well as report abuse to a trusted adult, if they so choose.
Orzilla shares a story of how a young girl living out in the Alaskan bush was contemplating suicide, when a couple sent her their honeymoon money to attend camp. There she had a radical encounter with Christ that changed her life. Years later, that girl sent her own daughter, who had some developmental struggles and was being picked on at school, to the camp. She also encountered God. Fears were replaced with confidence, and she recently graduated from high school, excited about the future. Orzilla says it's just an example of God working throughout generations.
"Every year, we see about 1,500 kids come through the camp," Orzalli says. "And it's a place where kids not only come for fun, but get to encounter God, crying out to Him — and then you see His joy come through. It's an incredible thing."