A "Fairy Tale" Story: When Castles Crumble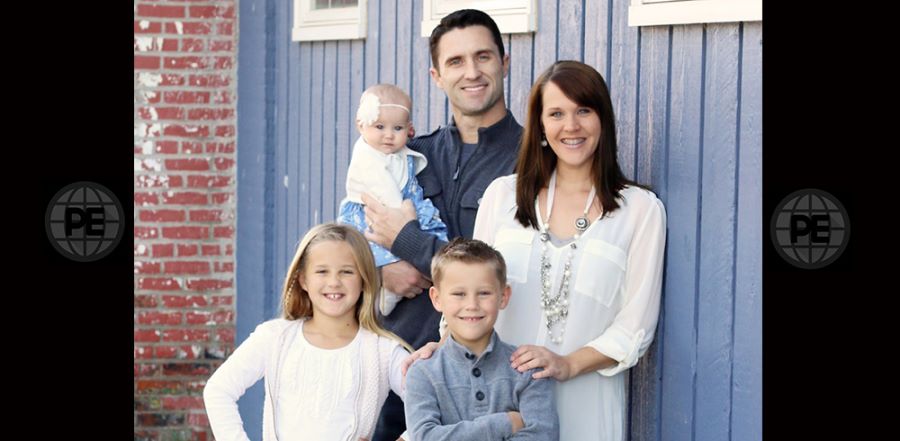 Don't miss any stories. Follow AG News!
Mikal Simmons had it all. Popularity, intelligence, good looks, and a God-given athletic ability that most can only dream about. He was an all-state record-breaking tailback for Brandon Valley High School, a state champion wrestler, and a regular at state track competitions in South Dakota. On top of all that, he was a humble, good kid with strong moral convictions
From high school to a full-ride scholarship to play football at South Dakota State University (SDSU), the dream life continued for Simmons. He devoted himself to football, and during the spring of 1996 football camp, the fleet-footed, 210-pound tailback was named the SDSU starting running back as a red-shirt freshman. He also fell in love and became engaged to a beautiful young coed.
The young prince had set his eyes on the prize, stormed the castle, taken what was destined to be his, and won the hand of a fair maiden. It was all so perfect — or so it seemed.
Kirk Strand, pastor of Brandon Valley Assembly of God and a former All-American collegiate wrestler, remembers Simmons from high school, having spent time working out with the wrestlers from the high school team.
"Mikal was an amazing athlete, a great young man, and a great leader, but he didn't know the Lord," Strand recalls. "He was a great kid, we really bonded, but his world revolved around sports."
Behind the Facade
Strand's assessment speaks volumes. For although Simmons seemed to have everything, the same drive that pushed him to build himself into a better athlete also carried a terrible curse. For Simmons, there was no end game — no matter what he did, no matter what he accomplished, it was never enough.
"I had a really negative opinion of myself," Simmons admits. "I was never satisfied with me. I was also very alone . . . I didn't have a lot of friends — a lot of people couldn't relate to me and I spent so much time in sports, moving from one sport to another . . . , my passion was football because it was a team sport and gave me what I wanted — to be a part of other people's lives, have friendships, and an identity."
When Simmons arrived at SDSU, he went from a young man who pushed abstinence from alcohol to fully embracing his new football family and their partying lifestyle. Although those around him weren't aware of it, Simmons says he began to battle depression — something was missing in his life.
If depression is an issue when a person is seemingly at the pinnacle of life, what happens when the "castle" begins to crumble? Simmons was about to find out.
The same week that Simmons earned the starting running back position, he "blew out" his left knee and had to undergo surgery. Always an overcomer when challenges presented themselves, Simmons threw himself into an accelerated rehab program, determined to cut the up to nine months it normally takes to rehab a knee to nearly in half so he could make it back in time to play the coming fall season. He did just that.
"In just five months, I was back on the playing field," Simmons says.
From Hero to Zero
Having overcome one of his greatest physical challenges, but still struggling with depression, Simmons was eager to resume playing the game he so passionately loved. But if Simmons thought rehabbing in the off-season and dealing with depression was difficult, he was about to experience a new depth.
"On the very first play of the game that I came back, the very first play . . . , I blew out my other knee," Simmons says. "That's when things really got dark."
Facing the reality of being a running back with two bad knees, Simmons sank deep into depression. "I lost my drive to play football anymore, and placed all my emphasis on my relationship with the girl I was engaged to . . . and then that relationship fell apart."
"After that, I started drinking daily," Simmons says. "I drank a lot one night and decided to end my life. I drank a caustic substance that sent me into deep convulsions."
Simmons would be rushed to the hospital where surgeons would have to remove his stomach, doing gastric bypass surgery, in order to save his life. When he was released from the hospital two months later, his strapping 210-pound frame was also taken from him, now barely tipping the scales at 145 pounds.
His dreams were gone. His love was gone. His powerful body was gone. And for Simmons, his life was gone.
He dropped out of college and returned home. The shame and guilt of what he had become and the loss of unfulfilled dreams drove him to drink heavily, abuse painkillers, and start cutting. For the next three years, Simmons would be a raving drunk, ultimately disappearing from the hometown he could no longer face.
Lifelong Search Ended
Simmons knew he needed help and tried to get it, but none of the many programs he tried worked. "I realized I would always be an addict," Simmons says. "But there was still something inside of me, telling me that I could overcome this, and I was searching for the One who could give me the true identity of an overcoming lifestyle."
In 2001, Simmons heard about Teen Challenge International, U.S.A, an AG U.S. Missions ministry. And once again he would have to face the "failure" of his life as the center he entered was in Brookings, South Dakota — the home of SDSU.
"After being there about a month, I prayed, 'God, if you're real, speak to me, speak to my heart,'" Simmons says. "My heart was broken, but I didn't know it. It was like they say, I had this God-shaped hole in my heart, but didn't know it or how to fill it. As I got to know Jesus and know Him personally, I realized He was that Overcomer of life and death that I was looking for. He took me out of the shame, guilt, and victimization and helped me rise above who I thought I was and who society thought I was."
Simmons would graduate from the Teen Challenge center and move to a re-entry center in Omaha, Nebraska. Periodically, he would visit his hometown.
"I remember the first time I saw him again, it was at a football game," Pastor Strand says. "There was Mikal. He had committed his life to Christ and was really on that path. We were in the stands at the game — we talked, we hugged, we cried."
Simmons shared with Strand how lonely he felt. "So, I prayed for a wife for Mikal," Strand says. "And God brought Sarah into his life." Simmons describes Sarah as a lifelong Christian who was doing exactly what God told her to do. About a year after they met, the two were married, confident they were in God's will.
Responding to the Call
Mikal says that as a young child he felt God had called him to be a pastor. However, he simply ignored the calling; but never forgot it either. A year after getting married, the couple went on an extended missions trip where the Lord reminded and confirmed the calling upon Mikal's life. In 2007, they moved to Colorado for Mikal to attend Kings University and become a minister.
Seven years later, the Simmonses, with Mikal's degree in hand, returned to Brandon, Mikal's hometown, and reconnected with Strand. Strand, who knew about Mikal's calling, would become his ministerial mentor for the next three years.
"I always thought I would be a youth pastor," Simmons says, "but Kirk (Strand) saw God's call on Sarah's and my life and told me, 'You ask and answer questions the way a senior pastor asks, and that's what I believe God has called you to be.'"
Strand marvels at God's ability to transform lives. "He has the amazing ability to give fresh starts," Strand states. "He takes something we're trying so hard to throw away, He turns it all around, and He makes it into a life that impacts others."
Right Decisions
About 90 minutes down the road from Brandon is Yankton, South Dakota — a huge rival when it comes to high school athletics. But it was a community the Simmonses had more than once talked about being a neat place to do ministry.
Over the last few years, a unique situation was also building at Yankton First Assembly of God. Pastor Jeff Mantz had been feeling God directing him to prepare to step down as senior pastor — not giving a specific timeline, but just when He brought along the right person.
"I've pastored two other churches in my 43 years of ministry, leaving each church ready to take the next step forward," Mantz explains. "But both times instead of advancing, the churches floundered. This time, I wanted to do it differently." In other words, Mantz preferred to "pass the mantle" as Elijah did to Elisha.
Mantz says the church of about 160 had recently completed the Acts 2 Journey, and felt it was vital for the next pastor not to bring his own new vision, but be a person who could catch the Acts 2 vision of the church.
Strand, who is the sectional presbyter, knew of Mantz's consideration of retirement and the special type of person they were looking for. He called and recommended Simmons for the position.
Mantz has high regard for Strand's opinion, and contacted Simmons. After interviewing the couple, Mantz liked what he saw and heard, but waited upon God.
"I believe God brought Mikal and Sarah along, as He spoke to my spirit," Mantz says. "But we still had a 'dating' time — meeting the board, getting to know one another, seeing how they related and connected to people, and for him to come and preach." Simmons would preach twice. When the vote was taken, it was almost a unanimous election.
But what's unique about the transition is that Mantz remained in office and the two men serve as co-pastors. This plan has fit both men perfectly, for although Simmons has been mentored in many ways to lead, he has never been a senior pastor. For Mantz, the time provides the opportunity to groom Simmons for the responsibility and challenges of leading a church, allowing Simmons to not only see how things are conducted at Yankton First, but to fully absorb the vision of the church — it's something only the right person could embrace.
"When Pastor Jeff first called me, something immediately quickened in my spirit," Mikal recalls. "When I got to know Pastor Jeff and the board, it was just so peaceful — like the peace I had when I married Sarah. It was right. It was good — almost too good to be true!"
On February 7, 2016, Mantz will step aside and Simmons will be installed as the senior pastor of Yankton First. Throughout the last few months, Mantz says God has repeatedly affirmed the selection of Mikal and Sarah.
Strand is excited to see what God has done: "Now, in the gyms and stadiums where they used to yell and cheer for Mikal, he is lifting up the cause of Christ — and that's what it's all about."
Simmons, pausing to reflect upon his life and path to a committed relationship with Christ, sums his life up perfectly, "For all those people who think they've made too many wrong decision and that it's done, that Christ has given up on them, He has not! We are all just one right decision from changing our futures."