A General Council Encounter Decades in the Making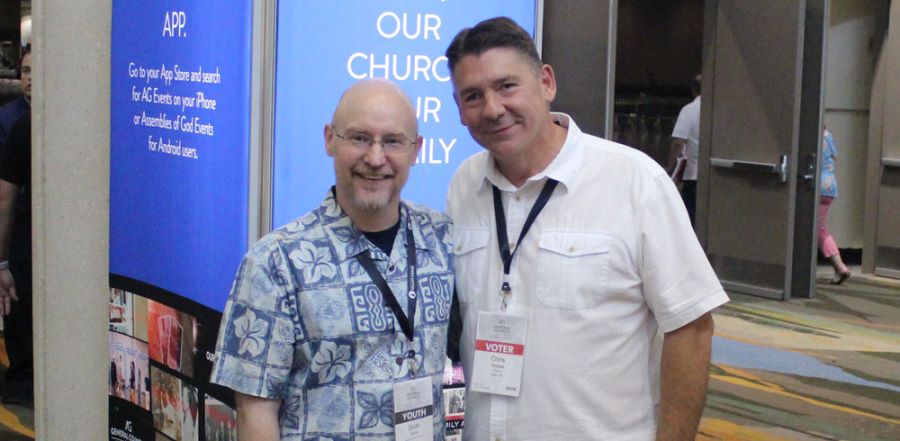 Don't miss any stories. Follow AG News!
It's been nearly four decades since Chris Walstad, pastor of
LifeChurch
(AG) in Williston, North Dakota, has seen Scott Moore, but this week at General Council the two men met face-to-face for the first time in 37 years.
Although the meeting was a remarkable "coincidence," it was the journey leading up to the reunion that has God's handiwork clearly all over it.
In 1981, Walstad graduated Williston High School and moved to Waterloo, Iowa, to attend technical college. At the time, Walstad knew about God, but didn't know Him.
"I moved in with a woman who was about 10 years older than me who had two children — a 9-year-old boy and 2-year-old girl," Walstad admits. That 9-year-old boy was Moore.
"I thought he was pretty cool at the time," Moore says about Walstad. "He let me listen to his big records using his headset."
The relationship between Walstad and Moore's mother survived for about a year, then fell apart. Walstad graduated from the tech college in 1983 and returned to Williston, where he started to tend bar to pay bills.
In Williston, a young lady invited Walstad to visit her church. He agreed. In 1986, Walstad turned his life over to Christ at Williston Assembly of God, pastored at that time by Wes Bartel, currently the director of the Assemblies of God Rural America Ministries Network.
Walstad served as a youth leader for the next three years at the church. During that time he married his wife, Robin, and then headed to
Trinity Bible College
in Ellendale, North Dakota, so he could become a pastor.
Moore ended up moving in with his dad for a time and ultimately ended up in Florida, graduating from an Orlando high school. He too knew about God, but had no relationship with Him.
After three years at the University of Central Florida, Moore joined the Air Force. Upon successfully completing his training in 1995, he was assigned to a base in Japan.
"Before joining the Air Force, I had lived with a woman for three years, then I married another woman, and after 14 months, we got a divorce," Moore says. "That divorce is what led me to join the Air Force."
Prior to Moore leaving for Japan, Walstad, who was now a youth pastor at Williston AG, was able to find Moore through the fledgling (at the time) internet. "When he told me he had gotten saved," Moore recalls, "I was like, 'Oh, that's nice — uh, good for you.'"
But God had things in hand. While in Japan, Moore met a young woman, Marnell, who was also in the Air Force, and began to date. Five months later they were married, but they felt a need for God.
"Did you know that they have all these small churches just outside of bases?" Moore asks rhetorically. "We found a small Pentecostal church . . . and both of us found Jesus in Japan!"
The Moores returned to the U.S. in 1998 and started to attend an AG church in Wrightstown, New Jersey. The next time he spoke with Walstad, he was excited to talk about Christ. And each time they moved, the Moores attached themselves to another AG church.
Meanwhile, Walstad accepted the pastorate in Glen Ullin, North Dakota, and served there for 14 years. In 2010, Walstad was voted in as pastor of Williston AG — the church where he first came to Christ. Recently, the church was renamed LifeChurch.
"We kind of kept track of each other through our Facebook posts," Walstad says concerning Moore and himself, "but neither one of us post very much."
But then came the 58th General Council and National Youth Convention.
"My daughter, Clorène, is here as part of
Rockway Assembly of God
to participate in Fine Arts, short sermon," Moore says. "She wants to be an evangelist."
Walstad is here to represent his church and take part in the business sessions. "Just before I came, I happened to look at Scott's Facebook page. That's when I learned he was coming to Orlando."
The two men met face-to-face in the Orange County Convention Center. "I was in the business session when all of a sudden I get this text: 'I'm coming up the convention center stairs now.'"
Meeting for the first time in 37 years, Walstad says the encounter led him to apologize to Moore. "I realized that every time that I was out partying with his mom, he was left at home alone with his little brother."
Moore says he has no negative thoughts toward Walstad, but was just happy to get to see him again after all these years.
Adding a couple of cherries to top the story, Walstad adds, "Oh, while I was working at the bar in Williston, there was another guy playing in the band at the other end of the bar. He later was also saved and became the husband of the woman who originally invited me to church."
And Moore shares Clorène received a rating of "Excellent" for her short sermon at the national Fine Arts Festival.
Walstad smiles and says, "God's redemption is written all over this whole thing."