A Saudi's Quest for Truth Leads Him to Christ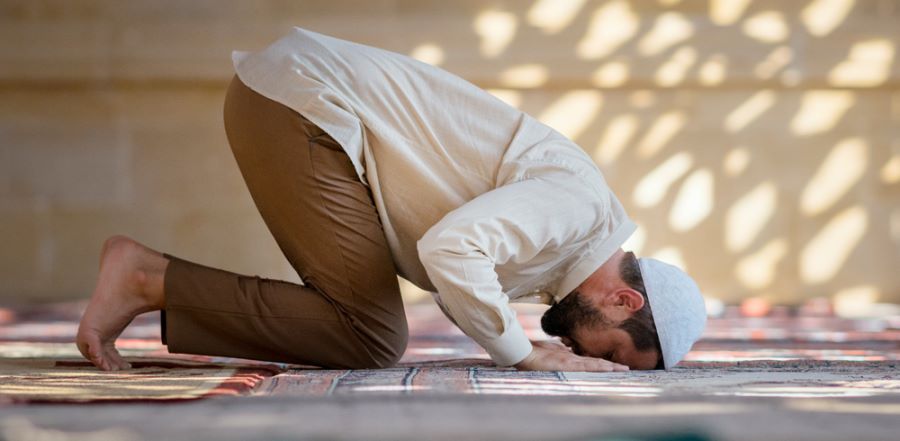 Don't miss any stories. Follow AG News!
Twelve-year-old Aziz Saeed* was confused. As a boy growing up in Saudi Arabia, Islam was all he knew. He also knew that being a Muslim was the right thing —
the only thing
— to be. So when he read an article about a Muslim man who turned his back on the "truth" of Islam to become a Christian, it made no sense to him.
Why would anyone want to do that?
It was an "unsolvable" question that remained in the back of his mind from that moment on.
As Saeed grew older, he continued to "follow the rules" of Islam and go to the mosque and pray — even choosing to go when his less committed parents didn't see the need. "My family was Muslim," Saeed explains, "but they were what you might call moderate Muslims."
When Saeed turned 19, with the blessings of his family, he traveled to the United States to attend college in Ohio and pursue a business degree. He knew enough English to get by, but not enough to enroll in classes. He spent the first six months of his collegiate career in English school.
One day while walking to class, a fellow student stopped and introduced himself to Saeed. Saeed shared how he had to take English classes before he could start school. The young man then told him about a Bible study he attended, and invited Saeed to come. He explained that Saeed could practice his English and make friends at the same time. Saeed accepted.
"I wasn't afraid or nervous," Saeed says. "I knew it was Bible study, but I was clueless about Christianity, except for what was in movies and the media. The only thing I knew was that in Islam, Jesus was a prophet, but Christians think Jesus is God."
For the next two years Saeed attended the Bible study as he went to school. Christianity and Islam were constant topics of conversation, with much of it centered on who is God and who is the real God.
Now fluent in English, Saeed stepped away from the Bible study and, for a while, went the polar opposite — drinking, partying, and experimenting with drugs.
"But then I ran into this girl who I used to see at the parties," Saeed says. "I asked her if she was still involved in that, but she told me no — she had gotten saved."
Her words didn't make sense to Saeed. Saved? Saved from what? He wanted to know more.
The young woman invited Saeed to attend a Chi Alpha meeting.
Chi Alpha Campus Ministries U.S.A.
is the U.S. Missions ministry to college students.
"The first Chi Alpha service was so different, like nothing I had been to before," Saeed says. "From the very first meeting, I wanted to know more, I wanted to be involved, and I wanted to be a part of this group."
Saeed followed his desires and became a faithful member of Chi Alpha. He was so dedicated in his attendance and service at all Chi Alpha events, it became a running joke that Chi Alpha's most faithful member was a Muslim.
Jesse Cook, a U.S. missionary and the former Chi Alpha director at the university, recalls meeting Saeed for the first time and how a friendship quickly developed between them.
"He was really open to a relationship with me and he started coming to everything we would do," Cook says. "I met with him frequently, finding ways to do life with him."
For the next year, their friendship grew — as did the nature and depth of their discussions.
There was a reason Saeed became dedicated to Chi Alpha and pursued a friendship with Cook. Deep down, he was starting to realize that the truth of Christianity simply overpowered the "truth" of Islam.
"We would compare Islam to Christianity, and it was impossible to do — there's nothing you can compare," Saeed says. "Even the stories that are similar in the Bible and the Koran, the Bible was more clear. I tried so hard to deny it, but that was just from a sense of pride. No one wants to be wrong [about what they believe]. I wanted to be right."
Although he knew early on that God was doing something in Saeed's life, as he had so many questions — and misunderstandings — about Christianity, the Bible, and Jesus, Cook says he didn't realize until much later the depth of the struggles Saeed was experiencing or what a decision for Christ ultimately meant.
"Islam is ingrained into the Saudi culture, in every part of their lives, including family, politics, school, work — every dimension," Cook says. "By choosing Christ, he would reject everything he's ever known in every part of his life and be rejected by his family and friends . . . there are stories of Saudis being killed for their faith in Christ."
The turning point for Saeed came at a breaking point for Cook. While meeting for breakfast one morning, Cook started talking about Jesus with Saeed.
"He started to cry," Saeed recalls. "I wondered why would a man cry for someone, for his god, for someone named Jesus? He must be so valuable, so huge. I realized he didn't want me to become a Christian just to become a Christian, it was more important than that — no one cries unless he knows the truth."
Shortly after that breakfast, Saeed was invited to a Chi Alpha retreat. He made numerous excuses, but God made it impossible for him to say no when, as it turned out, his (unknown to him) future mother-in-law paid his way.
The speakers at the
Heartland Conference Retreat Center
in Ohio included a missionary to Egypt and Bill Shrader, a missionary to Peru. The messages spoken were like a constant knocking at Saeed's heart. Saeed was also moved by the fellowship and pure joy in the faces of the attendees from other Chi Alpha groups – he desperately wanted to experience that in his own life. Finally, Steve Brannan, a U.S. missionary and the director of Ohio Chi Alpha asked the attendees — who came from all around the state — to take their Bibles and find a place among the center's scores of acres to speak with God.
Saeed took the Bible he was given several years before at the Bible studies and began to walk and talk to God. "I remember saying, 'If you are the real God of the Bible, the God I'm supposed to follow, change my life today. I want to know You . . . I'm so confused. Come to me — I don't know how to come to You . . . , heal me, show me, do something . . . change my life today."
Crying throughout his prayer, desperately wanting to hear from God, Saeed returned to the center. But as he did, several different people came up to him and asked if they could pray for him, including the missionary from Egypt, which filled Saeed's heart with joy.
On the last night of the retreat, the altar call was given. "I heard in my head a voice that said, 'Aziz, it is the time!' I felt so much courage, felt so peaceful. I raised my hand, people began to pray for me, and then I went to the altar. It was just clear that it was the right thing to do."
Accepting Christ as his Lord and Savior, and understanding the sacrifice he was making to do so, would seem to be an act to cause blessings to rain down upon the young Saudi, but that was not the case.
"He became a Christian in October and everything in his life went poorly after that," Cook says. "Because of a new king in Saudi Arabia, who did away with scholarships, Aziz lost his scholarship for school and the stipend that came with it. Then he lost his apartment and the school informed him that he now owed the school $10,000 — and he couldn't register for the next semester until that was paid, meaning if he didn't, he would lose his student visa too."
Even though Saeed was initially confused as to why God would allow this to happen, he also realized that God is faithful. "I knew He was going to get me out of this," Saeed says. "I was at peace."
During this time, Saeed was also baptized in water. But what was supposed to be done in a pool, ended up being a baptism in a container in Cook's garage on a cold November night.
"The baptism was not glamorous," admits Cook, "but it was probably the most beautiful one I've ever been a part of — it was a moment I won't forget." As Cook and others report, as Saeed came up out of the water, it was clear by the look on Saeed's face that a real transformation had taken place.
Then, in December 2015, Saeed's friendship with a young woman who was a long-time member of the Chi Alpha group, became a relationship. With the blessing, mentoring, and monitoring of Cook and his wife, Raelyn, Saeed and Karrie,* an Ohio native, began dating.
For Karrie, she admits it was not love at first sight. But as time passed, she saw God working in Saeed's life. "It was cool to see how God prepared things in his life to show Aziz who He really was," Karrie says. "But for me, I didn't even think about dating him until we were equally yoked [believed the same way]."
"There was a chemistry growing between them that we could clearly see and Aziz's commitment to Christ was clearly authentic," Cook says, then laughs as he adds, "there was a lot of work in the meshing of the two cultures — Aziz was coming to the relationship thinking one way, Karrie thinking another."
More change for Saeed was on the way.
John Wootton, the
Ohio Ministry Network
superintendent, learned of Saeed's financial situation. At an Ohio ministers' convention, Raelyn, shared Saeed's testimony and shared about his need.
"I was so surprised," Saeed says. "I thought to myself that even if they give me $50, I'd be so thankful."
Saeed's thought became nothing more than a seed of faith, as in one evening the district raised more than $10,000 to assist him with his finances and return to school.
In 2016, Saeed received the baptism in the Holy Spirit and he and Karrie were married, with Cook officiating. The couple now work together with Chi Alpha at the university, with Saeed ministering to international students.
"God showed Aziz that He is God — not just a good idea, philosophy, or teacher, but the actual living God who can transform us from the inside out," Cook says. "Although I know God is using Aziz now [in Chi Alpha], I believe God wants to do something very special through his life, on a much larger platform, because he has a servant's heart. I'm excited to see how that unfolds and what God has in store for him!"
Saeed gives credit to his miraculous transformation not only to his mentors, but to the countless people who held him up in prayer. "I believe the power of prayer is what brought me to where I am now," he says. "I made a decision for Christ, not in my strength, but through God's power and the power of prayer."
*Name changed for safety.