A Web of Purpose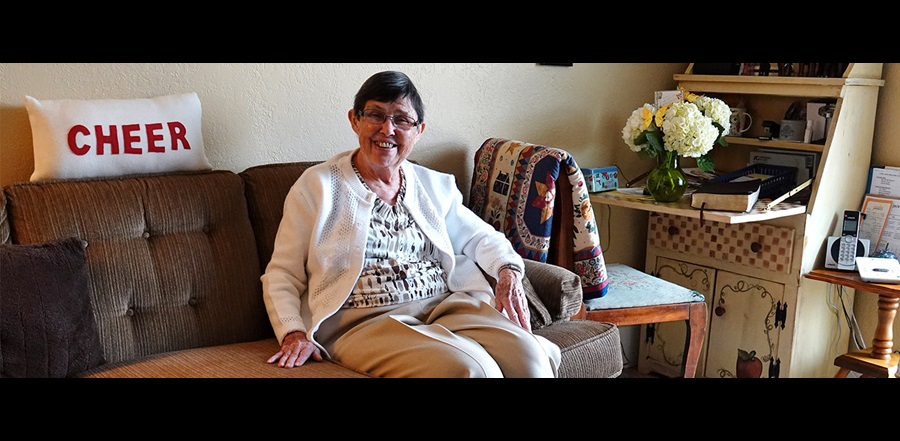 Don't miss any stories. Follow AG News!
According to Thelma Tate Cook, she was from "the wrong side of the tracks" — an impoverished area of Springfield, Missouri. Thelma's parents divorced; her mother struggled to care for her nine children.
Born Sept. 21, 1929, Thelma began attending the Main Street Mission as a young teen. Students from Central Bible Institute (now Evangel University) led the mission and became models and mentors for her. On May 14, 1944, Thelma asked Jesus to be her Savior.
She could not have imagined the adventures her relationship with Him would bring.
To her mother's dismay, Thelma enrolled in the work-study program at North Central Bible Institute (now North Central University) in Minneapolis. Stationed as a busser in a hospital cafeteria, Thelma graduated from North Central in 1951 and attended the Swedish Hospital School of Nursing, graduating in 1954.
"I never had any idea how I would pay for all this education," Thelma recalls. "I just trusted God implicitly. And miraculously, I received scholarships!"
By 1955, Thelma was a Bible college graduate, registered nurse, and AGWM medical missionary on her way to India — a land where one's heritage was everything and the Hindu caste system reigned supreme.
Arriving in Bombay, Thelma was overwhelmed by the roaring swarms of humanity. Packed into a train car bound for northern India, Thelma was investigated by curious gawkers, menaced by thieves, and shouted at by aggressive vendors and con artists. Devoid of privacy yet devastatingly alone, Thelma clutched her sweater and her humble packet of food, and wept.
But then she remembered her encounter with Christ, the designer of a life that already exceeded her wildest dreams. Thelma gathered the strength to pray simply for faith and protection, asking God to renew her confidence that He was with her.
He was with her on the train, and during the grueling months she studied tirelessly to learn the Hindi language. He was with her when she began serving in the medical dispensary in Rupaidiha, on the border of India and Nepal, caring for individuals of all castes and occupations.
Thelma felt Jesus' presence as she served in the Baby Fold (founded by missionary hero Anna Tomaseck), caring for babies who had been abandoned, orphaned, or born to lepers.
One night as she tended a crying infant, Thelma felt demonic forces rushing in about her, fighting back against the missionaries' efforts.
She felt "alone, horribly alone, and yet not alone, for Christ was standing by." All night, Thelma prayed by the child's crib. Prayers were answered as dawn began to pour through the windows, and Thelma felt thoroughly assured of God's presence and control.
For well over a decade, Thelma's work brought health, value and salvation to tens of thousands of people of all ages, statuses, and creeds. She compassionately served Hindus and Muslims, building bridges of trust and friendship. She also connected with many Nepalis, who flooded across the border for the missionaries' trustworthy medical care and to hear about Jesus, whose name was forbidden in their own country.
In 1969, Thelma returned to Springfield to help care for her ailing mother, who by then had made peace with and found pride in Thelma's life of ministry.
Thelma obtained another bachelor's degree, this time from Evangel University, and a master's degree in special education from Drury University. She served as a registered nurse at Cox Medical Center and in 1974 married Tom Cook, a kind widower who years before had served as custodian of the church she attended during school in Minneapolis.
Thelma continued to see God's intricate web of purpose in her life. One such example came in 2005 in a letter from Don Filbeck, an Assemblies of God pastor for over 50 years. He grew up across the street from Thelma in Springfield, but they had lost touch over the years.
Thelma had taken Filbeck and his two brothers under her wing when their mother, Effie, contracted tuberculosis and was taken to a sanitarium. Having already prayed Effie through to salvation, Thelma took the boys to church by bus and prayed with Filbeck for salvation. Eventually, even Filbeck's father, Raymond, a bartender resistant to the gospel, accepted Christ.
"Thelma, I would like to thank you on behalf of myself, my mother, my brothers, my three children, and my seven grandchildren, who are all serving the Lord because of the seed YOU planted some 60 years ago," Filbeck wrote. "I remember kneeling with you at Northeast Assembly and inviting Jesus into my heart. Thank you for your dedication to the Lord. Your faithfulness has affected generations."
Thelma's ministry continues in retirement at Maranatha Village in Springfield. From 2009-2014, she helped to care for Joyce Chandler Copple, her college friend and roommate who had herself gone on to become a pastor's wife and missionary to Cambodia.
Thelma insists she never experienced a dramatic call to missions. "But from the time I accepted Jesus," she says, "I lingered at the altar in prayer, wanting His purpose for me. Over time, the call to India just quietly grew. God has directed my life in a way I had never dreamed of."
For this and other stories about AGWM's ongoing work in Nepal, please pick up a copy of the April 2018
WorldView magazine, or visit agwm.com/worldview.