AG Minister Loses Everything Except Joy of the Lord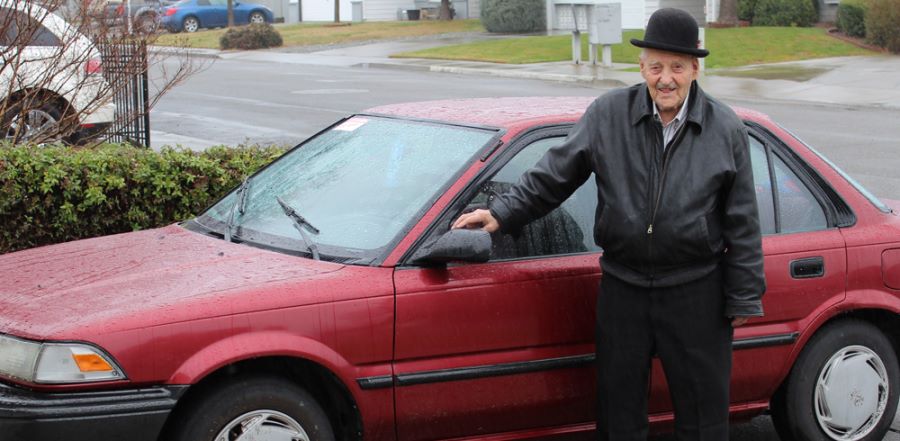 Don't miss any stories. Follow AG News!
When the Camp Fire raced through Paradise, California, in November, it killed dozens of people and destroyed 80 to 90 percent of the buildings. One of those escaping while trees burned on either side of him on the crowded escape route was 97-year-old AG minister Allen Wine.
Wine's escape was perilous. Sharon Rose, 75, Allen's daughter, had dropped off her husband, Bob, 81, to get her dad and drive him to safety while she drove their car. All Allen had time to grab was his Bible — as unknown to him, the fire was already coming up the hills toward his home.
"The trees were already on fire by the time we jumped into his '91 Toyota Camry and headed out," recalls Bob, who is a former firefighter and investigator. "But we got a little ways into the lane of traffic, and the car stopped dead. We took the key and left the car, unlocked. I told Dad [Allen] to get into the first available vehicle — he found a lady with a van who gave him a ride — while I ran ahead to where I was supposed to meet my wife at the church."
Wine made it safely out of Paradise despite flaming chunks of pine needles falling out of the trees and onto the roads and igniting roadside grass. But he, as well as Bob and Sharon, lost everything in the fire.
"The fire was so hot that it even burnt the ashes," recalls Bob.
NOTHING NEW
Allen says he gave his life to the Lord in 1936 in a church his sister started in Republic, Missouri. The family moved to California after that and God spoke to him one day while he was praying in a park.
"The Lord called me into the ministry," he recalls, "but I told Him that He had the wrong guy this time — I didn't want to be around people; I liked spending time alone."
God was persistent in His calling. Allen was persistent in his refusal. In 1944 he joined the Navy for two years, and then, finally, gave in to God.
"It really was a miracle," Allen says. "I had a sixth-grade education and I applied and was accepted at Pasadena Bible College — I don't know how I got in or how I got through, I just relied on God."
After graduating in 1948, Allen began ministry with his wife, Fern. The couple ministered in small towns and even smaller churches including New Castle and Fremont, Nebraska; Spirit Lake, Iowa; Decatur, Illinois; and Montclair, Orick, Santa Rosa, and Covelo, California. He built three churches along the way — in Fremont, Montclair, and Santa Rosa.
And money was never a problem for the Wines — they simply didn't have any.
So, when the Camp Fire destroyed his mobile home and all his meager positions, it wasn't like he hadn't lived "without" before.
Sharon confirms: "We had very little," she says. "Really, I'm not sure how we got by. We would build a church up and then leave for another. For my mother and him, everything was about the Lord, as she was into the ministry just as much as my dad." Fern passed away in 2005.
Robert Wine, 72, the district superintendent for
Nebraska
, is Allen's son. "My parents never had any monetary wealth, though they were extremely wealthy in the joy and the love for Christ," he says. "Dad's joy in the Lord was his strength, whether he had enough to feed his family or had to trust God to provide for us."
"God gave me a burden, and provided signs and wonder," says Allen. "All I know is Christ and winning the lost, that has been my burden all these years."
A NEVER-ENDING CALL
Allen taught Sunday School into his 90s, led Old Time Sing events, and, until a recent illness prevented him, he ministered at two nursing homes each Sunday.
But what is immediately evident when speaking with Allen is that the call on his life to see the Church reach the world with the gospel message is ongoing. His voice is kind, but tinged with a sense of urgency — he has to tell people about Jesus!
When Allen goes to visit Robert in Nebraska, he chooses to travel by train. "I take the train because I want to witness and talk about Jesus with people," he says. "The conductor told me they wanted me to come back on the train again — God just plain ol' used me. I'm a voice for God and I can't keep quiet."
Bob, who attends
High Point Assembly
in Red Bluff with Sharon, agrees, recalling how after a Franklin Graham event held at a race track in Chico, Allen disappeared. He and Sharon later found Allen near the exit, witnessing to three young men who appeared to be from the drug culture.
"Dad has been an example of how passion for God and evangelism trumps finesse," Robert says. "He loves to see Pentecost in action in and outside of a church building."
But Allen also has a word for the Church. Although nearly every Pentecostal minister and member is likely aware of the Great Commission — sharing the gospel message with every person throughout the world — he questions whether churches are depending on themselves and technology or upon the Holy Spirit . . . and if the Holy Spirit, is there evidence of His presence?
"We need to get back to the fullness and power of the Holy Ghost, walking in Him, seeing signs and wonders, for people to really seek to be like Jesus," he says. "God is bubbling out of me. Right now, I'm edgy to go out and buy groceries or see the doctor just so I can tell someone about Him."

NEW HOME, SAME LIFE
Following the Camp Fire disaster, Allen moved to a small trailer in Red Bluff, California, with Sharon and her husband living close by. His material possessions are few, but his love for God exudes from him.
"The joy of the Lord is on my life as much as its ever been," he says. "I depend on God in everything I do."
Robert recalls a trip to Omaha, Nebraska, he took with his father as a boy, to visit someone in the hospital. "When we finished and were walking to the car, he spotted a $5 bill caught behind the rear tire and got all excited," Robert says. "He told me he didn't have money to buy enough gas to get back home and that $5 was God's way of providing for him to do His work."
Perhaps the extent of Allen's love for God is best illustrated in a recent trip to a local Walmart. While standing in line, he struck up a conversation with the woman in front of him.
"I started talking to her about the Lord, and then I don't know what in the world I said, the Holy Spirit just took over," he recalls.
The woman didn't know Allen, but knew his younger daughter, Becky, who's 67. In a chance conversation, the woman later told Becky she had met an angel at Walmart because he told her exactly what she needed to hear. After a few questions, Becky realized the truth — that her dad had been mistaken for an angel!
There's nothing that excites Allen more than being able to share his faith in Jesus with someone, and as Robert has observed, "His excitement [goes] over the top if he is able to lead someone to Christ."
"I would to God to see the Church wake up, fire up, and there be a great move of the Church," Allen states. "In a day like this, in the hour we live, that God would do this."
AN EPILOGUE
When Allen and Bob had to abandon Allen's car on the road in Paradise, they believed they would never see it again, except maybe as a charred piece of metal. At the time, the fire was closing in around them and nothing seemed to be able to impede its progress.
Two days after the fire, while at the DMV in Chico, Allen noticed that his car's license plate appeared on a list of recovered vehicles.
"The car was not touched, not singed, the tires hadn't melted or gone flat, nothing," Allen says. "It was like God wrapped a wet blanket around it and let the fire go on. In fact, I'm still driving that car."