Angola: Freed from Fear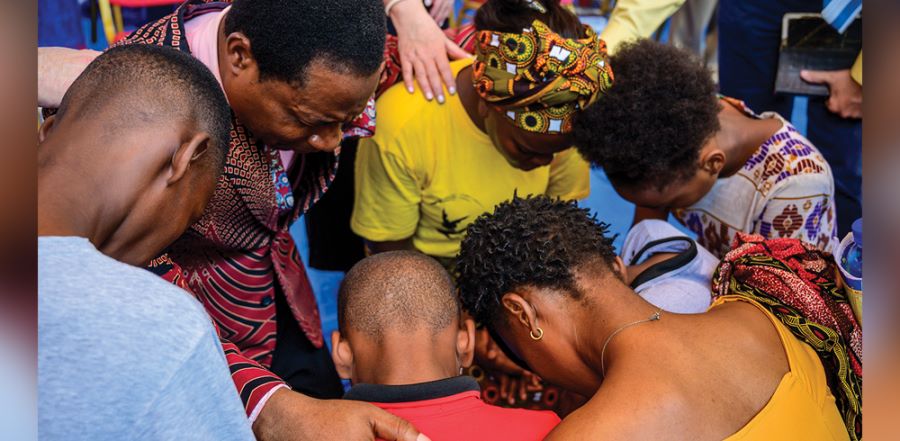 Don't miss any stories. Follow AG News!
"I would just like to clear up the notion that missionaries are something 'other,'" says Ron Mueller. "We are fellow strugglers through emotions like anxiety, fear, and doubt. Yet we see God's victories. God walks us through."
In 2002, when Ron and his wife, Donna — along with young daughters Breanna and Brooke — began missionary service in the West African nation of Angola, the country was emerging from 27 years of civil war.
"Every day for those 27 years, Angolan followers of Jesus agonized in prayer," says Donna. "They told us they lived every day as though it were their last. To this day, many still just buy enough food to last the day."
Now, 18 years later, Ron and Donna see tremendous fruitfulness from those years of Angolan believers' agonized prayers.
"The spiritual hunger of Angola astounds us," say the Muellers. "Churches are bursting at the seams. Jesus is the cornerstone of people's lives. Yet many pastors don't even have Bibles; and if they did, some could not read them as they have never learned how."
Humble believers through years of horror, war, and poverty were held fast by their faithful and victorious God. Now deliverance is sweeping the nation, and the spirit of fear that has long gripped Angola is being defeated.
FOCUS ON THE FAITHFUL GOD
The terror that has bound Angola for centuries, Ron and Donna say, is driven by ancient religious practices founded on curses and interaction with demonic spirits.
Formal Christian religion arrived with European explorers almost 500 years ago. Yet formal religion could not stand up to such darkness, nor to decades of war and pain. Syncretism — the blending of ancient pagan practices with Christian rituals — kept people from taking hold of the true gospel. Animism in local traditional religions fed a continued belief in innumerable spiritual beings capable of helping or harming human interests.
"Local African religions rule Angola," Donna says. "The majority of Angolans are involved with some kind of witchcraft,
unless
they have truly, powerfully encountered Jesus, grasped genuine biblical concepts, and been delivered. Only then do they separate from witchcraft and the fear it brings."
Upon their arrival in Angola, Ron stepped out of the door each morning to find bits of hair and other oddities arranged in strange patterns on their front step. Puzzled, he swept the mess away. Finally an Angolan believer saw the items and cried out, "Pastor Ron, that is witchcraft! Someone is trying to put a curse on you and your family! Aren't you afraid?"
"I told him that God is so much more powerful than the enemy," Ron says, "and that the focus must stay on Him. Deliverance and maturity come when we are able to focus on God and His Word, not on the attempts and attacks of the devil."
Ron and Donna could not have anticipated how those words of faith would be tested during their years spent in a country of spiritual darkness, violence, and corruption. For 10 years, as a standard precaution, they only left their home accompanied by Angolan believers.
AN ENCAMPMENT OF ANGELS
One night two months after arriving in Angola, Ron and Donna lay in bed, unable to sleep.
"We were restless, and were just lying there thanking God for everyone that we knew was praying for us," Ron remembers. "Then a tap came on our window."
An Angolan colleague was alerting them that one of the armed guards outside the Muellers' home had been shot and was dying. Ron leapt out of bed and ran to the side of the wounded guard.
"He was sobbing," Ron remembers. "He was worried about who would care for his family."
After bandaging the man's wounds as best he could, Ron took the fallen AK-47 and stood with the remaining guard until it was clear the attackers would not return. Miraculously, the wounded guard survived and came to know God had intervened on his behalf.
"When we first arrived here, I didn't understand why local Christians greet each other with,
'Thank the Lord we passed the night well,'
" Donna says. "After the shooting, I came to understand. Fevers, thieves, and other evils often happen in the night, so to wake up each morning is considered a gift."
Both of the Muellers' daughters came close to drowning.
"Our oldest daughter was pulled out of the sea by an Angolan man," Donna says. "A fellow missionary had been trying to locate her in the water but could not. When he reached them and turned to thank the man, he was gone. No one else ever saw him."
Another night, Donna herself saw an angelic presence intervene in their situation.
"The spirit of fear that has ruled in Angola had begun to attach itself to me," she says. "I was looking out our window one night, over a short cement wall and out into the tall grass. I saw an Angolan man in a bright white, untucked dress shirt. All the other Angolan men tuck their shirts in. He was patrolling slowly near our home. I turned to call Ron to see him and when I turned back, the man was gone."
At the same time, the Muellers received an email from Ethel, a supporter in California. She wrote, "I don't know what's going on over there, but I am praying for you and I saw four angels dressed in white and standing at attention, encamped at each corner of your home."
After this event, Donna says that she took the words of
Psalm 91
as her own. She says, "My trust had to go deep in who God is, though I did not feel it."
FAITH BEYOND EMOTION
"We will not get caught up into the turmoil," Ron says. "These are chaotic and unsettled days, and it is time to seek the heart and mind of God and know His way. Otherwise, we will be anxious and fearful and act like those who have no hope. The solution is to stay focused on the face of God."
"Angolan believers have taught us more than we could ever teach them," Donna says. "They have seen everything stripped away, and it has left them with a staggering level of faith and trust in God. For example, there is very poor medical care here, no 911, or ambulances. So they have full confidence that either God will heal them, or they will go home to heaven. They live in extreme poverty with no running water or dependable electricity. They make very few plans for the future. But they wake up thanking God each morning. Their focus is on God, and how much greater He is than the defeated enemy."
Ron and Donna identify the power of prayer as the unifying thread throughout many turbulent years in Angola — including the warring prayers of supporters at home in the United States, the faithful prayers of Angolan believers, and their own burgeoning prayer lives.
"
Greg Mundis
' bout with COVID-19 has launched us into a season of intense prayer," Donna says. "We have been locked down in our home since March 19, and we were awakened to the fact that we were busy for the Lord but were not spending time with Him. We are grateful to have been woken up."
Ron adds, "Even during lockdown, which is quite intense, including armed guards, tanks, and helicopter flyovers, we are visited by several people each day. And we don't let them leave without praying Psalm 112:7: 'They will have no fear of bad news; their hearts are steadfast, trusting in the LORD.' In times of such fear and anger, we have to be people of prayer. This is the time to pray and seek the heart of God and act in compassion, especially towards those who do not know who they are or why they are acting as they are."
"We do see times of intense spiritual warfare," Donna says. "We did not previously realize the intensity that comes with heavy enemy presence and activity, including tensions, fighting, and division, even among followers of Christ. We anoint our compound with oil, praying for the protection of Jesus moment by moment."
Ron says, "We stand on the shoulders of those who came before us, including courageous missionaries who founded the Bible college (on which campus we live) during the civil war. Our greatest prayers are for more missionaries to come."
"We have wanted to quit at times," Donna admits, "but knew we could not face the ones who are praying for and supporting us — ones like Nadine, who at 75 years old was cleaning houses so that she could afford to support missionaries like us."
Sustained by God, Ron and Donna also see the example of Angolan Christians, who through years of suffering have learned not to cave in to pressure or fear. They no longer look to the right or to the left, but have fixed their eyes on Jesus — the Author and Perfecter of their faith — and live in a place of deep trust.
The Muellers note a common conviction among Angolan believers:
"We will not turn in any direction apart from God. We will not bow."
Ron concludes, "That is a place beyond any emotion. That is a place of faith."