BGMC -- For Kids Ages 2 to 92 -- and Counting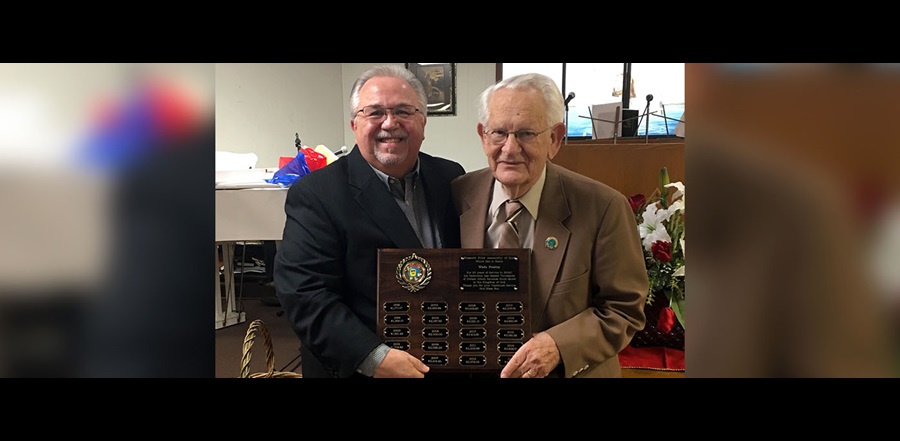 Don't miss any stories. Follow AG News!
When most people hear the acronym, BGMC (Boys and Girls Missionary Challenge) they typically think of preschool and elementary-age kids who have a heart for helping missionaries. But that's not Wade Presley's view — he believes that just because he is no longer elementary age it shouldn't mean he can't be a BGMC fanatic.
Fortunately for Presley, his pastor, Jerry Hightower of Prescott (Arkansas) First Assembly of God, agrees. But Presley isn't your typical "post-elementary-age" BGMC fan. In March, Presley, who has served as the church's BGMC coordinator for the past 20 years, will turn 93.
Prescott First AG averages about 50 on Sundays, and Hightower says that Presley is a key fixture in the church body and ministry. "He's a deacon, he's on the worship team playing guitar, he's our BGMC coordinator, and he and his wife, Joann, clean the church — the man is active!" Hightower says in admiration.
Presley admits he's passed the "spring chicken" stage of life, but his support for BGMC comes from his desire to see people reached for Christ. "It reaches out to people who don't have the privilege to know the Lord," he says about BGMC. "The more that we can do, the better we can help get the gospel out."
According to Hightower, age makes no difference to Presley — everyone gets a Buddy Barrel to fill with coins to turn in for BGMC once a month. "And after the barrels are turned in, then we take an offering," Hightower laughs.
"It is amazing how many of our BGMC leaders across our nation are senior citizens," notes David Boyd, National BGMC director. "That age group has a deep dedication to teaching kids to care about the world and to see those kids learn to pray, give, and go tell others about Christ."
Although some people step away from being involved in church ministries once they exceed retirement age, Presley's mindset is one of continuing to serve God to the best of all of his abilities.
"You need to do what you can do while you can do it," he says. "So, if you're able, get in there and do what you can — do your best and the Lord will do the rest!"
Joann, 83, agrees with her husband. In addition to helping clean the church, she teaches a kindergarten Sunday School class and sings in the choir. She broke her hip in January, but says she was back at church in two weeks and she hopes to be "cane-free" in a month or so. "If something comes up and I can do it, I'll be glad to do it," she says.
Since Presley became BGMC coordinator, the small rural church has given more than $50,000 to BGMC. Hightower says that when he first came to pastor in 2007, the church was giving about $1,000 a year to BGMC. But since then, Presley has taken on the challenge of increasing the giving so now the church has a goal of $3,000 or more a year for BGMC.
Ron Kelley, Discipleship Ministries director for the Arkansas District Council, recently presented Presley with a plaque, commemorating Presley's 20 years of faithfully coordinating BGMC at Prescott First AG.
"I appreciate Brother Presley's heart and dedication to the Lord, his church, and BGMC," Kelley stated. "When people much younger than he want to slow down and let somebody else do the work, Brother Presley is standing up and saying 'Here am I. Send me.' He is a true servant of the Lord."
Hightower is equally impressed by Presley. "He's one of the greatest people you'll ever meet; he's one of the most humble people you'll ever meet. I would call him a Caleb. He's a 'I'm going to take this mountain' type of person, not one who sits back and lets others do it."
IMAGE -

Ron Kelley (left), the director of Discipleship Ministries for the Arkansas district, presents Wade Presley a plaque recognizing his 20 years of serving as BGMC coordinator for Prescott First Assembly of God.