Belgium: Lifting Up Jesus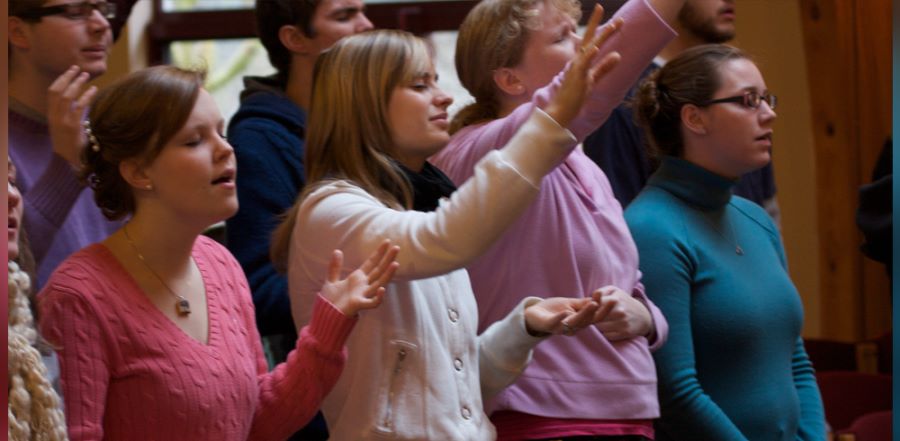 Don't miss any stories. Follow AG News!
Sometimes proclaiming the hope of the gospel means mopping up beer stains.
As 2018 drew to a close, our Students for Christ group wanted to create a unique experience with the potential of growing our ministry within a secular university environment — a joint worship service of our two groups here in Brussels. We reserved the party room in the campus of the University of Saint Louis, then mopped up the evidence of the most recent revelry left on the amphitheater floor. We began to prayerfully seek the manifest presence of Jesus in the heart of the city.
The night of our event, groups of students began filing in until the room was packed with 120-150 students praising God and dancing. There was no special guest; the program was simply students leading other students in songs of praise.
How wonderful it was to watch several secular and Muslim students walk in, do a double take, and then decide to stay because they liked what they were feeling. People from a conference held three floors above us came to ask us to turn down the volume. Of course we did; we don't want to be rude, but we believe sometimes it is OK for Christians to make some noise for their King.
The best part of it all was the simple presence of Christ. Multiple students reported how blessed they were to see that they could pull something like this off, and that in simply lifting up Jesus, He would draw people in.
As missionaries serving the universities of Belgium, we believe the university years are a crucial time in students' lives — a crossroads of life decisions and relationships. We are calling students to "look to the ancient paths" of walking with God. In a culture of isolation and secularism, we are building a community of believers that will lift up the name of Jesus.
The mission statement we've subscribed to for years is "Reconciling Students to Christ and Transforming the University, the Marketplace, and the World."

For more information about missions in Belgium, please view the August 2017 edition of
WorldView
magazine in our archive
.
For more information about Students for Christ Europe, please view the January 2015 edition.