Buddhism Ruled His Life, His Family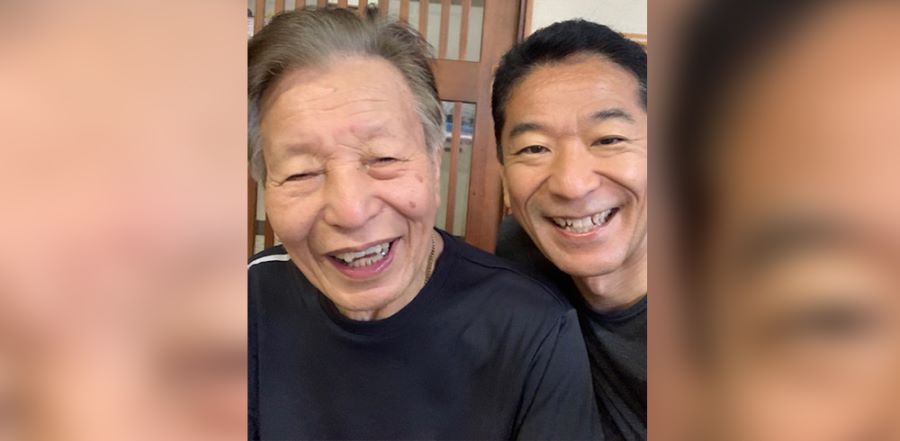 Don't miss any stories. Follow AG News!
As Hiro Noda grew up in his family's home in Japan, he knew the expectation for him was to follow in his grandmother's footsteps — and the line of priests before her — and become a Buddhist priest. It made perfect sense as his home was not only a home, but a temple where up to 100 people a week came to light incense, bow, and chant before the large Buddha statue in their temple garden.
But God had a far different desire for the Noda family — a desire that took decades to resolve in an unexpected way.
GROWING UP
"My life was a life of Buddhist tradition," Hiro says. "As a child I visited many Buddhist temples, learned the Buddhist teaching, and participated in its disciplines."
Hiro's grandmother had an unusual amount of influence on his young life as his parents had divorced when he was 6 years old; his grandmother, the Buddhist priest, then fulfilled the role of his mother in the household.
However, as Hiro grew up, he began to wonder about Buddhist traditions.
"I read so many books trying to understand what religion is," Hiro says, "but it was a mystery that remained unsolved for me."
As many Japanese students do, Hiro decided that he was going to attend a college in the United States where he could improve his skills in speaking English while attaining a degree. So, he enrolled at Portland State University in Oregon in 1988.

EXPERIENCING CHRIST
As Hiro was getting acclimated to college life in the United States, another student of Japanese descent, also attending Portland State, was following a similar educational path. Her name? Yoko.
Was it by chance that a Christian Japanese woman learned of Yoko? In retrospect, no – the orchestration of God can clearly be traced. That woman contacted Yoko and invited her to her church. Yoko decided to accept the woman's invitation in November.
Just a few weeks later, Yoko gave her life to Christ. She shared with her friends that it felt like someone was pushing her to the altar even though no one was visibly touching her.
Yoko, who had become friends with Hiro earlier in the year, almost immediately invited him to attend the church with her — she wanted someone there to take a picture as she was being water baptized. As Hiro was still seeking an answer to his religion questions (and, eager to accept the invitation to help a pretty girl), he decided to go.
"The first time I attended church was Dec. 25 — Christmas," Hiro recalls. "I decided to buy a Japanese Bible from the church. I was on winter vacation, so I had plenty of time to read. I started to read the Bible carefully — Genesis, Exodus, Psalms, Proverbs, Matthew, Mark, Luke, John . . ."
And when Hiro read John 14:6, "I am the way and the truth and the life. No one comes to the Father except through me" (NIV), the Holy Spirit resonated the Word in his heart.
"At that moment, I knew Jesus is God," Hiro says. "I confessed my sins, asked for forgiveness, and asked Jesus into my heart. The next Sunday, I went to church and asked for water baptism because I knew it was important."
On Jan. 17, he was baptized. Yoko was very happy for him and the two found their friendship growing. Two years later, they were married.
THE CHALLENGE
Converting from Buddhism to Christianity is one thing; telling your Buddhist family is something else.
"I couldn't tell my parents or grandmother that I was a Christian, because I was afraid — I was so scared," Hiro admits. "I wouldn't tell them for three years!"
It was in 1991 when Hiro was filled with the baptism in the Holy Spirit, under the mentorship of AG missionaries Bill and Carol Paris, that the conviction to tell his family about being a Christian began to grow.
"Through the Holy Spirit's leading, I called my parents in 1992 and I told my father, Masataka, that I had become a Christian, and I told my grandmother that I believed in Jesus Christ as He's the only God," Hiro recalls. "My father was very angry and my grandmother was very disappointed in me. They disowned me — I was expecting that, but I have no regrets in telling them."
As Yoko was an American citizen, her mother having been born in the United States, when she and Hiro were married, he was issued a green card. As his father now refused to help pay for his schooling, Hiro worked and continued to finish up his math degree. The couple also started to attend
Portland Christian Center
(PCC).
"I became a Japanese school math teacher at the Portland Japanese School," says Hiro. "I then started taking courses at Western Evangelical Seminary (now Portland Seminary) and I graduated with a master of divinity."
Hiro, with strong connections to PCC and pastor Bill Wilson, soon became a licensed AG minister and was ordained in 2006.
"I was a bivocational minister and after I was ordained I started a Japanese ministry at Portland Christian Center," says Hiro. What started as a Japanese ministry became a Japanese Fellowship Church with Hiro as pastor and the church under the umbrella of PCC. Hiro currently also serves as the Assemblies of God
Japanese Fellowship
secretary.
Wilson was (and remains) a significant mentor in Hiro's life, as Hiro noted that what Wilson shared in his 20-minute Tuesday morning prayer meetings was more inspirational than a full day of seminary teachings.
Wilson says he's still amazed at how powerfully God speaks through His Word, especially considering Hiro's path to salvation. He also has great admiration for his friend and mentee.
"Hiro is very polite, godly focused, and has a delightful spirit," Wilson says. "He has always been so very gracious, respectful, and honoring. And his mind is like a sponge — soaking up the Word. We'll be talking and he'll bring up something I said in a sermon five or six years earlier. He's serious about his faith and in sharing his faith with others in the Japanese community."
FAMILY REUNION
In 2007, Hiro reached out to his father and this time, he responded. Communication between the two began to open. Sadly, he learned that his grandmother had died the year before. In 2011, he convinced his mother, Misako, to come to Portland for a visit.
"She came and attended the church and listened to my preaching," Hiro says. "She knew that the Buddhist faith was not the true God, but she didn't know where to find God. When she listened to the gospel, she immediately knew that Jesus is God and chose to accept Christ as her Savior."
When Hiro visited his father in Japan in 2012, he realized that although his father was not an official Buddhist priest, he was an acting priest, as people still came to visit the temple and chant before the Buddha.
"We talked about religion, and I showed great respect to his religion — I never rejected his faith," Hiro says. "I respected him as my father and I was polite to his religion, so that is why he was also open to my religion and open to my faith."
But Hiro sensed his father's home and temple were filled with evil spirits — there seemed to be little hope that the gospel message would ever fully break through to his father.

FROM TEMPLE TO TRASHED
It had been a decade since Hiro, now 54, visited Masataka. But in July 2022, he made another trip home. His father was no longer allowing people to visit the temple as he was 85, living alone, and could no longer maintain things.
In fact, the once immaculate home and temple grounds now had more in common with an abandoned lot. The interior of the home was strewn with papers, clothing, bottles, and bags of garbage, while the yard had the look of a small forest.
"When I arrived home and was alone," Hiro says, "I stood in front of the temple altar and prayed in the name of Jesus Christ to bind all the demonic powers that dwell in the statues of Buddha so that they would not be able to leave it and I commanded by the authority of Jesus Christ that their power become nothing."
When Hiro entered the house, it was full of trash and cockroaches — their droppings were everywhere. His father had to use a wheeled walker or cane to get around, but he had become bitter, hard, and arrogant despite the squalor he lived in.
With the help of a cleaning service, Hiro made his way through the home, hauling off three light truckloads of trash. The refrigerator — a junior high science experiment of molding, rotting foods — took Hiro a day to clean.
Hiro dusted, vacuumed, hauled trash, cleaned seven rooms including a filthy bathroom, bought his father new furniture and mats, cut his father's toe nails, got his hair cut, prepared meals for him — all without complaining. All done with respect. All done while praying that God would break through to his father.
"Every day, the temperature was in the 90s," Hiro recalls. "It felt like I was working in a sauna."
However, while he was there, Hiro also contacted his mother, who lived alone, surviving on a small pension. His dream and prayer were to see his father and mother's marriage restored after decades of separation.

ANSWERED PRAYERS
It was July 30, just a few days before Hiro had to return to the United States, when his mother arrived at the home. Through the past few weeks, Hiro's selfless demonstration of Christ's love to his father had softened him and he was willing to have her visit.
"After lunch, we were having a conversation," Hiro says, "when my mother took the cross necklace I had given her years before when she became a Christian and put it around my father's neck. She then prayed for my father . . . I'm convinced he could feel the presence of the Holy Spirit."
Misako then made what could have been a very controversial suggestion. She recommended that the Buddhist altars be taken away as they didn't need them anymore.
Hiro then revealed that he had prayed by the authority of the Lord Jesus Christ that all the spirits had to leave the house and not come back — there was no power in those altars. Masataka was stunned.
"You are able to do that?" he asked in amazement. When Hiro replied that he could and, in fact, had already done so, his father replied, "Then I want to get rid of them."
Through the weeks of his visit, Hiro says he had witnessed his father's face visibly change as the Holy Spirit used Hiro's selfless work to speak into his father's heart. Where it was the spoken Word that attracted Hiro's mother to Christ, for his father, it was the demonstration of God's Word and love that impacted him.
Then, just two days later, after some long and positive conversations, a stunning surprise — Hiro's parents remarried.
"My father and mother were very happy," Hiro says.
The next day, Hiro prepared to leave for the airport, but took the bold step of explaining to his father how it was through the power of Jesus Christ that he had done all the things for him over the last few weeks. He went on to explain
John 3:16
and the meaning of the Cross to Masataka so that he would understand. Then he prayed for him.
"Right after the prayer, I asked my father if he would like to receive Jesus into his heart," Hiro says. His father's response caught him off guard.
"He told me, 'I accepted Him when I received the cross necklace.'"
To cement that decision, Hiro led his father in the
Sinner's Prayer
. His father then prayed and then came Hiro's prayer of thanksgiving.
"My father looked so happy!" Hiro says. "So much different than when I first came. And the following day, after I got home, I called and my mother told me that a Buddhist altar store had come and taken away all the altars, Buddhist statues, and Buddhist goods!"

CONNECTING THE DOTS
The salvation of the Noda family, and breaking a line of Buddhist priests, took 34 years. But it began with an action — one woman
obeying
the Holy Spirit's prompting to invite a college student (Yoko) to church. It continued with Yoko
hearing
the Word of God and responding — then inviting another student to church (Hiro). That continued with Hiro
reading
the Word of God and responding. Hiro's mother then responded to Hiro's
sharing
the Word of God. And Hiro's father came to Christ through Hiro
demonstrating
the love of God.
Wilson, who is now the network lead pastor for the
Oregon Ministry Network
, observes that sometimes those who communicate about God's love can lose sight of how action — demonstrating His love — is also a very powerful and effective means of communicating Christ to people.
He also expresses admiration for Hiro and Yoko's tireless efforts to reach Japanese people for Christ. Wilson notes that difficult cultural barriers, perceptions, and fears — including being disowned — exist and can take years to overcome. Therefore, the fruit of their ministry may not seem overly abundant as some may define it.
"Starting a Japanese Christian ministry is very, very difficult," Wilson acknowledges. "But there
is
something about leading the father who disowned you and your mother to Christ. Perhaps the years of faithful, sacrificial ministry are tied into God answering Hiro's prayers for his parents to be reunited and become Christians? I know when he told me about his parents, he said, 'Pastor Bill, I am so happy.' And that's not just a cliché for him — it's truly a genuine and extremely meaningful expression of how he feels."
"I thank the Lord Jesus for His great grace," Hiro says. "Now I will be able to see both my father and mother when I am raptured."