Church Camp Adoption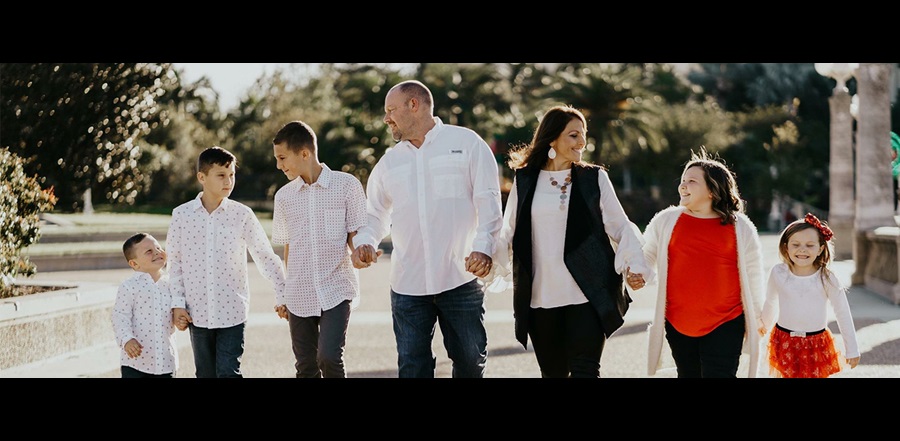 Don't miss any stories. Follow AG News!
When Sydney Morrow, the Children's Ministries director for
Peninsular-Florida District Council
arrived at the district kids camp in July 2016 with her husband, Robbie, and their three children, they never dreamed what God had in store for them — it would challenge and change their lives forever . . . who goes to church camp with three children and comes home with five?
To say Sydney Morrow, who also serves as children's pastor at
Harvest Assembly of God
in Lakeland, was busy could almost be taken as insult. As director of the two district kids camps that run about 450 kids each in back-to-back weeks, Morrow had as much as she could handle. She was stressed to the limit, living on just a few hours a sleep a night, consumed with the myriad of things that have to happen each day at camp, pushed by unexpected challenges that always arise, and what a blessing it would be if her phone would just stop ringing for even 10 minutes!
Each night of the camps, when she finally made it to her bed sometime around 1 a.m. and physically collapsed — but her brain filled to bursting — the most unimaginable thing began to happen.
Robbie, who is the associate pastor at Harvest AG, wanted to talk.
But wait, these weren't just "How-did-your-day-go?" conversations that a few words and a kiss good night could handle. No, these were deep, life-changing conversations. Robbie wanted to talk about adoption . . . in fact, adopting two of the kids attending the camp . . .
are you kidding me?
"I was overwhelmed with the responsibilities of camp," Sydney admits. "And he's trying to talk to me about adopting kids. I could tell he was passionate about it, but the timing for me — I just couldn't process it."
At first, one might wonder what Robbie was thinking — and that's where a miracle all starts, although at first, it seemed more like a failure.
During a conversation with the camp guest speakers, U.S. missionary associates Steve and Sandra Hogue, Robbie had learned that two boys attending the camp that week were about to enter the foster system. The Hogues, who serve as orphan care missionaries with
COMPACT Family Services
and have 10 children through adoption of their own, explained that the boys' birth mother was a drug addict and had lost custody of the boys when they were young.
A couple fostered, then adopted, the boys. But in a shocking almost unimaginable turn of events, three years later, they decided to "unadopt" the boys, dropping them off at their biological grandparent's home and letting them know they were moving without them. The boy's birth mother was still unfit to care for them and the grandparents couldn't take them in either. Their destiny was the foster system.
"The Holy Spirit pretty much nailed me," Robbie says about his response to the story. "The Lord was saying this [adoption] is what I want you to do right now. He really put it heavy on my heart. I spoke to Sydney about it immediately, though I knew it wasn't a good time to talk to her about anything."
For Sydney, who was barely keeping her head above water with camp responsibilities and pressures, just the thought of adding two additional children, who would, without a doubt, come with a lot of emotional baggage, had no appeal to her and the negatives were easy to latch onto.
"I went Momma Bear," she admits. "Bringing two older boys into a family with two younger daughters . . . I had heard horror stories and I had all these hesitations and reservations, not to mention financial questions — adoption is not cheap. But Robbie had heard from the Lord and he knew it. I hadn't. I had fear."
Although the adoption of the two boys, Jude, then 9, and Liam, then 8, was the focal point, God was also doing something in Sydney's life. Admittedly a strong-willed woman, she struggled against Robbie's gracious, but firm belief that they should adopt the boys.
The first real "crack" in her defense, however, came from a totally unexpected source. It was the weekend between the two camps and, at that point, adoption was still not an option for Sydney. But on the way to the store with her older daughter Taylor, who was 8 at the time, the conversation suddenly went deep. "Mom," Taylor interjected into their conversation, "you know, I really think the Lord wants us to adopt Jude and Liam."
It was a pivotal moment where Sydney's thoughts on adoption went from
definitely no
to
what's going on here?
Convicted, but not convinced, Sydney took a step of obedience.
"There came a point," she recalls, "that I had to literally say, 'Okay, Lord, I trust that You have spoken to my husband. I don't feel it right now, but I believe You put my husband as the head of this home, that he's my covering, and that You spoke to him.' When I did that, the confirmation came almost immediately."
With their grandparents' permission, Jude and Liam had stayed the weekend at the Morrow's home, and then returned for the second week of camp with the Morrows. The five children got along well and enjoyed playing together. Then, when Sydney humbled herself and received her confirmation, the pieces began to come together in what can only be described as one miracle after another.
Following that week, the boys went back to their grandparents, who prayed about what to do with the boys. They both chose the Morrows as the best option to adopt the boys.
Then God provided an attorney who was able to make the adoption possible. When she shared with the Morrows how much an adoption cost, even though they knew it wasn't cheap, the amount staggered them.
"But then she said, 'I'm not going to charge you that. I'm a believer. I'm going to do it for an amount you can definitely handle," Sydney says. "When we left her office, we then received a random phone call from a friend who said he was going to pay for the attorney's fee — just let him know what the costs ended up being."
The Morrows began the adoption process in August 2016 and it was finalized Nov. 13, 2017. The boys have been a part of their family for nearly two years now. Of course, there have been some hiccups along the way as Jude and Liam work and grow through issues tied to trust and abandonment, the kids adjust to each other, and Robbie and Sydney walk a new parenting path. But through it all, they have become a family of seven.
Jennifer Stirk, director of Everyday Christians Helping Orphans (
ECHO
) outreach at Harvest Assembly, says that Robbie and Sydney never missed a beat, even when the boys had struggles.
"They never gave up, they just pressed on and you could see the boys growing and coming to accept that this was real for them and that they wouldn't be left — this was their forever family," Stirk says. "To see them parent the boys just like the rest of the kids is wonderful and inspiring to see . . . from when the boys first arrived until now, there's such a huge difference — you would never guess that they were adopted."
However, Stirk also says that the Morrows, when they share their journey with others, include the difficulties that come with adopting children who have been abandoned. Their honest message not only gives people a new appreciation for those who adopt, but prepares and inspires families considering fostering or adopting.
"It has changed the way we parent," Robbie says. "It also has changed our perspective on people who foster — I don't know how they do it — and people who adopt. I used to think what an amazing story it was, when people adopt, but it's more than that. There's a lot of work involved, a lot of personal and family changes that take place — it's a lot of work, but it's worth it."
When asked what adopting has meant to them, the Morrow children responded:
Joseph (5) — Getting brothers and loving them.
Bayleigh (7) — Love your new brothers that you get, and don't be scared of them.
Liam (8) — That you will be in a family forever.
Jude (10) — That you have finally been accepted into a family and that you believe they will take care of you.
Taylor (10) — There's a family that will love you for the rest of your life! Like us!
Sydney also gives credit for their family's success to their church family. "I mean, you talk about a wrap-around family!" Sydney expresses. "They have come beside us, loved us, accepted and loved on the boys so much . . . it has been an amazing thing to watch the body of Christ come beside a family who has said yes to adoption. I don't think we could have done it without the people God put around us to support us in every way."
Pastor Keith Conley, who planted Harvest Assembly 28 years ago, explains that the church has many foster and adoptive families — it's already a part of the church's culture. However, it was a great encouragement to those families when the Morrow's chose to adopt.
"It really brought the church together in so many ways — a real unity and cooperativeness," Conley says. "And the boys fit right in as soon as they walked in the doors . . . the Morrow kids opened their hearts to them, the church welcomed them in, the family welcomed them in, and they're good boys!"
Recently, the Morrows were voted in to become senior pastors at
Lifepoint Church
in Sunrise, near Fort Lauderdale, Florida, about 200 miles south of Orlando. What Stirk has observed is that Jude and Liam are responding just as the rest of the children are — expressing their disappointment in moving away from friends, but not fears of abandonment.
As for Sydney, as she reflects on all that God has done for her and her family, the challenges and opportunities He continues to guide them through, and especially the two additional voices now calling for "Mom" and "Dad" in their household, she's still may be busy, but now she's overwhelmed by God's blessings.
"However, I told Sydney," Robbie says with a lighthearted laugh, "don't expect me to go back to camp!"
. . . he's been back.