Church Finds Passion Makes the Program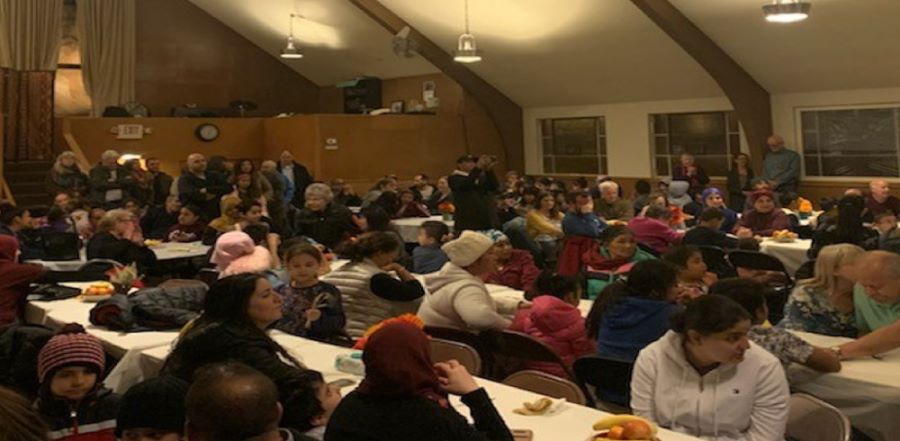 Don't miss any stories. Follow AG News!
It was the joy on their faces that convinced him. As pastor Michael Wengerd observed about 20 congregants from the church participate in serving a Thanksgiving meal to nearly 300 refugees and immigrants at the Hope Center in Cleveland on Nov. 15, joy was clearly visible. But it wasn't just the happy smiles on faces of the refugees and immigrants being served that stood out to Wengerd; it was the joy on the faces of the church volunteers!
"We used to do these huge events, requiring scores of volunteers, and seeing up to 1,500 people attend," observes Wengerd, lead pastor with his wife, Pam, of
Immanuel Assembly of God
for the past 15 years. "But we we're getting very little return on our investment — it seemed most of the people who came were already Christians."
In reviewing their approach to outreach to their Cleveland suburb of Middleburg Heights, Wengerd and the church board decided that the keys to any outreach were that it must be organic (come from within the church), relational, and compassion-based.
The outreach at the Hope Center, which focuses on educating, guiding, and providing for refugees, was a partnership formed when a church member felt a passion to reach refugees and immigrants in the community. She and her husband started working with the Hope Center. When the opportunity came for the church to get involved, it was easy to see how the involvement met the outreach criteria.
"The church provided the dessert for the meal," Wengerd says. "We also helped with set-up, serving, and tear-down." However, as he observed the volunteers joyfully interacting with hundreds of refugees and immigrants attending the meal, it confirmed in his heart that passion makes a difference.
"Before it might take 100 people to do an event, now just one to 20 people are all that are needed," Wengerd says. "We have a jail ministry, support for victims of domestic violence, we have an Angel Tree outreach, we help schools by providing food to send home with children over the weekends who otherwise may not eat, we're starting a deaf ministry — all things are staffed by people within our church who have a passion for something and the church is coming alongside of them and doing ministry organically, relationally, and compassionately."
Wengerd recalls how earlier this fall he was playing golf with his son-in-law when out of the woods came a very short man holding a golf ball, bowing repeatedly and politely to them, believing they may have lost the ball.
"His English was virtually non-existent, and we struggled to communicate," Wengerd says. "Guess who we met at the Thanksgiving meal? The same man! I learned he was from Bhutan and I got to talk to him (with some translation help). I think, in a way, this was God's way of saying, 'Yes, you are doing the right thing.'"
Wengerd says he has seen growth within the lives of the roughly 175 congregants who attend as they get involved with ministries they are passionate about. He's also seen individuals start attending the church as a direct result of those ministries.
"The feedback from our people involved in the Thanksgiving meal has been off the charts — they were so excited to be a part of that," Wengerd says. "We hoping to bring the director of the Hope Center in to talk to the church about what they do and how we can partner in other ways with them."