Church Surprises Hometown Police Force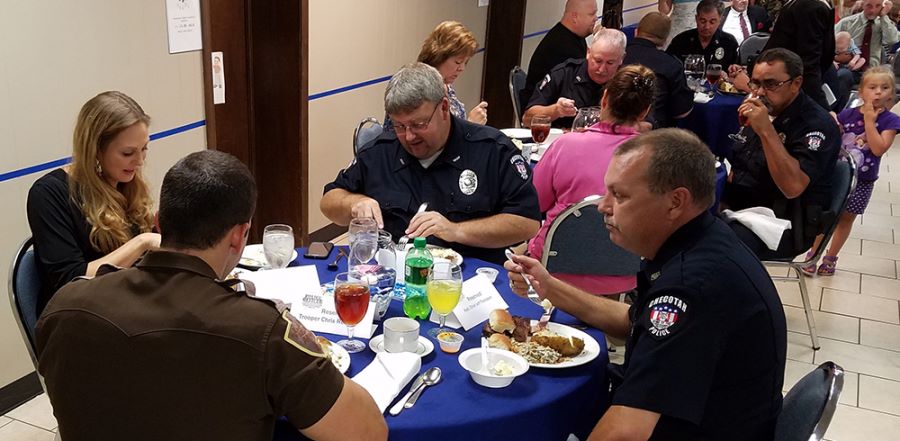 Don't miss any stories. Follow AG News!
Pastor William "Bud" Shackelford and his congregation at Checotah (Oklahoma) First Assembly of God recently shocked their local police force with an act of gratitude that left officers and department staff speechless.
On Friday, July 29, the church held a grilled ribeye steak luncheon to honor officers and thank them for their service to the community of about 3,400 people.
"I've always been pro law enforcement," says Shackelford, who says the event has been in the planning for months. "It's a very underappreciated, thankless job position that faces a lot of challenges and places a lot of stress and strain on family and life."
Shackelford, whose father and son spent time as police officers, spent time as an EMS responder himself and recently became chaplain for the Checotah Police Department. He knows the tragedies and emotional extremes officers have to face. "Oftentimes, they show up at the worst times in peoples' lives," he says.
Checotah Chief of Police Darren Glover says he has never experienced anything like the luncheon. "I've been on the force 18 years, and I had gotten to the point where I didn't think people cared or even knew we were even around."
Shackelford said he had no problem raising the funds to host the event, as the church, which runs about 150 on Sundays, readily responded financially as well as gave of their time to host the noon meal.
The meal included steak, baked potatoes, dinner rolls, sides, green bean salad, and homemade desserts, including chocolate and coconut cream pies. "And that wasn't a little ribeye," Glover says in obvious appreciation, "it was plate-filling huge!"
The appreciation for the event wasn't limited to Glover. "My assistant chief sat beside me, and he's usually full of words, but he was dumbfounded," Glover says. "I just looked at their (officers' and staff's) faces . . . this was so totally unexpected and overwhelming. The love and support they showed to us was remarkable. It was amazing, just amazing!"
The church did its best to honor the department, serving the meal on china with cloth napkins, tablecloths, and silverware. Christopher Reeves, a highly respected Oklahoma State Trooper and member of the host church, spoke about how faith interfaces with the job of a law enforcement officer. Then, each member of the police department received a special gift.
"We presented each officer and staff member [a total of 14 officers and five dispatchers] with a special Law Enforcement Edition of the Bible," Shackelford says. "Each one had that particular officer's or staff member's name engraved on the cover."
Later, Glover presented Bibles to the officers and staff who could not attend the luncheon. He says recently the department started its own Bible study. "Some of the officers don't go to church and some probably have never received a Bible," Glover says. "It's a keepsake for them, a valuable item. I'm praying that the Lord deals with their hearts and through this they'll get saved!"
Shackelford says that he and the church have received a lot of positive expressions of appreciation online, verbally, and through written word. "I think it's important for officers to know that people really care about them," he says.
Did the message get through? Glover responds: "I will never forget this for as I long as I live!"