Claimed for God's Purpose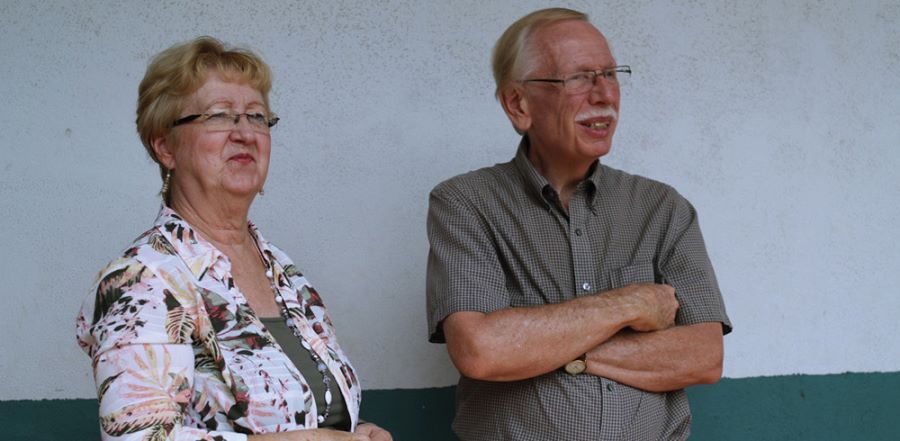 Don't miss any stories. Follow AG News!
Eva Barlow stood on the threshold of a small building in Managua, Nicaragua. It was not a pleasant place — its rafters were termite-riddled, the floor was littered with rubbish, and there were no windows or bathroom facilities. The crowning glory was a basketball-sized beehive in one corner.
Eva had come to investigate the building, located in a field across from the Nicaraguan Assemblies of God's conference center, after noticing that classes for pastors' children were being held
outside
. Upon looking inside, she immediately understood why they had opted to stay outdoors.
As Eva looked inside, she heard the quiet voice of God —
This will be a deaf school
.
Eva studied the building more closely. She realized the foundation and some of the walls were still strong, and went to tell her husband, Matt, what she sensed the Lord was saying.
"We decided to pray around the building," Matt and Eva say. "We simply claimed it for the Lord and for His purpose."
DESPISE NOT THE DAY OF SMALL THINGS
Matt and Eva's burden for deaf ministry had begun in 1987 with their participation in missions trips to Panama, Nicaragua, Peru, and Ecuador. The Barlows noted the isolation of the community and the lack of educational opportunities for them. Many deaf were especially targeted by and vulnerable to violent crime.
After much prayer and preparation, the Barlows said goodbye to their two adult sons, stepped out in faith, and moved to Nicaragua in 1994. They lived on the campus of Ebenezer Bible College and began developing key relationships with fellow missionaries Ray and Janet Jacobs, Pastors David and Becky Garcia, and several deaf young people hungry for learning and for God. They also learned Spanish and Nicaraguan sign language (which was still in its developmental stages).
"We used a flannelgraph to teach the Word," Eva remembers. "We realized that one of the young ladies attending did not know any signs and had never been to school. Two of the boys were attending a government grade school, but could not read or write well."
For a year following their arrival in Nicaragua, Matt (who is deaf) and Eva (who is hearing), prayed for God's direction to open the doors to help the deaf. They had no specific plans for a school; however, the fact local deaf children lacked education and did not know how to sign made the idea of founding a school more logical. That's when God birthed the vision.
In 1995, the Barlows discovered the dilapidated building that brought that vision to reality. Though they could not conceive how such a structure could become the beginning of that dream's realization, they trusted God. They shared their vision with Pastor Saturnino Cerrato, who helped them acquire ownership of the building. With the help of
ChildHope
(formerly Latin America ChildCare), the Canadian Consulate, and church teams from Indiana and North Dakota, the building was completely renovated in 1997.
Three young women joined the team as teachers and helped the Barlows seek out children and youth who would be interested in attending. They helped hearing parents learn to take time with their deaf children and integrate them into the family. Simultaneously, they helped deaf students at the fledgling school become confident, well-rounded, and aware of their worth.
"Students' worlds were totally changing, and they were hungry to receive Jesus and follow Him in water baptism," Matt says. "It was exciting! It was amazing how God began to work and open doors to organize and facilitate the school."
With the permission of the Special Education director of Nicaragua's Ministry of Education, the school added a dormitory in 1998. Eventually a preschool was added, and soon the Barlows were approved to open the first deaf high school in Nicaragua.
When students (ranging from preschool to sixth grade) learned approval had been obtained, shouts of joy echoed across the basketball court where they had gathered to pray for favor.
"We all joined hands and gave thanks to God for answered prayer, as now the deaf could have hope and a future!" Matt and Eva recall.
VICTORIES AND CHALLENGES
Since the high school's first graduation in 2010, students have been accepted in universities and various professions, establishing themselves as points of light for other members of the deaf community in Nicaragua and beyond.
Genaro Enrique Aguilar Zepeda, the only deaf child in a family of 16, had never attended school. He loved to roam the streets with his deaf friends, communicating through their own homemade sign language.
At age 21, he met the Barlows on one of their excursions. He accepted Christ early in his education, and became so ravenous for learning that he would become angry at himself for not learning fast enough. He grew in his ability to communicate and in his commitment to the Lord, and quickly became a leader among his fellow students. Matt and Eva noticed Genaro's special gifts of wisdom and counseling.
After graduating from high school, Genaro enrolled in Ebenezer Central Bible Institute with the aid of an interpreter. When the Barlows opened a Deaf Bible Institute in 2016, he transferred there as one of its first three students. Following his planned graduation in December 2018, Genaro pursued his burning passion — to evangelize Nicaragua's deaf.
"There is a great need for more people like Genaro," Matt and Eva insist. "We need more Genaros to train young deaf people to become pastors. The deaf really are an unreached people group, in need of Jesus, education, and training. Our prayer is for the Lord to call more people to work with us to accomplish this task, and provide strong leadership when we retire. We praise God for His faithfulness to set a fiery passion that spreads into lives who are open and ready to receive the Word."
For more on the Barlows' ministry and deaf ministries around the world, read the September 2018
WorldView
magazine.