Coach Fights Cancer with Faith and Friendships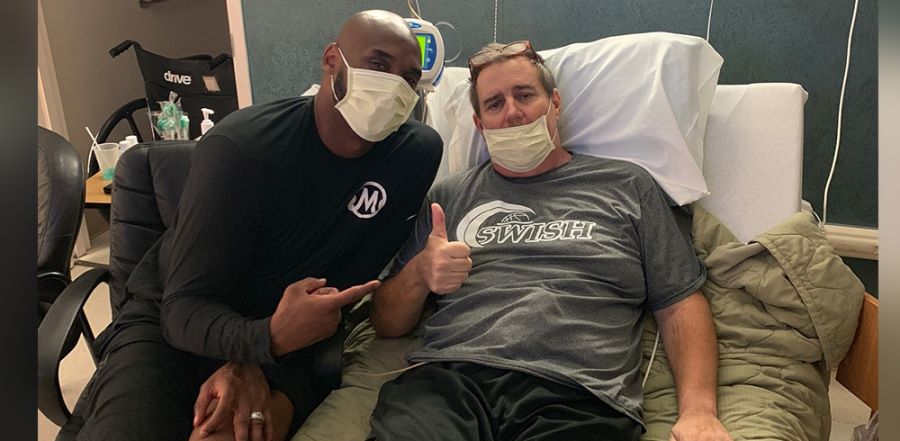 Don't miss any stories. Follow AG News!
Ask an outside observer to rate Russ Davis' last 12 months on a scale of 1 to 10, and the response could very well be, "How about a negative five?"
For more than two decades, Davis has lived a life of nearly unmatched coaching success. The head coach of the
Vanguard University
Lions women's basketball team for the past 24 seasons, Davis' career winning percentage exceeds 80 percent, his teams have placed first or second in the Golden State Athletic Conference 17 times and have appeared in the NAIA Division 1 national poll every week since 2002. His teams have qualified for the NAIA National Tournament 21 times and won it in 2008. He's a member of the NAIA and Vanguard University Hall of Fame — his
accolades
and accomplishments can fill pages.
ENTERING THE VALLEY
The spiral began in March 2019. Following a first-round upset defeat for his Vanguard women's team in the NAIA National Basketball Tournament, Davis was diagnosed with diabetes. His diet had to radically change in order to avoid even more serious consequences.
As he began his battle against diabetes, in April he began having issues with his throat. The diagnosis? Tonsillitis . . . or so the doctor thought.
When antibiotics failed to work, Davis was sent to an ears, nose, and throat specialist. A few weeks later, a biopsy confirmed the specialist's suspicion — throat cancer.
"My cancer was in my neck and throat on both sides," says Davis, who spent a lot of time researching the disease. "My doctor gave me two choices — surgery or radiation and chemotherapy. I asked him if I was his son, what would he recommend. He told me radiation and chemotherapy. So, that's what I chose."
Throat cancer is relatively rare. But when it is diagnosed, it's not uncommon for doctors to advise and deem medically necessary that teeth with any issues be removed prior to the beginning of radiation treatment as otherwise serious
complications
could arise. Davis had several of his teeth pulled.
"I started my first chemo in late June and started radiation shortly after that," Davis says. "I had four chemo visits and then seven weeks (five days a week) of radiation."
Radiation on the throat can have some adverse side effects — one of them being impacting the ability to swallow. By the fifth week, Davis was having such difficulty swallowing that it was taking him an hour to drink a cup of water and he could no longer swallow his medication.
Unable to eat, drink, or even swallow, he ended up in the ER where his blood work revealed that he needed a blood transfusion. A feeding tube was then inserted into his stomach, but the once 300-pound Davis was so weak, he could barely move, much less walk.
"I'm single and live by myself," Davis explains. "There was no way I could go home."
Toward the end of August, after spending three weeks in an assisted nursing facility in order to build his strength and learn how to walk again, he was finally capable of returning home. He then completed his chemo and radiation treatments.

RECOVERY SIDELINED
But the challenges for Davis were far from over. Although his strength continued to return, he still needed in-home nurse care and therapy. He then developed lymphedema — an incurable blockage in the lymphatic system that leads to swelling and potential infection — in his neck from the radiation.
"My throat became inflamed and swollen," says Davis, who, to this day, is receiving therapy to fully recover the ability to swallow. "I was still on the feeding tube (in his stomach), so I was getting nutrition and getting stronger."
Due to Davis' condition, Maiya Michel, an assistant coach, led the women's basketball team.
"I was humbled and honored by the trust Coach Davis, our Athletic Director Jeff Bussell, and the university had in me," Michel states. "The impact of his fight was felt not only through the team, but throughout the campus. His battle has lifted this team up to a higher level of fight and perseverance."
But in December, the one step forward became the proverbial "two steps back." Davis developed problems with dizziness and balance. In getting out of bed one morning, he fainted, fell, and hurt his back to the point that he once again could barely move and had to return to therapy to recover from the injury.
As far as Davis was concerned, the year couldn't get over soon enough.

INSPIRATIONAL FRIENDSHIP
Davis isn't going to lie. He faced some dark and difficult challenges over the past year — the kind of challenges nightmares are made of. But he also recognized he had enormous personal support and could feel the ongoing prayer support.
"I've gotten support literally from around the world — from the basketball world, from everywhere. I'm humbled," Davis says. "I never knew I was able to touch so many lives."
One of the lives that Davis touched was basketball legend Kobe Bryant. Davis and Bryant met each other through Nike — as both have contracts with the mega-sports corporation. In 2018, Bryant asked if Davis would allow him to use the school gym for his Mambas basketball team, the one Kobe's daughter, Gianna, played on. Davis warmly welcomed them.
Over time, Davis and Bryant became good friends. In fact, Davis admits that it was Bryant who God used to help him get on top of the cancer diagnosis mentally. Bryant visited Davis in the hospital and sent him encouraging text messages at least once a week to check on him and inspire him.
"He told me that I can't feel sorry for myself," Davis recalls. "That I had to beat it — not to let it beat me. He held me accountable to do the things I needed to do to make me stronger."
Davis barely had his back injury in the rearview mirror when on Jan. 26 came the heartbreaking news of the tragic helicopter crash that claimed the life of his friend, Kobe, and Gianna along with seven other individuals.
"I personally knew and was friends or acquaintances with every person on board that helicopter, except for the pilot," Davis says quietly, the pain of the loss still evident in his voice. "It's been a . . ." he says, and stops, unable to go on.
LOOKING FORWARD
Through countless emails, texts, calls, visits, and posts, Davis has felt the love, prayers, and support surrounding him throughout his ordeal.
He says that he's still on his feeding tube, but observes that he's lost 65 pounds — something he needed to do. He also recently had a PET scan that came back with a "cancer-free" report, his therapy for the lymphedema and swallowing are progressing well, and on Jan. 30 he was able to
return to the sidelines
to coach his team for the first time this season.
"He's an encourager," states Jeff Bussell, athletic director for Vanguard. "Even while he's battling cancer and everything going on with him, he's inspiring us. His trust in the Lord through this whole process has really inspired me in my faith. I'll never forget when he came onto the court at his first game back and took the microphone, he got a standing ovation that could bring you to tears."
Michel agrees, stating: "We have been there with him every step of the way praying and encouraging him to continue to fight and beat this disease. The day he announced his remission was one of the most empowering days for our program. It showed the true power of prayer and mental perseverance."
Davis is still looking forward to the day when he can start eating food again — he believes it's only a matter of time. "I've probably had 100 people promise me a steak dinner once I get the tube removed and I can eat again," he says, then adds with a good-natured chuckle, "and I'm keeping track of those people!"
However, it's his new found appreciation for the grace of God and the platform He has given him that means the most to Davis.
"The Lord has given me amazing strength through all of this and I'm just so thankful," Davis reflects. "I believe things happen for a reason, and one of the great things that have come through this is it really has strengthened my relationship with Christ. It has also given me a great platform to share my story through the success of my teams, my career, the things I've been blessed with, and the things God has brought me through."
And if there's any doubt as to what Davis brings to the Vanguard community, President Michael Beals makes it clear: "Coach Russ Davis embodies the core values of truth, virtue, and service at the heart of Vanguard's mission. His resilient confidence in God's faithfulness has been clearly seen in the way he has formed the hearts and talents of generations of VU student-athletes and more recently in his battle with cancer. Russ is a Vanguard treasure."