Dig Up the Idols. Stop the Leaking.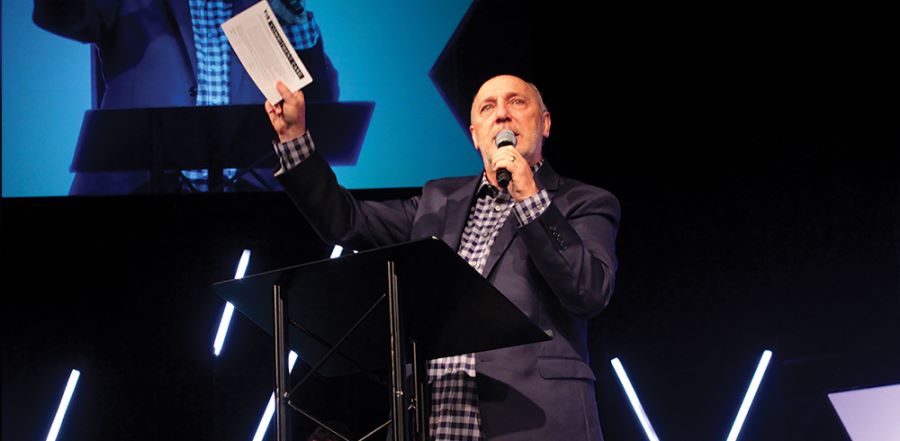 Don't miss any stories. Follow AG News!
"Hey, pastor, did you hear about the Hindu idols we dug up in the church lake?" is not a sentence Pastor Ron Crum expected to hear while talking with his staff about recent renovations to their facilities. But the Lord had a funny way of affirming Griffin First Assembly's recent commitment to support AGWM's Buddhist Hindu Priority.

The Griffin, Georgia, church, and the other congregations in the area's Encounter Life network, share a rich heritage of missions giving. Across their nine campuses, which over 2,000 people attend on average each week, over two million dollars was given to various initiatives last year. The network provides support to 178 AGWM missionary families.

Crum became interim pastor of Griffin First in 2019 after its previous pastor, Randy Valimont, passed away suddenly. Having served as senior pastor of King's River Worship Center in St. Albans, West Virginia, for 30 years before that, Crum was voted in as the permanent lead pastor of Griffin First and the head of the larger Encounter Life network in May of 2020. He felt the Lord calling both he and his new congregation to a "renew-all."

That "renew-all" started on a practical level, with many of the church's facilities needing renovation. Every roof on the Griffin First campus was replaced, and other repairs were completed, costing the church a total of $2.6 million. Crum says the Lord's provision was obvious through that time. One of the church's contractors projected that if the renovations had been undertaken even just a few months later, the congregation would likely have paid upwards of $4 million for the same work.

Just as the renovations were being wrapped up, Pastor Crum was informed that the lake outside the church, which spans nearly the whole length of the property, was leaking.

"Fred says, 'I need to see you,'" Crum recounts. "He goes, 'We've got one more problem. It's a major problem.'"

The contractor believed the road near the lake would likely need to be ripped up and that the repairs could end up costing the church $250,000.

Crum found out about the issue shortly before he was scheduled to attend a pastor appreciation event in San Diego, California, where Greg Mundis, executive director of AGWM, would be speaking.

He was told that there might be an easier, less-costly fix for the lake leak but that the problem would have to be investigated further before they would know if it was even a possibility. Crum left for the San Diego event in September 2021, unsure of how the issue would be resolved.

At this conference, Mundis spoke about AGWM's new Buddhist Hindu Priority, a push aimed at bringing 150 new missionary units to those people groups. Crum says he was especially moved by the statistics that were shared that night displaying the significant need for missionaries among the areas of the world where they live.

There are over 2 billion estimated Buddhists and Hindus in the world today. Currently, the Assemblies of God only has a couple hundred missionaries serving in countries predominantly made up of these peoples.

"I remember being a student at Southeastern and hearing about the Muslim Initiative," Crum recalls. "I now know that there is a great move of God among Islamic peoples, compared to when I was a Bible student in the late 70s, early 80s."

"And so, when Greg gets up and says, 'Hey, we're not making a significant beachhead in the Buddhist/Hindu world,' that struck me," he adds.

Crum says he'd like to raise the church's level of giving so it can provide support to 10% of all AGWM missionary families. He immediately knew when listening to Mundis's presentation that this initiative would be an ideal funding focus for his congregation.

"I made a commitment that night, and I said to Greg, 'All of our new missionary families that we take on, we will take on the ones that sign on for the Buddhist Hindu Priority.'"

"You can tell them the day they sign up," he added that night. "They're going to move to that area? They've already got one supporter. Griffin First is going to take them on with monthly support."

Crum explains that this initiative has allowed the Griffin First team to make more intentional decisions about which missionaries they will make commitments to in the future.

"When your church is as visible as we are in missions, we get asked every week to sponsor a couple. The requests are more than we can handle," he laments. "So how do you say yes, and how do you say no?"

Crum returned home from the event to find that the less expensive repair for the lake was going to work after all. Later, when discussing their decision to support the Buddhist Hindu Priority, one member of the staff told Crum that when the lake was dredged, two Hindu idols were found. Crum speaks of the finding as anything but a coincidence.

"It became a major theme for us," he says. "When you dig up the idols, you stop the leaking of God's presence in your life, of God's resources in your life, of God's priorities in your life."

Crum stepped out in faith to support the Buddhist Hindu Priority during a time of financial uncertainty in his church. God knew how this story would resolve itself before it had ever been written.

As the Bible says in Proverbs 3:5-6, "Trust in the Lord with all your heart and lean not on your own understanding; in all your ways submit to him, and he will make your paths straight."
This article originally appeared in Worldview magazine, Vol. 8, Issue 4. Used with permission.