Do You (Still) Love Me More Than These . . . ?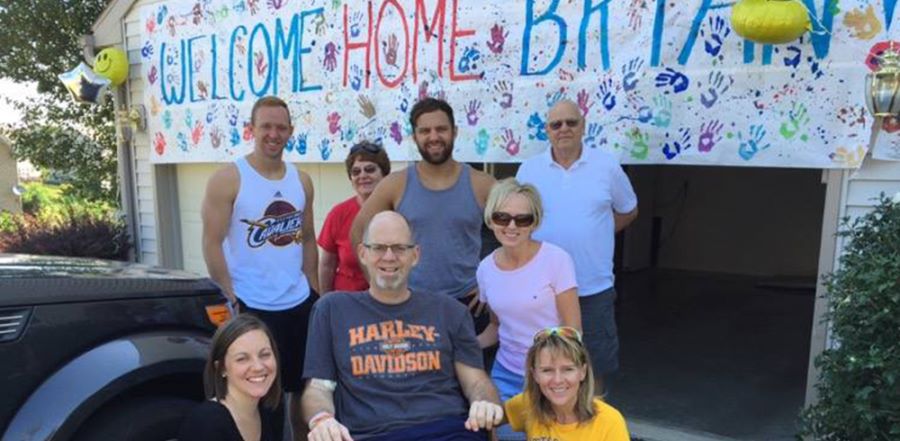 Don't miss any stories. Follow AG News!
Who comes first in your life? For most Christians, the quick and easy answer is God. But what happens when personal loss strikes deeply and that quick answer is put to an extreme test?
Pastor Bryan Koch, the assistant superintendent of the Assemblies of God Pennsylvania-Delaware Ministry Network and lead pastor of Glad Tidings (GT) Church in Reading, Pennsylvania, came face-to-face with that question on June 7, 2015 -- a beautiful, tranquil Sunday afternoon.
He and his wife Lynn were returning home after taking a relaxing ride on their Harley Davidson motorcycle to get some ice cream. A mile from their home, they came to a small turn in the road -- a turn Koch says they have taken a thousand times . . . and time stopped. Life forever changed.
Three-and-a-half weeks later, after being in a medically-induced coma for most of that time and on a heavy regime of pain killers, Bryan Koch was finally alert enough to begin to learn what had happened.
"We were hit head-on by a drunk driver, who reportedly was four times over the legal blood alcohol limit," he says. "I don't remember any of it, but they say I was pinned between the SUV and my 900-pound motorcycle. The first person on the scene saw me, saw all the blood, and thought I was dead."
Paramedics would pump Koch's chest and breathe into him to keep him alive on the way to the hospital. There, doctors would need to pump 36 units of blood into him as blood poured from his wounds, external and internal.
His injuries were extensive. Koch's hips were fractured, his pelvis crushed, his liver was lacerated, and he had a punctured kidney. The first four or five days, doctors didn't expect him to survive as the massive injuries, infection, and fluid in his lungs were all working against his chances of life.
Yet Koch says now he believes the thousands of people praying in his church, community, and literally around the world on his behalf not only made a difference then, but continue to make a difference now.
After making it through those first few days, the doctors suspected that there was a good possibility that Koch would lose his voice due to the trauma his vocal chords sustained through the tubes run down his throat.
For Koch, a former professional baseball player before being called to the ministry, the news would go from bad, to worse, to mind numbing.
"Just moments after I realized that my left leg had been amputated -- which was basically removed with a scissors as it was attached by so little -- my wife's sisters and son walked into the room," Koch recalls. "That's when I learned Lynn had been killed instantly in the accident.
"I had missed her funeral, as I was still in the coma," Koch says with pain still evident in his voice. "She was a wonderful woman and a great mother to our three sons. She was just ordained in May. It was such a joy to see her do that . . . , she really loved God."
"I looked up to them as a role models and how to be godly parents," say Karen Troutman, GT's Communications director. "They truly demonstrated how we can honor God in our marriage and in our relationships."
One moment Pastor Bryan Koch seemed to have the blessings of God overflowing in his life and the very next nearly everything one would see as "near and dear" to the heart -- his ministry/vocation, his health, his mobility, and his wife -- all seemed lost forever because of one person's irresponsible actions.
How could any person forgive such needless pain? Where was God in all of this?
Koch doesn't sugar coat it. "It's been a journey," he says. "Every time I look at a picture of my wife, I remember what happened to her or when I go to take my sock off my left foot, and it's not there . . .  I became a grandpa two weeks ago -- Lynn was so looking forward to being a grandma . . . .
"But the young man who hit us, my Bible says I need to forgive him," Koch states calmly. "The young man who did this to us, driving drunk, killing my wife and doing what he did to me, he needed what Bryan Koch needed -- forgiveness and saving by grace. I forgave him because that's what Jesus did for me. I pray for him [the young man] and whether he gets eight days or eight years or anytime in prison, it's not going to bring Lynn back or my leg. I'm not bitter; I'm choosing to be better, because as a young man, I needed Christ in my life too."
But Koch makes the difference between divinity and humanity clear. "We have to forgive, but we're never going to forget; only God can forget," he says. "We're not called by God to forget, it's not in Scripture, but we certainly need to forgive through the power of the Holy Spirit."
He says God has helped comfort him through the loss of Lynn. "The day I came home from the hospital was August 8 -- our 28th wedding anniversary. That was a tough day," Koch admits. "But God gave me a Scripture, Philippians 1:21, where Paul says for me to live is Christ, to die is gain. The Holy Spirit spoke to me, 'Bryan, your wife has gone on to her gain; you are here to live for me.'"
"Pastor Bryan is a remarkable example of a fully devoted follower of Jesus Christ, not only as a minister, but first and foremost as a believer," states Stephen R. Tourville, PennDel Ministry Network superintendent. "In the midst of his loss, his faith in God is his anchor. While he faces the reality of the loss of his wife and leg, he knows God will bring him through and bring honor and glory to the Lord."
Koch spent 51 days in the hospital and 9 more in rehab. His doctor told him the healing process in his body wasn't just amazing, it was miraculous. Koch's voice has been restored and a prosthesis, which due to the injuries suffered to his hips and pelvis, wasn't expected to be a consideration for at least 18 months, will arrive before Christmas!
A credit to Koch's leadership skills, the church family rallied together as they supported each other through Lynn's passing and continued to move forward during his recovery. "When the accident occurred, we were averaging about 2,700 a week," he says. "Now we're averaging well over 3,500 a week."
"Pastor Bryan is an empowering leader," Troutman explains. "We knew how to carry on the vision and make decisions, allowing us to propel the church forward and minister to the congregation."
"The first Sunday I came and preached (Oct. 18) from a walker and a wheelchair," Koch says. "We had nearly 8,000 in attendance and 100 people made decisions for Christ. And due to the stories in the media about what happened, many people now recognize me and engage me in conversations or contact me about something they need help dealing with. God is taking what was meant for evil and has certainly used it for good!"
Koch says that the Holy Spirit has also been at work in his family, as no one in the immediate family is bitter or angry. "At first we were all upset and very hurt," Koch says. "But as we've been walking through this journey, talking and crying together, we've come to forgive the young man. My family and my church have been a great support to me."
Tourville says, "This has been a shining testimony, not only to the people in Pastor Bryan's congregation, but also to the community, our ministry network, and all who see the reality of Jesus demonstrated through his consistency and trust in God through this incredible tragedy."
For Koch, his approach to these tragedies he -- as well as many others -- have felt so deeply, can be summarized in that first message he shared from the pulpit. He chose Psalm 77:19 (NLT) to talk about Moses leading the Israelites out of Egypt and to the edge of the Red Sea to what seemed a hopeless dead end. "But you see," Koch says, "there was a road in that Red Sea that nobody knew about except God -- if God brings you to it, He will bring you through it!"