Elite Runner Uses Life Experiences to Establish Teen Challenge in Nigeria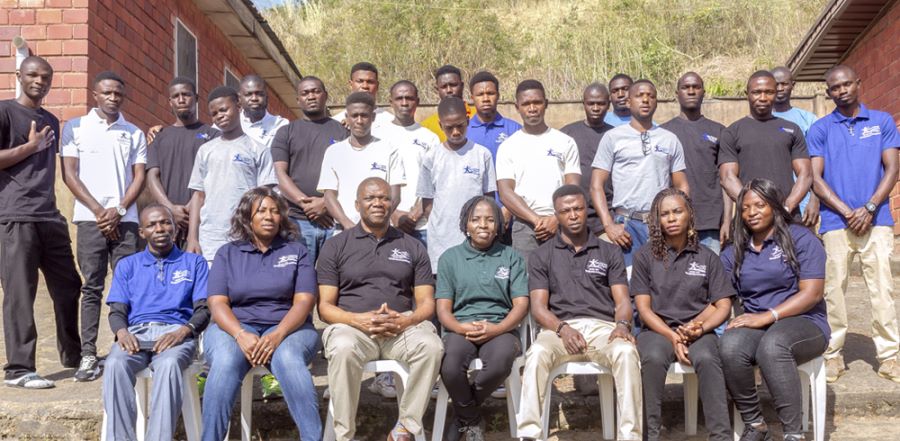 Don't miss any stories. Follow AG News!
In Nigeria, there was no athlete faster than David Omih in the 400-meter high hurdles or 800 meters — he was a truly gifted runner. And with that gift came something that many athletes from poverty-stricken nations desire: money and a future in the form of athletic scholarship offers from U.S. schools. For Omih, it was a dream come true.
There was only one problem: he had a growing drug addiction that would eventually cost him everything. But God had a plan to redeem Omih's life.
DRUGS VS. DREAMS
Prior to coming to the U.S., Omih had begun smoking marijuana while in high school. He counseled himself that surely American collegians and athletes didn't do such things, so his drug use would therefore be forced to come to an end. It was 1984, he was alone — thousands of miles away from home — and to
his
surprise, marijuana was easy to find on his college campus.
Over the next several years, as Omih transferred from what he thought was a ridiculously cold mid-Missouri campus to a more inviting Texas university climate and finally the warmth of a campus in Lafayette, Louisiana. But Omih also found his drug use growing.
"My time in the 400-meter hurdles was 51 seconds," Omih says, his voice tinged with regret. "I was winning school conference titles, but I was never fast enough to be invited to come and represent Nigeria [in international races, such as the Olympics]. If I was not doing drugs, I believe I would have done better."
Interesting to note, in the 1988 Olympics, had Omih been able to shave just over two seconds off his time, he would have made the Olympic 400-meter-high hurdles finals (as the final qualifier ran a 48.86; in the 1992 Olympics a 49.50 time made the finals).
Ironically, Omih was working on a bachelor's degree in criminal justice, doing internships with correctional institutions and police departments, while doing drugs on the side.
CRACK TAKES CONTROL
After graduating, he moved to New Orleans to be closer to his girlfriend. There he found the availability of drugs went from a steady stream to a flood.
"I found out drugs were everywhere," Omih says. "Before you know it, I was homeless on the streets of New Orleans – I was addicted to crack cocaine."
With the help of some friends, he entered the Cenikor (Rehab) Foundation in Deer Park, Texas, where he spent two years going through behavior modification therapy. After two years, he graduated in 1997, and the friends who helped him get into the program picked him up and brought them to their home to live while he established himself.
A short time later, he ended up stealing their car and using crack again. He was arrested and spent the next three months in a Houston jail. As there had been a mix-up in paperwork when Omih first arrived in the U.S. that had never been fully resolved, he was considered an illegal alien.
Upon his release from jail, immigration picked up Omih. After interviewing him, officials told him to return in one month; fearful of being deported, he never went back. Instead, he returned to New Orleans and for the next two years continued his life as a homeless and hopeless crack addict.
STARTING A NEW PATH
One of the ways Omih ate during those years on the streets was through visiting shelters. One shelter required people to sit through a chapel service before they were permitted to eat.
"One of those days, there was an AG Bible school, School of Urban Missions (SUM) in New Orleans, there on a Friday," Omih recalls. "The leader was Dr. William Hope. A young man shared his testimony how God called him to School of Urban Missions while he was working on a fishing boat in Alaska."
The young man's testimony spoke to Omih, and a little while later, during prayer, that same young man approached him and, after a conversation, led Omih in saying the Sinner's Prayer.
"After that night something happened," Omih says. "I had sense of peace. The next day I decided to join the homeless shelter's program, which provided me a place to stay, helping to serve those who were homeless."
That decision proved "opportune," as Omih was there when the SUM group returned the next Friday.
"They gave me a Bible and then Dr. Hope came to me," Omih recalls. "He wanted to send me to Teen Challenge in Milwaukee" (
Adult and Teen Challenge
is a ministry of AG
U.S. Missions
).
As Hope had a connection with the director of Milwaukee Teen Challenge — now known as
Great Lakes Adult and Teen Challenge
— Craig Harper, Omih was readily admitted. Hope and the SUM students then pooled their money in an offering to purchase an airline ticket to Chicago and a bus ticket from there to Milwaukee for Omih.
THE ATC EXPERIENCE
Harper, who has now been leading the Great Lakes ATC for 28 years, says he's known David now for about 20 years, since he first arrived in Milwaukee in 1999.
"We knew really soon that, man, this guy has potential," Harper says, "but crack is a horrible thing. You have to understand, relapse is part of recovery, so there were some very challenging days along his journey, but he wouldn't quit!"
Harper recalls that Omih pursued two specific goals while with him. "Number one for David was to get off of crack, which is so difficult to do, and then to honor the Lord with his life."
And Omih, he laughs at the memory of going to Milwaukee . . . he had thought mid-Missouri was ridiculously cold!
During Omih's first stay in Milwaukee, he was there for the first portion of the Teen Challenge program, then transferred to the
Teen Challenge center in Rehrersburg
, Pennsylvania, to complete the one-year program.
After graduating in 2000, Omih worked internships in several ATC centers before returning to New Orleans in 2002. Once there, he began working at a shelter and doing one-on-one evangelism. He also began assisting a minister in establishing a new rehab center, but in August 2005, Hurricane Katrina wiped the ministry out.
With New Orleans in shambles, Omih entered the Teen Challenge Ministry Institute in Jacksonville, Florida. He graduated in 2007.
GOD'S PLAN REVEALED
All these steps, although sometimes confusing and frustrating, were providing Omih with the knowledge, tools, and connections for what God had in mind.
"While at the institute, I felt like God was preparing me to go back home [to Nigeria]," Omih says. "I was able to contact the Nigeria Assemblies of God general secretary and share my hope of coming back to Nigeria and starting a Teen Challenge — he thought that would be wonderful as Nigeria had an increasing drug problem."
But God wasn't quite finished molding and preparing Omih for leadership. Harper gave Omih a position back at the Teen Challenge center in Milwaukee as the educational coordinator for two years. As Omih still had immigration issues to clear up before he could return to Nigeria, Harper sent him to visit Don Wilkerson at the
Brooklyn Teen Challenge
to see if he could help him connect with the Nigerian embassy and work things out.
Miraculously, Omih was able to connect to the right people at the embassy and within a short time, the paperwork was cleared and Omih was granted a visa and passport.
"I remember pastor Don [Wilkerson] saying, 'God is up to something,'" Omih recalls.
Although he now had all the paperwork he needed to return to Nigeria, Omih still lacked one thing: finances. He returned to Milwaukee, continuing to serve there. But six months later, Wilkerson invited him to come serve as the intake director and teach classes for the Brooklyn Teen Challenge.
Wilkerson and his staff then helped Omih develop ways to raise funds in order to return to Nigeria and establish the first ATC in the country. In total, they were able to raise $13,000 — enough to return to Nigeria and explore establishing an ATC center.
What's more, just a few weeks before he was to leave for Nigeria, the Nigerian AG executive leadership team came to New York. Wilkerson introduced Omih to each one and he was allowed to share his testimony and vision with the entire group of men. They promised to provide housing at the AG guest house located in Lagos. When David arrived in Nigeria, the Nigerian AG fulfilled their promise as he was picked up by the AG Home Missions Director Daniel Saje (who currently serves as a member of the Nigerian AG missions board).
NIGERIAN CHALLENGES
The Nigerian AG leadership welcomed Omih warmly when he arrived in Nigeria in August 2011, providing him a place to stay for six months. His family, on the other hand, did not even know that he was still alive — he had only communicated with his family once during his decades-long absence.
However, Omih was able to connect with a friend from his youth on social media who knew his family. He was then able to meet with his younger brothers and cousins for the first time in 30 years. His parents, sadly, had been deceased for years.
Establishing an ATC center in Nigeria proved to be more of a challenge than Omih anticipated. On average, people make less than $200 a month. Although the cost of living is roughly just 60% of living in the U.S., housing in the city is relatively expensive — a one-bedroom apartment costs $500 to $850 a month to rent. In other words, most people can't come close to affording a city apartment.
Omih was placed in contact with a district superintendent who welcomed him to his district, which included the city of Jos, a city of about 900,000 and roughly a 170-mile drive northwest of the capital city of Abuja. Omih set about establishing himself in the Jos church and community while also working to launch an ATC center.
"Nigeria is a very difficult country in terms of fundraising," Omih says. "People hear my American accent and they think I have money, but that's not the truth."
Don Wilkerson, cofounder of ATC with his brother, David, and founder of
Global Teen Challenge
, states, "David [Omih] had such determination to return to his homeland to start Teen Challenge. He had little cash, but large vision, [and] initially, he had no USA organization backing him."
Despite challenges, Omih was able to open the
first Teen Challenge in Nigeria
in October 2013. However, he depends on financial help from his U.S. connections to make it possible. The center currently is home to 17 to 21 students, three interns, and four graduates who assist Omih. The center's first graduate, who has been with David for eight years, graduated from a Bible school in Jos and now serves as the ATC program manager.
Harper, whose Great Lakes ATC has been helping make the Nigeria ATC possible through monthly support of Omih and paying the center's rent, explains that in the United States there are multiple ways for a center to earn and/or raise money.
"We work special events, do food and beverage at games, run a thrift store, have a nursery garden center, we have a choir that goes out, and we even take donated cars to restore and do contract labor," Harper says. "But in Nigeria, it's very difficult. Right now, David is limited to planting and selling potatoes (through the Nigeria ATC, Omih has purchased or been given a total of 15 plots of land) and selling T-shirts from a table. David even had to move the center's location due to Boco Haram violence — something we never even have to think about here."
A BRIGHTER FUTURE
Yet there is strong hope to Omih's and the ATC center's ongoing financial challenges. Harper's wife, Jennifer, who is associate director of Programs and Services at the Great Lakes ATC and Julia Stoia, an Emerging Leaders participant at Great Lakes ATC, are traveling to Nigeria in the next couple of months to visit and help Omih create a sustainable program, which someday includes building a permanent location rather than renting.
"David is thinking about establishing a commercial chicken operation, for both meat and eggs," Craig Harper says. "Jennifer and Julia are going there to meet with him and his wife to participate in a number of opportunities, including helping them explore the options so that they and the Nigeria ATC will be there 5, 10, 20 years from now . . . and it is our hope to be able to help him do something significant in the next two or three years."
"He's accomplished more than I expected," Wilkerson admits about Omih. "He doesn't just work to save addicts, he works 'with' them with loving compassion. He used what others saw as stumbling blocks as steppingstones to fulfill his vision — he gives new and fresh meaning to the word 'determination.'"
Harper, who states the obvious when he mentions he has a burden to help Omih, has a very high opinion of him as well.
"David is a stellar guy," Harper states. "He's a man of very high character, he's very disciplined, and he's a kind-hearted brother. He's an excellent guy in every way and he's done a great job in starting a center and raising up leaders through the program . . . I think the best is yet to come."
As for David, he says he places his faith in God and holds on to Romans 8:28: "And we know that God causes everything to work together for the good of those who love God and are called according to his purpose for them (NLT)."