Ending Sex Trafficking: Idea to Dream to Passion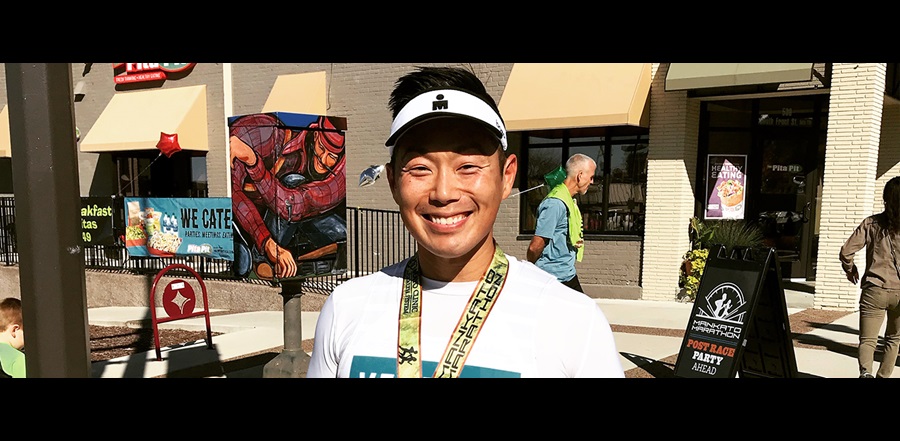 Don't miss any stories. Follow AG News!
What began as one man wanting to do something memorable to mark his 30th birthday two years ago has since become an international event. This year, Brent Silkey's 30 for Freedom was held on May 26 and saw 750 people in 11 chapters on four continents work to raise more than $153,000 (and counting) to help end sex trafficking.

Silkey, the director of Chi Alpha Campus Ministries in St. Paul, Minnesota, began this journey by wanting to run one mile for each year of his life. After receiving an unsolicited donation, it inspired him to create 30 for Freedom, where he sought out pledges for each mile he ran (30) to benefit anti-sex trafficking efforts by AG ministries, including Project Rescue and F.R.E.E. International. He opened the doors for others to join him, not knowing his personal 30-mile run would catch the imaginations of dozens, then scores, and now hundreds of others.

A key partner for Silkey has been Venture.org, which has the motto of, "We Do Tough Things for People in Tough Places." It's an organization that not only helps individuals and groups raise funds to help ministries and missionaries — especially those involved in helping end sex trafficking — but also does its own missions work.

"The organization has a lot of strong AG ties," states Paul Hurckman, executive director of Venture.org. "It started out in 2002 with three North Central University students who wanted to do something to help end sex trafficking after hearing a missionary speak. So, they biked across the United States and raised $17,000 for the cause. In 2017 we did $3.7 million for missions."

Silkey says when the idea for 30 for Freedom came to him, his first call was to Venture.org to see if they could assist him. They were happy to. Not only did they help, but Hurckman, who is a close personal friend of Silkey's, has participated in all three 30 for Freedom events, along with his family.

Although not all participants run 30 miles to raise funds, individuals do what they're capable of doing — from a 5K to an Ironman. Silkey says the idea isn't just about raising the money, but doing something uncomfortable — something that takes sacrifice to prepare for — on the behalf of those who are truly suffering, some in unspeakable ways. "Four guys are doing 100-mile runs this year. My coach did a 30-minute plank and a Chi Alpha staffer did a 30-mile row on a rowing machine," Silkey says.

Even Minnesota District Superintendent Mark Dean is involved. He led a small contingent in participating in a 30 for Freedom 5K in Scotland this year. "I foresee 30 for Freedom continuing to branch out," he says. "The numbers participating and the amounts raised continue to grow."

Kirby St. John, district Youth director for Minnesota, has been involved with 30 for Freedom from its start, and says Minnesota is fortunate to have a guy like Silkey — a person who not only has a passion about something, but a passion to do something about it. "He's changing the world with that passion and it's exciting to be joining with him to make that dream become a reality — God's dream become a reality," St. John says.

Silkey says that although the 30 for Freedom events are typically done in a single day, the miles and countless hours invested in training for them as well as the funds raised combine to help answer the question for people, What can I do to make a significant difference to end sex trafficking?
Hurckman observes that not only is sex trafficking being addressed through 30 for Freedom, but the gospel is being spread: "Responding to a need in a way that requires sacrifice opens the door to evangelism," he says. "People may not be comfortable in asking their friends to come to church, but they are comfortable in asking people to help sponsor them for a worthy cause. As 30 for Freedom is shared, a lot of spiritual conversations can — and do — result."

Through using social media and interacting with youth pastors — as Silkey is a former youth pastor — 30 for Freedom continues to expand and reach others with its message.

"This could easily continue to grow," St. John observes. "We were talking about some of the next steps, and really, this is just the tip of the iceberg of what could happen as excitement for missions continues to spread across the state."

"The first person I ever heard about sex trafficking from was my wife when we were attending North Central — it was unbelievable," Silkey says. "Then Dr. David Grant (AG missionary and co-founder of Project Rescue) came and spoke and that messed me up forever — the question for me was How can I make a difference? Then, about 10 years later, God brought this all about, so being able to support Project Rescue is really meaningful to me."

"The dream for a significant means to help end sex trafficking has been in the hearts of many in the district," Dean states, "and Brent is the one who has made that opportunity happen." But even if 30 for Freedom surpasses its $250,000 goal this year ($411,000 raised so far since 2016), all the men agree, the future for the event has few limits.

Perhaps that confidence is best illustrated by a story St. John shares: "My 6-year-old nephew, Hudson Curran, ran the 5K with his dad, trying to raise $1,000 for 30 for Freedom. But every day, when they would go for their training run, he would ask, 'Dad are we going to save someone today? Are we going to rescue someone today?' Even at that age, he was already beginning to catch the vision of why we're doing what we're doing."