"Free Throws for Souls" Impacts Community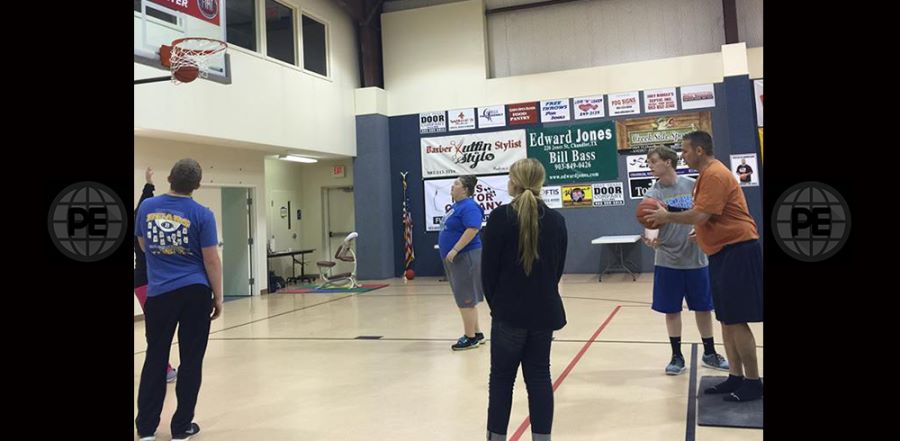 Don't miss any stories. Follow AG News!
What gift has God given you?
That was the burning question on Tom Booth's mind.
Booth, who was reflecting on 1 Peter 4:10 ("Each of you should use whatever gift you have received to serve others…"), was a former college basketball player wondering how he could use that God-given gift to serve other people. But dribbling down Chandler (Texas) First Assembly of God's church aisles or even door-to-door in the community didn't seem to hold a lot of promise.
Then the idea came - he could shoot free throws to raise money for people in need, physically and spiritually.
Booth, 43, who has been a part of the 225-member First Assembly of God in Chandler for 15 years, says he chose to challenge himself by doing something hard: shoot free throws for 24 consecutive hours, with the proceeds benefiting those in need.
Some may sniff at the perceived lack of difficulty of this challenge - shooting a free throw isn't going to make anyone's top 10 (or even top 100) list when it comes to exertion. But try shooting 100 consecutive free throws, and it can be a bit of a challenge. Try shooting 1,000 times in a row, and muscles and tendons are aching, begging for relief. Advance to 10,000 shots and pain is a constant and cruel companion. But shoot more than 20,000 times without sleep?
The marathon effort, which began 6 a.m. Friday, March 27, and concluded at 6 a.m. Saturday at the church's gym, is actually Booth's fifth straight year of doing the event. The past four years, his efforts have raised more than $50,000 in a community of about 3,000.
Booth, who says he doesn't do anything special to prepare for his "Free Throws For Souls" effort, shot 22,063 free throws in 24 hours this year, making 14,597 of his shots. He says that at the beginning, most of his free throws are taken in typical fashion, but by the end of 24 hours, most are underhand free throws as he's no longer able to get his hands above his head!
"We won't know how much we raised this year for two or three weeks as the pledges are still coming in," Booth says. "Our goal is $20,000, but whether we raise $1 or $20,000, it was worth the effort."
Booth explains that the money raised will go to three different charities: God's Open Hands (the local food bank); Project Transformation (assisting people in need around the community performing small jobs, including building wheelchair ramps); and providing three $1,000 scholarships for graduating high school seniors from Brownsboro Independent School District.
However, Chandler AG Pastor Mark Fulks says Booth's efforts have gone beyond providing for others -- his annual effort has literally drawn the community together.
"The first year, we tried to get organizations and businesses on board," Fulks says, "but because they really weren't sure what it was going to be all about, they were hesitant to participate as sponsors."
That has all changed now.
"We had 40 businesses as sponsors for the event, with each donating $200," Fulks says. "In addition Brookshires Grocery provided an all-you-can-eat Friday evening meal of Frito chili pies, hot dogs, and bottled water for free for the community."
Fulks says that throughout the day hundreds of people from the community came by to donate to the cause and encourage Booth. Also four television crews came by to do interviews with Booth during the event, opening the door for tens of thousands of others to be made aware of the Free Throw for Souls effort.
This year is also the first year for the event to have a website, the ability to receive online donations, a Facebook page, and be live streamed over the Internet.
Free Throw for Souls has seen other churches get involved as well. This year the Women's United Fellowship (Methodist church) organized community teams to be a part of Booth's rebounding crew. Booth also offered an opportunity to shoot free throws with him for 30 minutes to an hour, through a specific donation or by winning a contest.
Fulks shares how an all-state high school basketball player came and shot for an hour (at the other end of the court) as Booth was shooting. "He hardly missed a shot," Fulks says in admiration, "but by the end of the hour, he was done - told me he couldn't imagine trying to do what Tom was doing."
But the event isn't about free throws; it's about impacting lives.
Booth shares that a parent of a girl who won a contest to shoot with him -- and does not attend First AG -- emailed him after the event, writing: "Tom, you made a lifelong friend with my daughter, she thinks you're awesome and wants to participate and donate for now on. Thank you for being an inspiration and role model."
"That right there is confirmation to me that I'm doing the right thing," Booth says. "I just want to show all the churches and community that you can do something with the talent you have. First Peter 4:10 tells us to use our talents for helping others - find it, use it, and help people out!"
"Our main themes at our church are 'Connect' and 'Community,'" Fulks says. "I tell our congregation we need to use our gifts and find ways to connect to our community."
Has Booth succeeded in fulfilling the Scripture and his church's directive?
Evidently the city thinks he has. In 2014 the community named Booth "Citizen of the Year" for what he has done for Chandler through the "Free Throws for Souls" effort.
"Through Tom's effort in Free Throw for Souls and other outreaches the church holds," Fulks says, "we have developed a very good name here in Chandler by being a church always willing to help."
Editor's note: Pastor Fulks contacted PE News to inform us that a rough tally revealed this year's Free Throws for Souls effort will raise more than $22,000 - an all-time high for the event!