Freedom Tour Raises Funds, Builds Relationships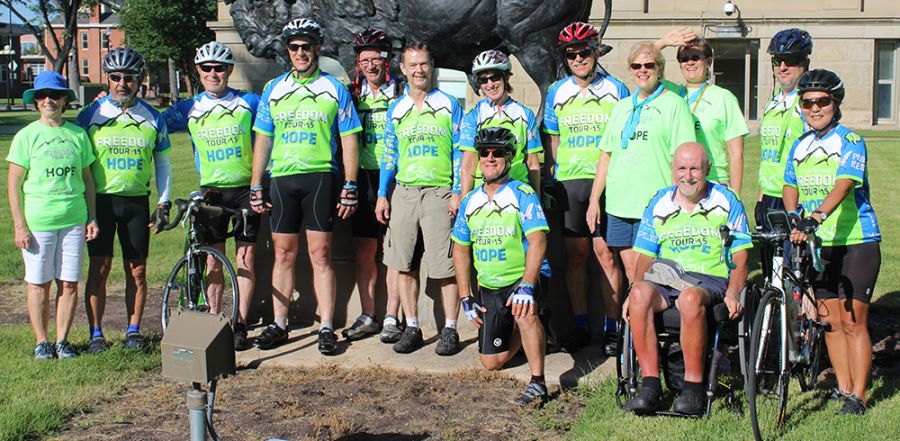 Don't miss any stories. Follow AG News!
It's not a race, it's an experience. It's eight days and 500 miles of pedaling from Cheyenne, Wyoming, south to Trinidad, Colorado - just a few miles short of the New Mexico border - that features incredible scenery, plenty of hills (that some would call mountains), thousands of dollars raised for Project Rescue, and a bonding experience like few others.
For the past three years, Rich and Becky Dixon of Timberline Church (AG) in Fort Collins, Colorado, have been organizing and leading the Front Range Freedom Tour. The bicycle ride raises money for Project Rescue's Home of Hope - an AG World Missions affiliated ministry - having raised more than $60,000 for the ministry since the Freedom Tour began, including $34,000 this year alone.
According to the Project Rescue website, its mission is to "provide physical, emotional, and spiritual rescue and holistic restoration to women and children in sexual slavery." Home of Hope is one of the aftercare facilities for girls and women rescued from human trafficking. Currently, Project Rescue operates in six countries in Europe and Eurasia.
"We had a total of 70 riders participate in various stages of the tour," Dixon says, "with 16 completing the full 500 miles. The 500-mile team climbed more than 14,000 feet, fixed over 15 flat tires, overcame two minor crashes, and burned tens of thousands of calories."
But as Dixon observes, although the cause is what originally draws people to participate, what many people don't anticipate is what they receive out of the experience. The shared prayers, sweat, sacrifice, and accomplishment bring about a sense of community and bonding.
Dixon explains that each day of the tour begins and ends in a circle.
"In the morning there's a word-of-the-day to focus our thoughts; each word conveyed special meaning in the context of that day," Dixon says. "Then 'helmets up' as we pray for safety, teamwork, and God's blessing on the kids at the Home Of Hope."
In the evenings, cyclists gather as team members share a piece of their personal story and discuss the journey. Dixon recalls one team member remarking: "What stands out for me is the team and everyone's efforts to make the week work for each other. There was a sense of family that blessed me."
Although it's not uncommon for people to question the "sanity" of those participating in this, at times, quite challenging ride, Dixon explains that this event isn't a race, but purposely focuses on remaining a team effort - a "community following Jesus." Riders may spread out a bit, but they're never alone. In fact, the most accomplished cyclists frequently ride at the back of the pack, encouraging those struggling or assisting in case of a flat tire or other mechanical problem.
Of course, those who might hesitate in taking on the 500-mile challenge and need inspiration, need look no further than the 64-year-old Dixon himself. Paralyzed from the waist down due to a fall from a ladder nearly 25 years ago, Dixon uses a specially designed hand-pedal bike to navigate the 500-mile course.
When asked why he organizes this annual event, Dixon simply responds, "My wife, Becky, and I have a heart for the issue of human trafficking." He also places the effort into perspective: "We're not trying to change the world. We're trying to change the world for the 22 kids at the Home of Hope."
To read a 2012 Pentecostal Evangel article about Rich Dixon's injury, struggles, and physical and spiritual recovery, click here.