From Tragic Death to Miraculous Life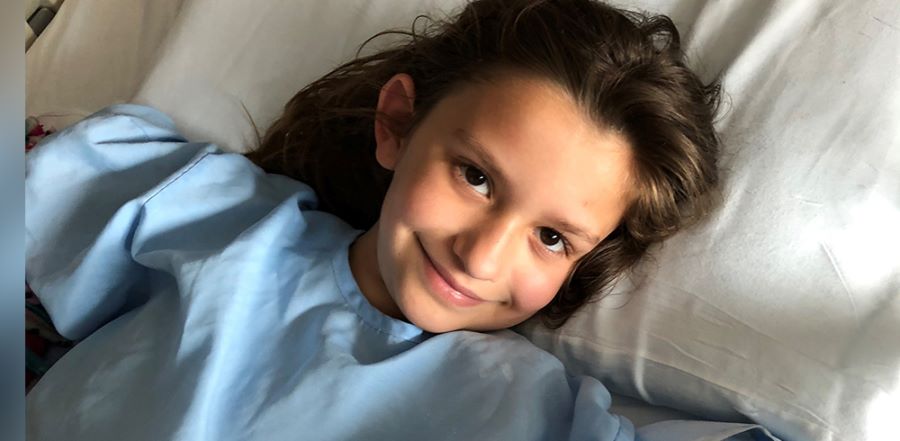 Don't miss any stories. Follow AG News!
Cute. Smiling. Fun. Nine-year-old Annie Powell sat on the edge of the Weston Park pool, her feet dangling in the warming water under a bright June 9, 2018, sun, just enjoying the activity swirling all about her.

Her parents, Dave and Cathy, pastor two small AG churches in West Virginia, one in Beverly and the other in Valley Head, where they live. The two churches had come together for a day of fun, with about a dozen or so children and their parents enjoying a perfect day.
FROM FUN TO FEAR

"We had a good morning of swimming," Cathy recalls, "and after lunch, we went back to the pool, and it started to get really, really crowded. Annie is not a very good swimmer, so she stays in the shallow end or sits with her legs in the pool."

Suddenly there was a cry of pain, pulling everyone's attention to the shallow end of the pool. There was blood in the water! Lifeguards responded quickly. People rushed over to see what the commotion was all about — a young boy had cut his foot.

As every parent instinctively looks for their child in a moment of perceived danger, Cathy, 51, and Dave, 49, searched to pick their two children out of the mass of onlookers beginning to crowd in around the boy. The Powells quickly spotted their 12-year-old son, David VI.

"But I didn't see Annie, so I glanced down at the other end of the pool," Cathy says, her voice beginning to lower, "and I saw a man dragging someone out of the water. I looked at the swimsuit and knew it was my daughter."

The man who pulled Annie out of the water, seeing her floating face-up in the pool, blue-faced and lifeless, began yelling desperately for help as he didn't know CPR.

The reaction by pool personnel was again swift. Before Cathy could reach Annie, the pool manager was performing CPR and Dave was holding Annie's foot, praying fervently for her life.

"She was blue from the chest up, her whole face . . . her eyes were rolled back in her head," Cathy says. "They later estimated that she wasn't breathing for 10 or 15 minutes."

Dave confirms that, noting that later doctors believed it was at least 10 minutes that she had been dead.

As the CPR continued, with lifeguards switching off to maintain a constant effort, the reality of what was happening — that it was her little girl lying lifeless in front of her — gripped Cathy.

"I wasn't strong," she admits. "I was basically throwing up the whole time. My mind was a blur of emotions . . . I didn't want to lose my daughter."

PRAYERS

A pair of ambulances had responded to the call, and an off-duty ambulance driver who was at the pool volunteered to drive one of them so a pair of EMTs could both continue to work on Annie, trying to stabilize her.

At the hospital, Dave and Cathy learned that they were life-flighting Annie to Morgantown, about a 2 ½-hour drive away. The Powells stopped back by the pool to quickly pick up their belongings and make sure it was okay for young Dave to stay with friends as they headed to Morgantown.

"When we got there, which was about 20 or 30 minutes after we originally left the pool, the pool was quiet," Cathy says. "The people were standing in groups -- everyone was praying for Annie."

As Cathy drove to Morgantown, Dave was in the passenger seat making texting and making phone calls, connecting with district leaders, ministers, friends, and family. While at the hospital, Cathy had posted on Facebook the need for prayer for Annie. By the time they arrived in Morgantown around 3:30 p.m., people across the country and around the world were already praying for Annie.

"I was nervous, praying all the way in the car," Cathy says. "I was begging God to save my daughter."

Somehow, the Powells beat the life flight to the hospital; for some reason, which Cathy still doesn't know why, it didn't arrive until 8 p.m.

FIGHT FOR LIFE

A team of doctors met with the Powells in a conference room, giving them different scenarios, from whether or not Annie would survive, survive with serious brain damage, possible organ failures, and other potential outcomes, and a lot of medical jargon that Cathy says she didn't fully understand, but none of which seemed desirable.

"The doctor did say that damage to the head may have occurred," Dave says, "and since she had been dead for so long, damage to the brain was likely, but they were not sure how severe it was."

Dave says that God sent people and even used doctors to help encourage them when things seemed bleak.

"One of the hardest things was that they had to freeze Annie with these big heavy blankets filled with a solution and then they paralyzed her so that she would not shiver and bring her temperature up," Cathy recalls. "They were concerned about her brain swelling."

The first night the Powells prayed and sang over Annie. A pastor from Morgantown joined them around 10:30 and prayed with them over Annie. Dave recalls multiple church members, pastors, district leaders, and others coming to the hospital or calling to join with them in prayer.

"In the room (where the doctors had spoken to them) was a big white board," Cathy says. "I began writing prayers all over it — I knew people were praying for Annie."

A POWERFUL PRAYER
Kelly Zagursky is the children's pastor at Calvary AG in Hampton, Virginia, the Powells' former home church before they left to pastor in West Virginia about 2 years earlier. She was at the Potomac District Campgrounds when she saw Cathy's first post on Facebook. Contacting the church's lead pastor, Dave Highlander, he urged her to go to Morgantown and bring the Powells whatever they may need.

While Zagursky was on her way, Highlander connected with the Powells by speaker phone from Calvary's Sunday morning service.

"We had originally heard that Annie had drowned, but then learned life support was keeping her alive," Highlander says. "That Sunday morning, people came to the altar and we had Hannah, a good friend of the Powells, stand in place of Annie and pray over her."

The Powells were connected to the church by phone in order to hear and join in with the prayers.

"As we were praying, something began to happen in the atmosphere," Highlander recalls. "People really began to pray and pray loudly for some time. Then it was like a holy hush came and one woman, Jessica, the presence of God came upon her in a profound way . . . and suddenly she calls out, 'Rise, Annie, rise!' Chill-bumps went all about my arms and the place erupted — people began to shout and give God the glory. The Spirit of God fell on the church that morning. God's presence was so real . . . we knew something happened!"

Cathy believes that the prayer — combined with the prayers of so many from across denominations and around the world — was a turning point for her daughter.

Dave concurs. "In all of this, the thing that stuck out the most [was] Pastor Dave Highlander and his church praying and the prophetic prayer of Jarius' daughter to arise, praying that Annie would rise from the dead, just as the little girl did in the Bible."

When, Zagursky arrived at the Morgantown hospital on Sunday afternoon, she brought with her money for the Powells to purchase food along with a change of clothing she had picked up from a Walmart for them as they were still wearing what they had from the pool.

By the time Zagursky arrived, the stress of all the unknowns and the emotion of helplessness — along with what ended up to be nearly 48-straight hours without sleep — was a weight pressing down on the Powells, but it was a battle they both say was made bearable through countless prayers and the presence of friends.

"When I got there, I noticed their church family was there in the waiting room, and it's not close to where they live," Zagursky says. "At the time, Annie was not yet stable."

GOD'S INTERVENTION

However, the pediatric ICU doctors were starting, even early on, to report surprises and issues they didn't fully understand.

"It started with the doctors expecting Annie to have broken ribs from the CPR team, but she didn't" Cathy says. "In fact, she didn't even have any bruising, which the doctors couldn't explain."

As the hours passed, Cathy says the doctors would come in periodically and tell them something negative or a fear they had for Annie — fluid in Annie's lungs, her brain swelling, damage to her brain stem, damage to other organs. Each time the doctors mentioned a negative, Cathy says she immediately went on to Facebook and asked people to join them in praying for that specific issue. Every time, the doctors came back to report that the suspected problem that tests had indicated (oddly enough), were not a problem.

Dave asked Zagursky, who stayed in Morgantown for three days with the family, to be in the room with Cathy for support.

"Several times during the days I was there I heard the doctor come in and be amazed at Annie's condition," Zagursky says. "Whether it was cracked ribs or signs of brain damage, to them it was amazing (that these things weren't in evidence)."

But Annie was still intubated, with all kinds of machines monitoring her, and not responsive. On Monday night the prayer being lifted up was for Annie to become responsive.

"I could feel a peace in the pediatric ICU," Zagursky says. "God was there, God was in control, God was working, moving . . . you could feel that!"

INCREDIBLE RECOVERY

"On Tuesday, the doctor came in and told Annie he wanted her to move her finger, and her finger moved!" Cathy says joyfully. "But then the doctor said, 'That's not good enough,' and suddenly Annie put up her thumb and pushed her hand in his face!"

At that point, a wave of relief swept the room, the Powells and doctor broke out laughing, smiles all around — Annie, and her fun-loving personality, was intact. Her recovery was relatively swift after that, Cathy shares that Annie kept trying to jump out of bed with all the cords still attached.

"The overall concept of this story is, 'Have you ever been able to witness a child coming back from the dead?'" Zagursky states. "Because that's what happened with Annie."

On Friday, less than a week from entering the hospital, Annie walked out of the hospital. Aside from being a little weak from being in bed for nearly a week and the trauma her body had endured, she was to be monitored, but was otherwise perfectly healthy – no complications.

That next Monday, I was there at their home, and she [Annie] ran out the door," Highlander says, emotion rising in his voice, "and the Lord reminded me of the words, 'Rise, Annie, rise.' I was seeing His supernatural answer to prayer — it was unbelievable."

SHARING HER STORY

At first, Annie was shy about sharing her testimony about what took place in her life and how God answered the prayers of so many people for her healing. But now, as an 11-year-old who was seeing COVID-19 take so many lives around the world, she felt it was time to share.

"You don't know when the world is going to end," Annie says. "I want more people to find and know about Jesus, because it seems like the world could end."

Although active in her church and having a close relationship with Jesus for as long as she can remember, Annie says that this experience has brought her even closer to God.

"I feel more connected, like our relationship has grown stronger," Annie says, whose parents and friends now celebrate June 9 as her second birthday.

Annie is all about sharing her testimony of miraculous healing in her life because, as she says, "People need to know Jesus."