God's Call -- No Red Carpet, Just Promises -- Part 2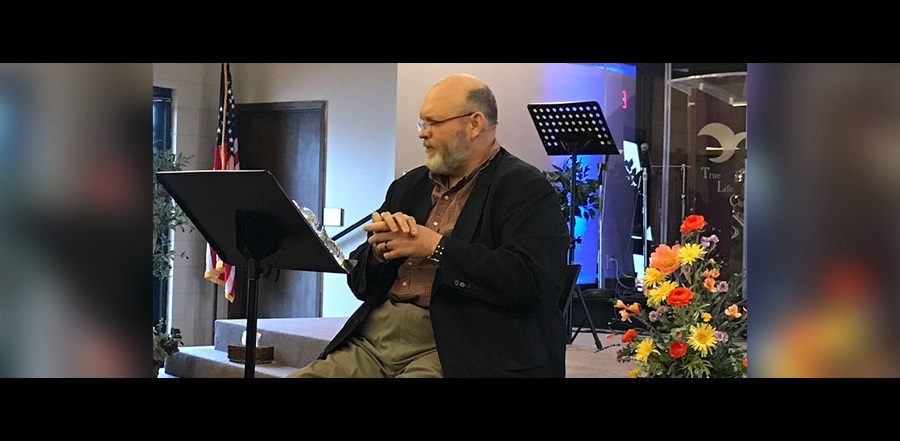 Don't miss any stories. Follow AG News!
In Part 1 of Clint and Amy Harris' story (click here for Part 1), Clint and Amy had stepped out in faith to begin an evangelistic ministry, but Clint fell seriously ill. However, he was miraculously healed of a pancreatic tumor, had his health restored, and led a nurse to Christ, but the medical bills cost them nearly everything they owned. They moved to Georgia in fall of 2011 to begin anew.
Clint accepted a job as a homicide detective offered to him by a small sheriff's department in southeastern Georgia. In January of 2013, God told Clint to retire from law enforcement once again, but this time, fearful due to what he and Amy had encountered the last time they stepped out in faith, he refused.
"I told God to give me a lily pad to jump to and I'll jump," Clint says. Although he did finally retire in August 2013, he admits those six months living outside of God's will were rough.
At the time, the Harrises were attending New Life Church, led by Pastor Andy Peacock, in Blackshear, about 100 miles southwest of Savannah. Peacock contacted Clint about filling in for him at a district church in Patterson, about 8 miles northeast of Blackshear. When the Harrises drove onto the lot of the church, they both knew this was the church God had called them to, even though less than 10 people were in attendance that day.
Clint later told Peacock that the Lord told him he was supposed to pastor that church. Peacock's response? "Yeah, I know. We've just been waiting for you to catch up." The church's pulpit had been vacant since January — the exact time God had told Clint to retire from the local sheriff's office!
For the next three years, God worked in the church, solving problems and growing True Life Church to about 115 members. The church moved from being a district church to a General Council Affiliated church and Clint says they began looking at expanding the church to other rural locations and adding a Hispanic church. The ministry seemed to have God's blessing, and then things started getting strangely familiar. Clint began to feel ill again. He began to have trouble walking and had to use a cane, sometimes stumbling and falling.
By February 2017, Clint had been missing services due to the severity of his undiagnosed illness and when he fell one last time, he couldn't get up. He was transported to the hospital by ambulance where doctors treated him for a severe urinary tract infection and dehydration. While he was being treated for the UTI, Clint developed a severe bed sore on his glute muscle. They performed surgery, leaving a large hole, but no improvement in Clint's health, even though he remained in the hospital until April. Unknown to Clint or Amy, the wound had gone septic.
Finally, with the wound emitting a putrid odor, Clint was sent to a major trauma center in Savannah — his body was filled with infection. Doctors did further surgery on the wound, cutting him hip-to-hip, and leaving a massive hole, 10 centimeters deep, in his glutes in an attempt to get the infection under control.
"They told me that the wound would never heal as muscle tissue doesn't grow back," Clint says. "They told me, even if I survived the septic shock, I would never walk again and I would end up going to a nursing home and dying a horrible death."
Shortly after this, Clint's systems began shutting down. His oxygen level fell below 25 percent, he was on dialysis, and his liver and lungs were shutting down.
Jack Moon, pastor of Southside AG in Savannah and presbyter for the region was there. "He was going into cardiac failure, his respiratory system was shutting down, and doctors were saying he wouldn't live through the night," Moon says. "Doctors were advising to just let Clint die, but I told Amy not to make those decisions without direction from the Lord — it's not something you do just because they [doctors] tell you too."
Amy is no wilting flower. She had lost both of her parents to cancer when she was a teen; she had two sons, Nathan and Ben, die in the womb; she lived with the stress of being the wife of a law enforcement officer; and she had journeyed through the extreme challenges with Clint's health and going through financial loss in 2011. But her faith in God's promises remained strong.
"The doctors were telling me not to waste time in doing surgeries [Clint had five surgeries in all, including heart surgery] because he wasn't going to make it," Amy recalls. "But the Lord had told us so many things about His plans for our lives, that I never wavered in my faith that Clint was going to make it through this."
Amy also called their pastor friend from North Carolina who had prayed for Clint back in 2011, Jim Heaton, and let him know about the grave condition Clint was in. He left for Georgia immediately, believing God could and would restore Clint.
Yet to the outside observer — including every doctor and nurse who consulted with Amy, as well as a few well-meaning Christians — Clint was as good as dead and should be left to that inevitability. He was on life-support, all his vitals indicated death was eminent, and even if he survived (which "he wasn't going to"), he would wish he hadn't.
It was at that point, where the naysayers' voices were growing in number as Clint faced certain death, that Amy and moon walked into Clint's room in the ICU, laid their hands on him, and began to pray . . . joining their prayers with the countless other praying for him throughout the district. Heaton, who arrived late that night, also prayed over Clint's unconscious body for nearly 5 hours.
"I had an assurance in my heart that this wasn't the time [for Clint to die]," Moon says. "At no point did I ever feel like [what the doctors were telling us about Clint] was the truth." Heaton echoes Moon's conviction, saying when he left the ICU, he also felt assured that God was restoring Clint's body.
To the total amazement of doctors, Clint did not die that night. Or the next. Or the next. He was, however, in a coma for eight days and says during that time, he was in heaven, which had a beauty beyond words.
Although he didn't see God's face, he remembers a conversation. "I was upset because I wasn't supposed to be there as I hadn't completed what He had called me to do — in fact, we had just gotten started," Clint says. "I was given a choice: to stay or complete the task. I told Him I wanted to go back and do what He wanted me to do and then come back (to heaven)."
At that moment, Clint woke up. He was still intubated and couldn't talk. Doctors greeted him with the news that he would be in ICU for two more months, then a step-down unit, then he would spend the rest of his life in a nursing home.
"Just by me waking up defied medical science," Clint says. "By the next day, I was sitting up in bed, so they sent me to the step-down unit for two days."
Clint then spent eight weeks in rehab before being discharged to home health care — never once entering a nursing home and simply defying all medical prognosis.
"But it was not an easy process," Moon recalls. "There were a lot of dark days, especially in the rehab period. But it was amazing how, just at the right time, the right people would show up. His room in the hospital became an amazing worship place. Many of the nurses were impacted and in awe as they watched a miracle unfold."
When Clint was sent home, he was still weak and recovering from multiple surgeries, not to mention missing a large section of his glute muscles — the size of a military style helmet! Amy, who is 5-foot 4, was his caregiver. Her challenges were as big as Clint. With 60 percent of his glute muscles removed, there was no way for him to walk and doctors emphasized to him that even though skin would cover the wound, the muscle would never reform and he would never walk again.
The doctors were simply giving Clint the medical facts — they weren't miracle workers . . .
It has been a journey, with frustrations and celebrations, but over the last nine months, the impossible has taken place. Where muscle and tissue were said to be gone forever, that gaping hole is now the size of a quarter, barely a centimeter deep. What's more, for the past six weeks, Clint has graduated from a wheelchair to a walker, with a hope to progress to a cane in time for the Georgia District Council.
Clint became an ordained AG minister via Skype at the 2017 Georgia District Council while he was on his "deathbed." This year, whether he's using a cane or still getting around with his walker, he's going to be at the district council in person to give testimony to the power of prayer.
"Doctors have nothing to say and no medical reason why I should be alive, much less walking — they're just baffled," Clint says. "A social worker came by wanting to know why I was not on disability because my medical records say that I'm permanently disabled and would never recover. I explained that I wasn't on disability because I'm not disabled!"
Since being released from the hospital, Clint has completed his doctor of divinity, earning the degree in December. The church, which admittedly lost quite a bit of expansion momentum due to Clint's illness, was kept strong through the sacrifice of Amy, who relied upon the Holy Spirit to help her not only care for Clint, but lead from the pulpit.
Today, Clint's recovery is close to 90 percent. He preaches from a stool on the church platform, and his strength continues to return and his body continues to heal — and he's able to walk farther every day. The church is steadily regaining its momentum and is back on track for expansion.
"It was a harrowing experience," Amy says about the 15-plus-month journey. "I wouldn't want anyone to go through it, but it made me into someone better for the Lord — it is Romans 8:28 (all things work together . . .) for sure."
The Harrises say that now hardly a service goes by at True Life Church that someone doesn't experience a healing in their body — back pains, migraines, simple headaches, even cancers.
"I can't say that every prayer results in healing," Clint says. "How does God pick you to live and me to die? I don't know. But I can tell you, our God does heal and when you release that faith, it frees God up to work."