Good Things -- Expected and Unexpected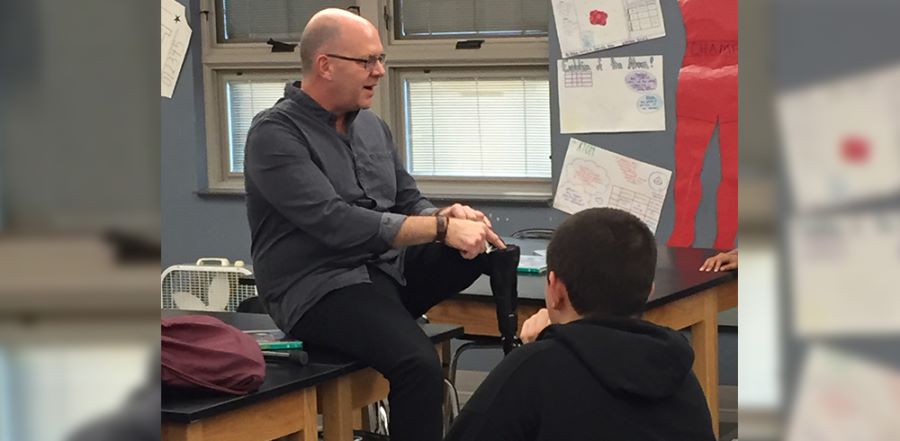 Don't miss any stories. Follow AG News!
"Can anything good come from this?"
For Bryan Koch, lead pastor of GT Church in Reading, Pennsylvania, it would be a fair question. On June 7, 2015, a drunk driver crashed head-on into the motorcycle he and his wife, Lynn, were riding, instantly killing her and all but totally severing Bryan's left leg. Koch would shock doctors and survive his multiple internal injuries, but he would also spend months in the hospital recuperating as reported in an earlier PE News article.
"People, especially those who don't believe in God, often come up to me and say, 'You lost your wife and you lost your leg in seconds, where's the miracle in that?'" Koch says. "I just tell them that the very fact that I'm talking to you is a miracle. I shouldn't be here."
Koch's accident, his injuries, loss of his wife and leg, and the difficulties he experienced were well documented by local media, which included the family forgiving the drunk driver for everything his decisions and actions took from them. That media coverage proved to provide a litmus test to people, many wondering if Koch's faith would prevail or crumble — it prevailed!
Out of that "prevailing faith," God brought about "good things."
When Koch was hospitalized, doctors needed 36 units of blood to keep him alive. GT Church, in response, increased their support and connection to Miller-Keystone Blood Center. They began participating in a variety of events for the center — making more and more community connections. GT Church leadership, including Koch, became well acquainted with the resource coordinator for the center, Lois Gassert, who also happened to be an atheist.
As Koch's recovery progressed, instead of him slowly fading into the background of community life, his influence in the community continued to expand. He was asked to speak at local schools, high school baccalaureates, blood center events, with other churches and groups, both locally and nationally. Koch adds that even when he goes to workout at the gym, he can count on it taking at least an hour longer than planned as he's engaged in multiple conversations by others, or better stated, engaged in multiple opportunities to share Christ.
And recently, when the hospital dedicated its new trauma wing, they asked Koch to speak and say a prayer of dedication. "They told me I could say and pray whatever I wanted to," he recalls. "So, I did!"
What kind of impact has Koch's life of faith had on Berks County?
"The one word we hear most of the time is inspiring," says Deb Bube, creative director for GT Church. "In fact, at the end of 2016, he was named the most inspiring person of the year in Berks County. He's gone through unbelievable things and still his faith has remained and that's inspiring to people."
Bube says that the local newspaper wrote a story about Koch and the award, titling the article, "He Walks the Walk."
Then, less than two weeks ago, a local television station, BCTV, interviewed Koch for a half hour. "I thought he was going to talk about my past as a professional baseball player and about the accident, as the interviewer was a former sports reporter," Koch says. "Although, he asked me a few questions like that, he almost immediately asked me, 'Bryan, why does God allow bad things to happen to good men like you?' followed by 'Why has your church grown?' I was blown away. I couldn't have set it up any better to share the gospel and about the church!"
Unexpected opportunities to share the gospel have occurred over and over again for Koch.
"People look at me different, knowing that I lost my wife and my leg," Koch says. "People connect and listen to me different and honestly, I listen to them different."
The result has seen the church grow beyond expectations, with Koch saying every Sunday he handwrites at least 50 notes to new visitors. And just this past weekend, he had the sad, but awesome opportunity to conduct the funeral of his friend, Lois Gassert, who succumbed to cancer. But she was no longer an atheist!
"On May 22, she came to First Responders Day at the church," Koch recalls, "and she gave her life to Christ. She helped so many in the community, providing them physical life through blood drives, and now she's experiencing eternal life. And we had the incredible opportunity to present the gospel to the hundreds who attended her funeral, many who don't often get to hear it."
Although some might not be surprised by the impact Koch's testimony and faith are having on the community, God has revealed an even more far-reaching impact that not even Koch could have guessed.
While Koch was recuperating from the accident, GT Church continued its ministry and even flourished despite its leader being incapacitated, seeing the church grow from 2,700 to 3,500 a week. This remarkable feat, Bube says, was due to Koch's method of developing leaders in the church, trained in a way that they could continue on in his absence — churches and leaders want to know more!
Since having to experience first hand the unexpected removal of leadership, Koch and Bube say GT Church has taken a closer look at leadership development, resulting in the entire GT team coming together to develop the Leadership Pathways program.
"We've spoken to ministers and churches as well as to AG district leaders across the nation about leadership development," says Koch, who travels with Bube and her husband Todd to leadership training events. "I've also been invited to share my testimony at General Council this August about what God has brought us through and where He is leading us now."
Koch says they're eager to share with churches and districts about developing leaders.
"We'll go to districts or churches to encourage teams and children's ministry, and share how churches can reach their communities and good times and bad," says Koch, who has established a website, bryankoch.org, to help churches and districts connect with him.
Of course, all of this is still relatively new to Koch and GT Church. Koch, whose new normal means walking with a cane and now, instead of being an empty-nester, is an empty-houser. GT Church also has a new ministry normal of intense leadership development on the inside and community involvement on the outside.
In addition to the growing "home" church, Koch says their online streaming church service, GT Live, has tripled in viewership; the new campus in Kutztown is going strong; a new building program at the church has just been completed; a recent evangelistic service saw multiple people saved, healed, and filled with the Holy Spirit; and the church's 10-year plan now includes a total of six satellite churches.
Some might see GT Church as being successful because of the thousands who attend services each week, but Koch says that's not a number that defines success. "There are 411,000 people in Berks County, and of those, only 60,000 say they have a home church," Koch says. "That's the number we're aware of and focused on — how many people in Berks County who still need the Lord."
Still, there are growing pains, and for Koch, the loss of Lynn will always be with him. However, both Koch and Bube agree, through the tragedy, through the miracles and the struggles, God has taught them one very important thing — what it means to pray without ceasing.
"I think about God non-stop," Koch says. "No matter what the pain, no matter what the tragedy, God can take all those broken pieces of our lives and make something beautiful."