Great-Grandma to the Rescue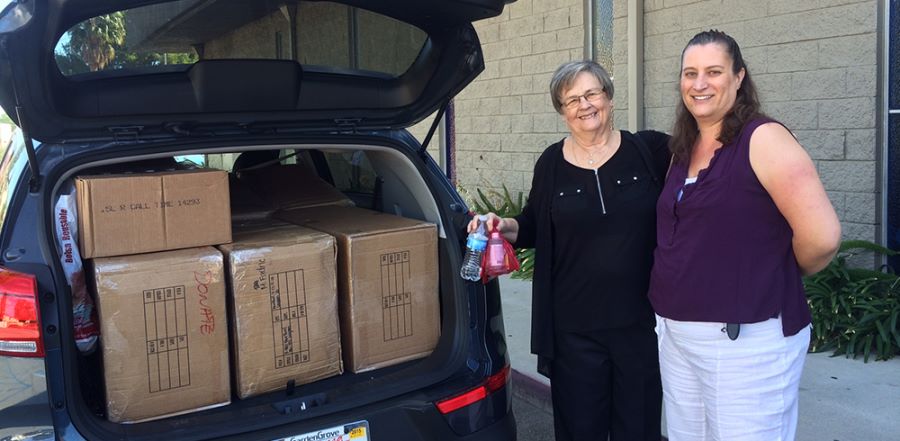 Don't miss any stories. Follow AG News!
The underworld of human trafficking is a savage environment. Like other criminal gangs, those who deal in sexual exploitation often defend their corrupt businesses violently. But the darkness is no match for a Spirit-filled great-grandmother and her team of church volunteers.
At 76, Paula S. Daniels is on a mission to transform the urban landscape -- one rescued woman at a time. The fiery Assemblies of God pastor is the director of Forgotten Children, an outreach to sex trafficking victims in Southern California. The ministry, based in San Bernardino, includes red-light district drop-in centers and a safe house where women can find hope and healing.
Daniels knows she's up against immense social and spiritual issues. But she believes in the transforming power of God and the multiplying power of discipleship.
"I said when I started this that if one girl's life was changed, she would rescue two, and those two would rescue four," Daniels says. "I got involved because I saw 12-year-old trafficked girls walking the streets in spike heels. All over America, women and children are being victimized right under our noses. We have to do something."
Daniels trudges the dim sidewalks alongside them, telling them of a Savior who loves them and has a plan for their lives. Young women listen with tears in their eyes as they shiver and nervously scan the shadows for dangerous men who haunt their steps. Daniels understands their terror, shame, and agony. She has walked in their place.
The granddaughter of Assemblies of God ministers, Daniels grew up hearing the gospel. She sensed God calling her into ministry at an early age, but the childhood trauma of being molested by an uncle and experiencing her parents' divorce left her confused and seeking love in the wrong places. Shortly after she turned 18, Daniels married a non-Christian and soon became a mother.
When the marriage fell apart a few years later, her ex-husband snatched the kids and disappeared. While desperately searching for her missing children, Daniels fell into a deep depression and turned to drugs and alcohol. She eventually located the kids and took them to live with her father, but her life continued to unravel. To support her addictions, Daniels started working as a prostitute.
She had been on the streets for 18 months when she and another woman got into a dispute over a bag of drugs. The other woman attacked Daniels and severely beat her. When the 25-year-old Daniels showed up at her father's door at three in the morning -- bruised, bloody, and ashamed -- he took her in, nursed her wounds, and helped her start a new life.
"I was the prodigal daughter," Daniels says. "My father never asked me where I had been or what I had been doing. He just loved me unconditionally and kept praying for me through the years. He lived long enough to see me come back to the Lord."
Daniels extends that same grace to the women and teens she meets. In their eyes, she sees reflections of her former self. They are abused, hurting, frightened, and desperate for help and compassion.
"I have not met one girl who wasn't molested by the time she was six years old," Daniels says. "They all have post-traumatic stress disorder in one form or another. Most people don't understand the severity of what's going on with these girls. We're trying to show them that they have value. You can't do that in three months, or even in a year. It's a long road."
Daniels was approaching retirement age when she finally accepted Christ as Savior in 1999 and answered the call to ministry. She attended Vanguard University and became an associate pastor at Lynwood Worship Center. She encountered prostitutes while ministering on Skid Row in Los Angeles. When she learned about sexual slavery during a mission trip to Mozambique, she realized the same thing happened in the United States.
After a 10-day fast, Daniels sensed the Holy Spirit urging her to set up a table in downtown Lynwood where she had seen scantily clad young women being bought and sold. Daniels arrived in the rough neighborhood at 2 a.m. and stayed until sunrise. She handed out tracts and bottled water, talked with the young women, and prayed for them. It was the beginning of the Forgotten Children ministry.
"For several years, I kept thinking about how I needed a house for these girls," Daniels says. "I told them they could have a better life, but I didn't have much to offer them to help them get off the streets."
In 2012, Forgotten Children opened Rachel's House in San Bernardino. It is dedicated to the memory of a 16-year-old girl named Rachel. The pregnant teen briefly left the sex trade, but with few resources available at the time, soon returned to her former life. A few days later, Rachel's murdered body was found in a dumpster.
Most of the women at Rachel's House are between the ages of 18 and 25. They were first trafficked as children and spent, on average, seven years on the streets. (Rescued girls under the age of 18 must enter the foster care system.)
The full program involves five years of care, which includes counseling, education, career training, and discipleship.
Forgotten Children also operates drop-in centers in Lynwood, San Bernardino, and Long Beach. These facilities provide a place for women and girls to rest, use toilet facilities, get a snack, talk, seek prayer, or sign up for classes, including General Educational Development tests. Earlier this year, the ministry opened a temporary overnight shelter for women contemplating a fresh start.
Together, the facilities serve hundreds of young women every year. But Daniels believes the ministry is just the beginning of something larger.
"There's not one city that doesn't have human trafficking happening in it," Daniels says. "I don't believe we're going to be just California-based. I may not see this vision go worldwide, but He will see to it that it will happen."
She knows it's an ambitious dream. But as always, she is unflappable in the face of danger, opposition, and seemingly insurmountable obstacles.
"God has promised that He will bring healing and wholeness," she says.