Hard Work Leads to Surprise Gift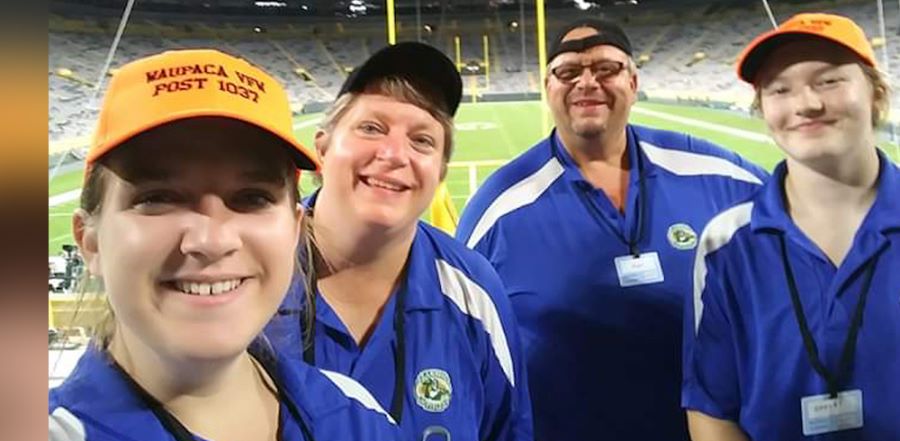 Don't miss any stories. Follow AG News!
Imagine being an NFL fan and you are given a golden ticket that offers you the opportunity to attend every home game of your favorite team for free, including preseason and the playoffs. The thrill of the crowd, the excitement of the game, not to mention the money you'll save!
Paul Piencikowski, an ordained AG traveling minister living in Waupaca, Wisconsin, has one of those "golden" tickets, but he has a far different purpose for attending his team's games than most.
During games, Piencikowski, who is 47 and is also a substitute teacher, is positioned so he could look through the middle of the towering arms of the south endzone goal posts at historic Lambeau Field in Wisconsin, home of the Green Bay Packers. But he rarely does. Instead he's working at an unbelievable pace at Lambeau Field's largest concession stand, basically for free.
Some may not realize it, but the individuals working at many concession stands in professional ball parks are doing so for free. The money they make — a percent of the concession stand's sales — all goes to a school or charity of their choice. Lambeau Field is one of the stadiums where concessions are run in this manner.
In 2018, Piencikowski, his wife, Pam; sons, Jacob and Jared; and daughter, Tirzah, all worked to help Tirzah raise funds for her high school senior choir trip, an
AIM
missions trip, as well as a
Speed the Light
pledge.
But this year, it was just Paul as Tirzah graduated high school, Pam had other responsibilities, and the boys were already out of the house.
At the concession stand, known as 920 Burger/Wisconsin Supper Club, Piencikowski is in charge of the back of the house — the kitchen area. His responsibilities include two large flat-top fryers, nine deep fryers, four serving windows, set up, cooking, plating, serving, and clean-up. Definitely nothing for the "unmotivated" to attempt. In total, 25 to 29 volunteers work in the stand at each game.
To give an idea of what kind of pace Piencikowski maintains, he says that it's one person's full-time job simply to tear down boxes and get them out of the way as it's high intensity and fast-paced work. "We fry up 1,000 pounds of cheese curds each game," he explains. "And during the season, we cook a mile of bratwurst, 10,000 hamburgers, and serve thousands of gallons of beverages along with other items."
Of course, they don't call Lambeau Field "The Frozen Tundra" for nothing. Piencikowski says that when it's five below zero outside, like it was for a late-season game this year, it's five below zero at the cash registers; and when it's 91 degrees outside, like it was for the preseason "family night," it was well over 100 degrees by the fryers.
This past NFL season, as he no longer had children in high school, Piencikowski decided to designate the money he made to the Waupaca First Youth going on an AIM missions trip as well as help a young person going into full-time ministry. Only, no one at the church had a clue what he was going to do.
"It definitely was a surprise and a very generous gift," confirms Cliff Cameron, lead pastor at
Waupaca First Assembly of God
for nearly seven years. "One of our goals is for every high school student in our youth group to go on an AIM trip before they graduate."
So far, two students have confirmed that they will be taking an AIM trip to Vietnam this summer. Cameron says the money Piencikowski donated, a total of nearly $1,400, is an answer to prayer and will help tremendously in providing needed scholarships to the students.
"Paul has always had a heart for ministry," Cameron observes. "Although it was a great gift and a great surprise, it doesn't surprise me that Paul would find a creative way to bless the Lord, bless the church, and bless the people around him. He's making an investment in students' lives that will pay dividends in the future."
Although the AIM missions trip will undoubtedly impact students' lives in a profound way, perhaps even leading some to become career missionaries, this year Piencikowski was able to make some personal impacts of his own.
"The work crew was always disappointed when I couldn't be there to run the kitchen," he notes. "I guess they just really appreciated how I ran things and that I worked hard."
But more than that, many of the work crew came from the Waupaca community.
"I intentionally volunteered to drive, which often put people in my vehicle that I would not have had the opportunity to connect with outside of this experience," he says. "I did not lead anyone to the Lord during those rides, but I had captive audiences to share with for over an hour each way."
Either way, Piencikowski knows seeds were planted into lives. He says he's already been invited back to work at the concession stand next year where he's looking forward to continuing to serve to the best of his abilities, take the opportunities presented to impact lives for Christ, and give his "earnings" to wherever God directs.