Jungle Bible Translators Serve Europe's Refugee Camps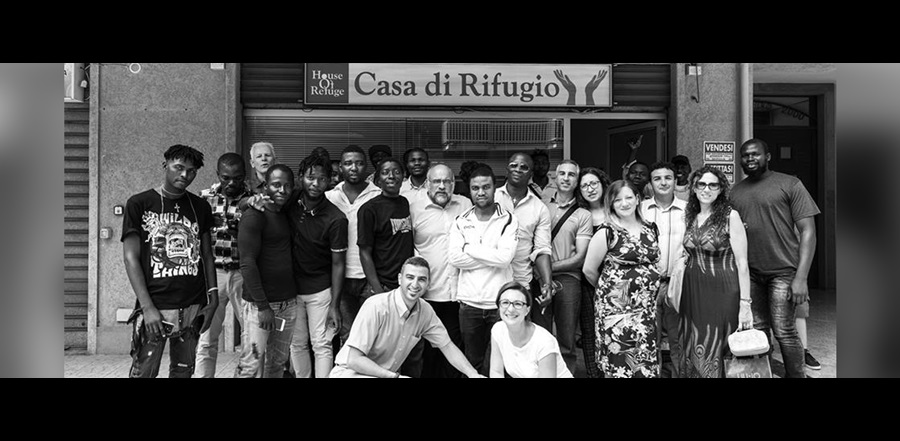 Don't miss any stories. Follow AG News!
Veteran AGWM missionaries Neil and Kathy Vanaria are no strangers to hard places and great challenges. For 25 years they served in the jungle-consumed mountains of Papua New Guinea (PNG), an ancient, untamed island nation north of Australia. Their work in PNG culminated in 2013, with the completion of a translation of the New Testament into the Mesem language.
Since 2015, Europe has scrambled to respond to the arrival of millions of refugees and asylum seekers from the Middle East and North Africa. Each European nation has responded differently, resources are being exhausted, and in some cases, patience has worn out. To a great extent, the media has moved on, so awareness of the need has diminished.
Yet for those desperate to escape war, famine, persecution, and poverty in their home nations, the struggle is alive and well. As governments continue doing their best to cope with the continued crowds of new arrivals, AGWM missionaries across Europe are also stepping up to face what has been called one of the greatest challenges of our time.
In 2016, just after the refugee crisis had gained momentum, the Vanarias transitioned to service in Sicily. They quickly recognized the plight of those who, upon initially landing in Sicily, felt tremendous relief in the belief that the horrors of war and their open-ocean voyage were behind them.
That relief often gave way to despair and horror when they realized that wild promises made to them by human smugglers — including guaranteed income and free housing — do not exist. Many became trapped in a form of servitude, working with no wages.
"Here in Sicily, we have opened two ministry locations under the name 'Casa Di Rifugio' (House of Refuge)," Neil and Kathy explain. "The first was opened in February 2017 and is located in the town closest to Europe's largest refugee camp, Cara Mineo. We gather three times a week for prayer, discipleship, Bible study, praise and worship, Italian lessons, soccer, and games.
"The second location was opened in April of 2018 and is located in Caltanissetta, home to one of the largest populations of immigrants from the Middle East. There we offer laundry services and hot showers for those who lack such basic services, as well as provide food and clothing assistance, Bible study, and English classes for children. We have been blessed to form great friendships with many Muslim neighbors and seek to proclaim Jesus boldly in word and deed."
As a result of this crisis, and the response of missionaries like the Vanarias, people from nations where no one can freely share the gospel are now hearing about Jesus.
"A man from Nepal is coming to Casa di Rifugio," Neil and Kathy say. "He's Buddhist, and we gave him the JESUS film and the Scriptures in Nepalese. Last week he said, 'I have two questions. Who is Jesus and where is heaven?' Another man, from Eritrea, asked for an English New Testament, as he wanted to learn English. He struggled to understand it, so he also asked for the Bible in Tigrynia, his heart language. We gave him that as well. He came to Christ while comparing the content of the two New Testaments because he really listened and understood for the first time."
In the past two years, the Vanarias have distributed more than 7,000 New Testaments in 40 languages among the refugee and immigrant population in Sicily.
The Bibles (both as audio files and in PDF written format, whenever possible), a copy of the JESUS film, and other helpful resources are loaded on to SD (Secure Digital) memory cards, which can be used on cell phones and other electronic devices.
"The great thing with Scripture on SD cards is you can personalize the card to include what matters to that person," Neil says. "It's like a 'portable witness' because people can bring it with them wherever they go, and refugees are a very transient group. On a weekly basis we might deal with 50 different people."
"Many have heartbreaking stories, and we pray that they might be looked on with favor and granted asylum," Kathy adds. "While they wait, though, we do all we can to make their lives better, and to listen, encourage, train, and prepare them for the future. Above all, we share the truth that all that seems to be for evil, God can and will use for good. We believe that the Word of God does not return void."
As the Vanarias leverage every available resource to serve and stand alongside hurting people within the very short window of time sometimes available for ministry, they have seen miraculous provision. A remarkable example of this came in 2017, with the anonymous donation of an SD duplicator.
"The first day I used the duplicator, we needed 150 SD Bibles in three different languages," Kathy says. "Normally that would be a two-day project if all went well. With the duplicator, it was done in under 90 minutes! After that, I zipped off another 200 for the regional superintendent to bring to Lampedusa."
The duplicator has also allowed the Vanarias to provide an additional 1,000 copies of the Bible for personnel serving in French-speaking West Africa and to prepare SD master cards for Eastern European languages. Personnel serving with Project Rescue, AGWM's ministry to victims of human trafficking, are distributing those Bibles among trafficked women from many different Slavic nations.
"These are desperate people coming from lands where Jesus cannot be preached," Neil and Kathy conclude. "This is our time to offer the only hope that the world cannot take away."