Kennedy, Envoy of News and Inspiration, Retires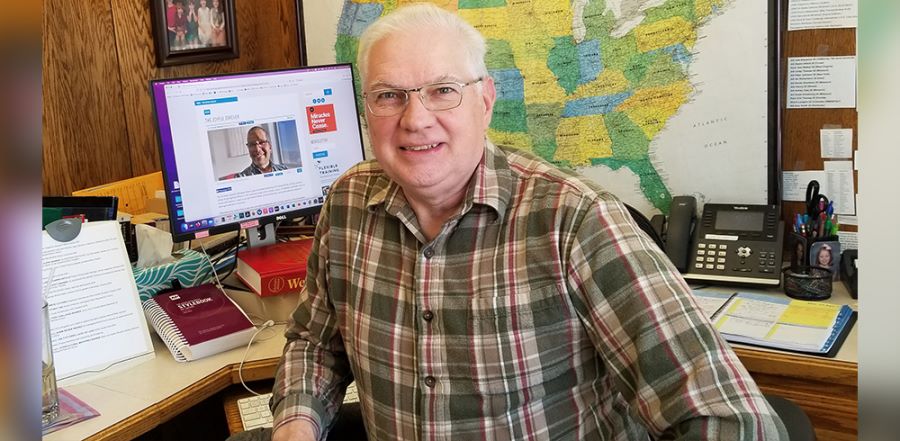 Don't miss any stories. Follow AG News!
John W. Kennedy's name has been on the byline of breaking news for the Assemblies of God for nearly a quarter of the Fellowship's history. His efforts for AG World Missions, the
Pentecostal Evangel, The Council Today,
and
AG News
have resulted in thousands of stories that have impacted the lives of millions of readers. But, as April concludes, Kennedy will also close his prolific career at the Assemblies of God national office and retire.
Kennedy, who has been serving as an editor, writer, and freelance assigner in
AG News
since 2014, came to the Lord in the Foursquare Church, a sister denomination to the Assemblies of God. After graduating from the University of Missouri in 1981 with a journalism degree, he began his career at his hometown newspaper,
The Fairfield Ledger
, in Iowa.
"I was fired from that job in 1990 because I helped organize a pro-life group and the paper wasn't happy with that," Kennedy recalls, noting that his pastor's sermons inspired him to start the group. "Shortly after that, I was hired by the
Sacramento
(California)
Union
newspaper as the copydesk editor."
Kennedy says that he quickly became the religion editor. But then, as the paper began to struggle financially, as many did, he also became the automotive, special sections, and real estate editor.
"I paid attention to the religion section the most as that's what had meaning to people's lives," Kennedy says.
Realizing that the paper would not survive, Kennedy applied to and was hired by
Christianity Today
as the news editor in 1993. He remained there until 1999.
Kennedy met Hal Donaldson, the executive editor for the
Pentecostal Evangel
, the Assemblies of God's former denominational magazine, at the 1999 Evangelical Press Association convention.
"He told me if I ever was in Springfield to contact him and he would buy me lunch," Kennedy says. "What was 'coincidental' was that my parents grew up in Springfield and I was going there in just a few weeks for a family reunion. Hal took me to lunch and asked me if I ever thought of working for a denominational magazine . . . three months later, I was buying a home in Springfield."
For four years, Kennedy, working on the monthly 'missions edition' of the
Pentecostal Evangel
, was given the opportunity to travel the world, interviewing missionaries in faraway lands and sharing their fascinating stories with AG World Missions and
Pentecostal Evangel
audiences. In 2003, he decided to accept the position of news editor for the
Evangel.
"For many years, John Kennedy helped the Assemblies of God tell the story of God's work in the United States and around the world," says Donaldson, the president and CEO of
Convoy of Hope
. "A gifted writer and news reporter, John wrote faithfully about the people, places, and events within the Fellowship. Through his commitment to getting stories right and telling them in an interesting way, he inspired and informed readers across the nation. He has been a gift to Assemblies of God communications."
When the
Pentecostal Evangel
ceased publishing in 2014, Kennedy joined the
AG News
staff just as the email publication transitioned to include online postings. Kennedy's wealth of knowledge, expertise, and connections with freelance writers helped turn
AG News
into the news source for the Assemblies of God as news and feature stories began to post online daily through the national office.
"John has a sense for story leads like no other journalist I have known," states Mark Forrester, AG Communications director. "Beyond that, his heart to invest in other writers is evident in the strong team of
AG News
freelance writers he has managed and mentored with excellence."
Kennedy admits that one of the most difficult parts of the job was coming up with story leads for every weekday while supervising over a dozen freelance writers. However, he says he has thoroughly enjoyed interacting with and interviewing leaders of prominence as well as leaders and individuals making a difference in smaller communities across the United States.
"I am grateful that I got to travel the world and interview a lot of interesting people in the Assemblies of God and elsewhere," Kennedy says. Some of the more well-known names Kennedy has interviewed include J.I. Packer, Charles Colson, Pat Robertson, James Dobson, Reinhard Bonnke, Ben Carson, and B.J. Thomas. However, one of his more treasured memories may surprise some.
"I interviewed Gavin MacLeod (Captain Stubing of The Love Boat television series)," Kennedy says. "After the story came out, he called me up and told me, 'Wow! What a wonderful job you did on that story!' For him to take the time to express that was pretty great."
Although Kennedy says picking his favorite story he's written is similar to asking a grandparent to choose a favorite grandchild, he says there are certain types of stories that he really enjoys writing.
"The stories that give me the most satisfaction are about resilience and redemption — narratives about, for instance, adoptive and foster care parents, those who recovered from physical and emotional pain, and people who have remained faithful to the Lord after a debilitating illness, financial ruin, sexual trauma, or imprisonment," he says. "Everybody has a story and I think when we tell those stories it can be an encouragement to others struggling with a similar situation and, ultimately, it glorifies God."
Kennedy explains that telling stories of redemption can provide hope for people who may not think redemption is possible.
"But some of the most on-fire people in churches are those who have overcome so much trauma in the past and are living victorious lives now," he says.
Although trying to pin down stories that made the greatest impact on others was difficult to do, Kennedy says a relatively recent and revisited story really impacted his life.
"In December of 2020, I did a follow-up to a
Pentecostal Evangel
article on Richard A. Smith, a pastor in Philadelphia, titled '
Never Lacking Ministry Opportunities
,'" Kennedy says. "I got there, to his inner-city church, and he's on the street, ministering to this guy, who's drunk in the middle of the day, trying to help him. His compassion was pouring out. Where he ministers has a nickname — Needletown — because of the rampant drug addiction. Pastor Smith has been there over 40 years now, toiling through these rough conditions and doing it joyfully. I just have such a great admiration for someone to have the stick-to-itiveness to keep going and being a representative of God in such a rough area. He really inspired me."
Kennedy's depth of knowledge and mastery of his craft clearly reflects his purpose — to glorify God through his work. Perhaps his efforts are best reflected through the 10 General Councils he covered. Working up to 14-hour days and producing as many as six articles a day, Kennedy kept the Fellowship informed of key business meeting decisions and elections as well as services and special gatherings.
However, despite efforts to convince Kennedy to delay his retirement, Forrester notes there is at least one small consolation — Kennedy has agreed to become a freelance contributor for
AG News
.
Kennedy says that in addition to doing some writing for
AG News
and catching up on some reading, he and his wife, Patty, will be spending significant time with their six grandchildren, visiting family, and doing some traveling.
"I have made a lot of friends through the Assemblies of God, and some are friends because of the articles I've had the opportunity to write," Kennedy says. "There are a lot of good people in the AG doing a lot of great things."