Laughing at the Future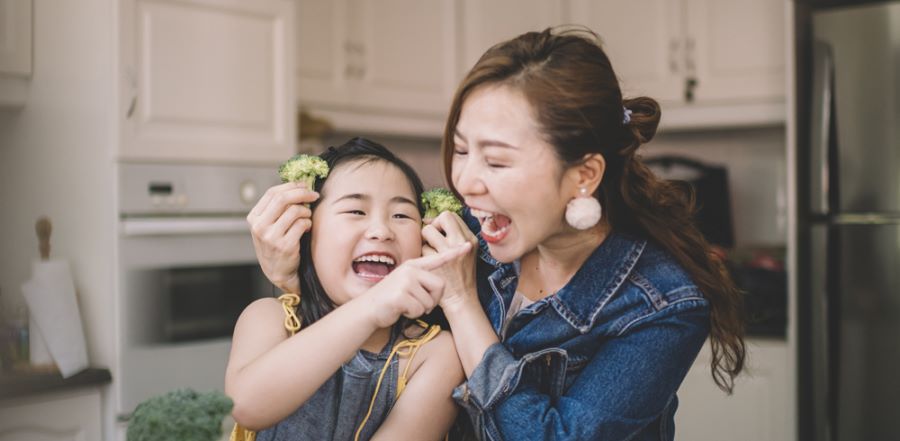 Don't miss any stories. Follow AG News!
"She is clothed with strength and dignity, and she laughs without fear of the future," (Proverbs 31:25, NLT).

The woman described in Proverbs 31 is humble, smart, organized, wise, kind, worthy, strong — and she knows how to laugh. But, just how might she have handled life under stay-at-home orders with her family in a global pandemic?
If we were to modernize her, I'm sure the Proverbs 31 mom would have a ton of followers on Instagram and Pinterest — because she inspires us in so many ways. She manages a lot, both within her household and within her heart. She is the kind of woman who knows how to flawlessly fold fitted sheets and fiercely fight fear. Did I mention that she laughs in the hard places of life?
We can all agree that there is nothing intrinsically funny about this global crisis. Illness, fear of sickness, layoffs, lockdown, and death are no laughing matters — not to mention moms are having to add schoolteacher to their long list of roles. Moms are coping with kids begging for snacks, fights over toys, and Elsa fans asking to watch Frozen for the 100th time. Teenagers miss their school friends, feel bored and agitated, and are worried about schoolwork.
Would the Proverbs 31 woman be laughing through these moments? Maybe — but not the laughter that indicates something is humorous. Laughter can be an expression of deep joy, a reaction to receiving some good news, and an expression of hope and trust even when life is hard and unrelenting.
During this time of unrest and restriction, moms are in need of a way to find peace. See how well the values that filled the heart of the woman described in Proverbs 31 fit your life and responsibilities today:

"She gets up before dawn to prepare breakfast for her household" (Proverbs 31:15, NLT).

This is a great time for moms to pull out the cookbook or log on to Pinterest, grab the griddle, and try out a new breakfast recipe for the family. Pancakes just make hard days better (especially when they are topped with strawberries and Nutella).

"She girds herself with strength and makes her arms strong" (Proverbs 31:17, NASB).

It sounds like this virtuous woman was into push-ups and planks. Of course that is conjecture, but the idea of increasing energy and building arm strength is not a shabby idea. Try to incorporate some form of exercise into your day to care for yourself and to build the mental and physical strength needed to care for your family. Exercise is also proven to reduce stress hormones.

"She extends a helping hand to the poor and opens her arms to the needy," (Proverbs 31:20, NLT).

Helping others is often a useful way to manage a crisis. Look for creative ways with your children to help someone in need that meets the social distancing restrictions. Bake cookies and leave them on a neighbor's porch, write and mail letters to those in nursing homes, donate to your church or another organization, or pray for hurting people during the bedtime prayer routine.

"She is clothed with strength and dignity, and she laughs without fear of the future" (Proverbs 31:25, NLT).

Moms often battle attacks against their esteem and worth. Put on strength and dignity by writing encouraging notes to yourself, make a list of all your strengths, and reflect on a time you felt strong in your life. Fear is not an uncommon feeling for moms. Make a list of your fears and worries during this crisis, then take a black permanent marker and cross each one out and write "peace." Visualize God roaring at all your future fears or singing over you with songs of peace. Don't be surprised if a smile dances across your face and you begin to laugh at the very fears you trembled at a minute ago.

"When she speaks, her words are wise, and she gives instructions with kindness," (Proverbs 31:26, NLT).

This is a time to speak truth and to be careful of words that are full of fear. This is also a time for moms to give instructions on keeping the family safe and wisely explaining the global crisis to younger hearts and minds. Kindly instruct your children on proper handwashing and how to keep socially connected while remaining safe. For the moms feeling frustrated with their argumentative student while helping with homework, remember "instructions with kindness."

"She carefully watches everything in her household and suffers nothing from laziness," (Proverbs 31:27, NLT).

Find activities to keep the kids productive and check in on how members are doing throughout the day, especially teens who naturally will want to isolate. This does not mean being a helicopter mom. Don't forget to incorporate rest; it is productive and does not equal laziness. Laziness is ignoring opportunities to use your energy wisely.

"Her children stand and bless her" (Proverbs 31:15, NLT).

It's no secret that motherhood sometimes is a thankless job. Much of what you do will go unnoticed and unappreciated, and that can feel awfully discouraging. You may hear a lot of begging, complaints, whining, back talk, and hurtful words from your children during the national lockdown. Stay encouraged knowing your role during this crisis is a blessing to your family and one day — when you least expect it —y our children will thank you for how you laughed at the future and the fear brought on by COVID-19.

A Mom's Prayer:
"Dear Lord, each dawn that I arise, clothe me with Your strength, fill my mouth with Your wisdom, and put laughter in my soul. Teach me how to manage my household and my heart during this crisis. Show me all the things I fear today (pause in silence). Give me, and other moms like me, power over all fears of the future. May we instead laugh. In Jesus' name, amen."
From one mom to another, I pray you continue to find rest and live free. And, remember PROVERBS-31 over COVID-19!
Leatisher ("Tish") Granville has been on the counseling staff at Emerge Counseling Ministries in Akron, Ohio, for 10 years. She is married and has two children. The AG HelpLine, an anonymous 1-800 counseling support service for Assemblies of God ministers and their families, (800-867-4011) is staffed by Emerge counselors. Contact Emerge Counseling at emerge.org.