Limousine Access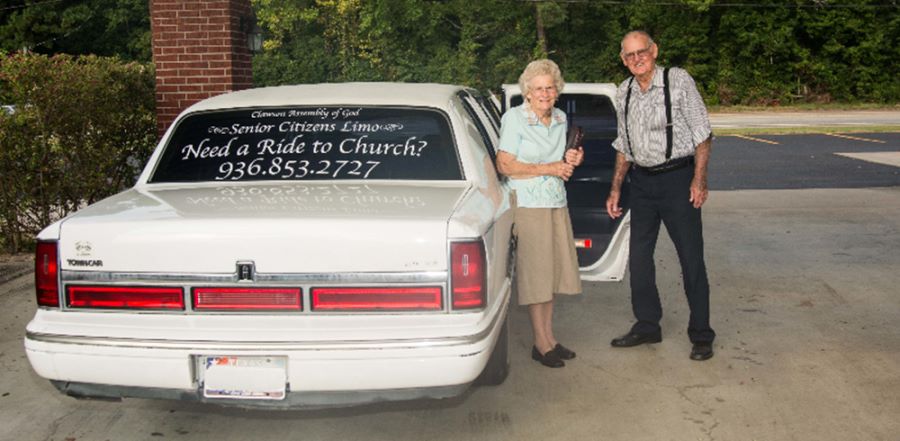 Don't miss any stories. Follow AG News!
Gladys Weems, 91, had moved to an assisted living center. She used a walker and could no longer drive.
The church she attends, Clawson Assembly of God in the East Texas town of Pollok, had long been central to her life. The church has buses. But Weems' knees wouldn't allow her to climb into any of them.
"I don't go up any stairs," she says.
She had no other way to get to church.
About five years ago Kevin Poage, Clawson's pastor, recognized that a growing number of Clawson's elderly faced the same obstacle that kept Weems from attending church. Senior citizens needed a low vehicle they could enter and exit with ease. Clawson's senior citizens group numbered about 70.
Poage thought of the answer: "What better way to honor the people who paved the way for us than to get them a limo?"
The church found a funeral home selling a used limousine.
"A limo is so low to the ground they can just sit on the seat and slide over," Poage says.
Compared to a bus, a limo costs less to buy and is a more convenient form of transportation.
"The whole idea is you can't get seniors in one of those vans without lots and lots of struggle," Poage says. "It's a great ministry for any church."
The Clawson limo can carry eight people -- the exact number of elderly members who use the service. Ten drivers volunteer for the church limo ministry, which runs Sunday morning, Sunday night, and Wednesday night. Many of the elderly who use the limo service still drive a bit, but don't see as well anymore, especially at night.
So far the church has worn out two of the used limos. An ad on the limo's window reads: "Senior citizens limo. Need a ride to church?" It posts the church's phone number.
Weems has been riding the limo for a couple of years.
"It's wonderful that they've provided a way for elderly to go to church," she says. "We'd just be stranded at home."
Clawson member Sherri Tutt, the activity director for a local nursing home, is part of a community consortium that puts on an annual "senior prom" for area nursing home residents. Her grandson went to prom in a rented limo, which sparked an idea: "That would be cute if we could get the church to do that," Tutt says.
Poage was happy to help. The prom ended up being held in the Clawson gym. "They brought some of them in big, fancy dresses -- hair, makeup. It's just the greatest thing ever," he says.
Clawson also loaned a limo driver that escorted some of the nursing home residents.
"They were so excited when they went out in front and saw the limo waiting for them," Tutt says. "We wanted our residents to feel special."