Missionary Bikes for Speed the Light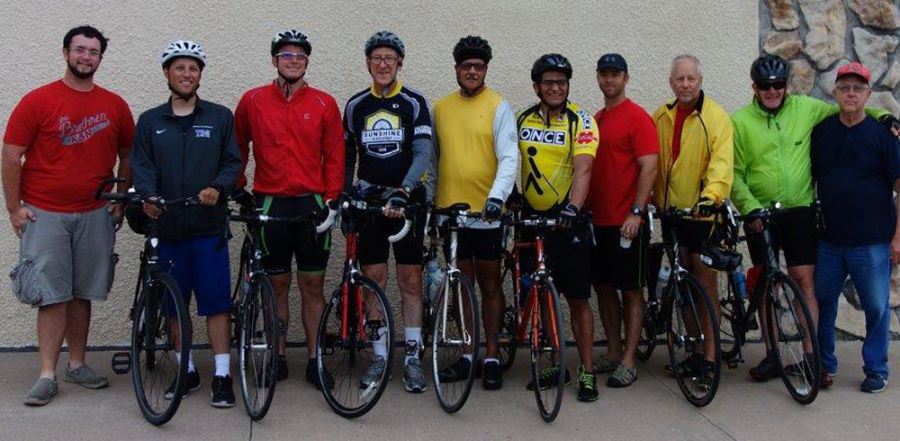 Don't miss any stories. Follow AG News!
Wait a minute. Isn't the idea behind the Speed the Light (STL) program supposed to be Assemblies of God congregations raising money to provide missionaries around the world with the transportation they need?
Somebody may want to let Jerry Spain, longtime AG missionary to Kenya, in on that.
On Sept. 5-11, Spain and nine other bikers, including Nebraska District Youth Director Toby Schneckloth, the annual Missions Ride organizer, completed the 400-mile "border-to-border" bike ride across the state of Nebraska to raise funds for Speed the Light.
"It's one of the fun things that we look forward to every year," says Schneckloth, who has organized and ridden in 11 long-distance Missions Rides since becoming DYD 11 years ago. "It pushes us physically, but we love the results. It also gives us a heart for Nebraska as we ride across the whole state and get to see things a lot of people don't get to see."
Of course, some may believe Spain, as a lifetime runner, may have had a conditioning advantage on his fellow riders. But at 77 years old, Spain says he prepared diligently for the effort from his home in Springfield, Missouri.
"I rode anywhere from 30 to 50 miles a day to get ready for this," says Spain, who also marked 50 years this year since he and his wife, Joy, were appointed missionaries to East Africa. "I looked at the itinerary and saw rides of 70 and 84 miles, and I wanted to be sure I could make it — and training here in the Ozarks helped, because there are a lot of hills."
This year's "Colorado-to-Iowa" ride benefited missionaries Bryan and Laura Davis, who have been serving in Senegal for the past 20 years. They are currently preparing to build two Christian schools for children in the country and will be in need of a new vehicle, such as an SUV or four-door pickup truck. Davis took part in the Missions Ride as well.
Kelvin Nygren, 56, and long-time pastor of Pacific Springs Church in Omaha, Nebraska, has been on all 11 fundraising rides that Schneckloth has organized. "For me it's been great," he says. "Each night we stop at a different church and speak and help raise awareness of programs such as Speed the Light. The rides are also a great way to make friends with people I've never met before."
Although the idea of riding across Nebraska may evoke images of miles of flat, picturesque farmland, Spain has news to share. "Anyone who tries to tell me Nebraska is flat, I'm telling them they're lying," he says with a laugh. "There were a lot of long hills, especially on the 70-mile day . . . I just kept telling myself, just make it to the top of the next hill . . . and then there would be another hill!"
"He's amazing," Nygren says of Spain in admiration. "Jerry was the official storyteller on the ride. We had rest stops every 7 to 10 miles and he had a missions story or joke at every stop . . . and him riding at 77 is pretty cool."
Schneckloth agrees, calling Spain an inspiration and admiring him as a missionary veteran. "We stopped at a church each night," Schneckloth says, "and Jerry brings so much missions experience to the table — his stories help fuel the whole reason we're doing this. What's more, he's one of those people who's 'been there, done that,' and yet he's still doing it — still passionate about missions and still raising money to support missions!"
Although the ride was mostly perfect, the effort ran into a few challenges. One being an extended lightning storm that concluded one day's ride early; the other being a nasty crash that occurred when some of the riders' wheels got caught in the grooves of an atypical railroad crossing.
"On the second day of the ride, three of our lead riders, including missionary Bryan Davis, had a bad spill at a railroad crossing," Spain says. "They were badly bruised and bleeding but got back up, straightened their bikes, stopped the bleeding, and kept going. Now that's perseverance!"
Davis had the worst spill, with some significant scrapes and cuts, but he finished that day's ride. "When I landed on the highway, my helmet made this unearthly kind of popping sound," he says, "but I was concerned about the others, as I thought they may have gone down harder."
When Davis checked his helmet later, he discovered not only a large chunk hanging from it, but a large crack that ran from front to back. Although he admits being very sore for the 10 days following the ride, he's thankful for God's protection as things could have ended a lot worse.
According to Schneckloth, the ride was a great success as they are currently within $1,000 of their $20,000 STL goal, with a few riders still collecting some pledges.
The trip across Nebraska has also inspired Spain to organize a similar fundraiser next year to raise money to scholarship needy ministerial students in East Africa so they can attend KAG EAST University in Nairobi, Kenya. He's currently planning a three-day, 150-mile bike ride on the Katy Trail in central Missouri.
Although Spain has nothing but praise for Schneckloth and the organization of the STL border-to-border, he left the trip with great respect for one individual in particular — the driver of the truck, Joel Loutzenhizer, who followed them with the "Bikers Ahead" sign.
Spain states: "Anyone who can drive all the way across Nebraska going maybe 15 miles per hour and still have a smile on their face is a person to be admired!