Missionary Chef Cooks with Compassion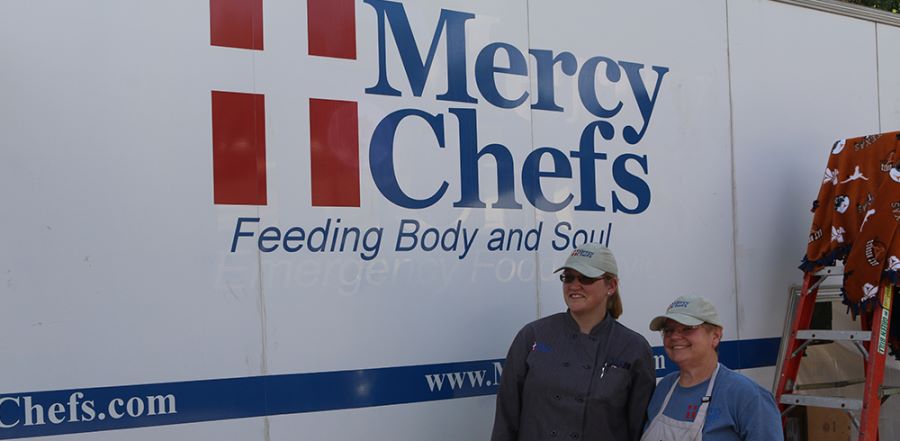 Don't miss any stories. Follow AG News!
A plateful of sandwiches -- sitting out on a table, in the sun . . . flies a constant companion. A platter of fast food burgers nearly as cold and greasy as the fries bagged next to them. And famished victims of disaster, first responders, and volunteers working tirelessly to ease suffering who are just thankful for even these meager meals.
Nine years ago, when Chef Gary LeBlanc and his wife Ann witnessed the type of food being offered to those putting out so much effort as well as to those suffering such great loss, they knew they had to do something about it. So, they launched the compassion ministry Mercy Chefs, as the couple knew well prepared "comfort foods" not only are nourishing, but truly do provide a sense of comfort and well being.
In 2010, Chef John Stout, an Assemblies of God minister, felt he wasn't truly fulfilling his calling, so he began seeking the Lord. "I was praying for God to open doors to ministry that wasn't pastoral ministry," Stout recalls. "Then I met the CEO of Mercy Chefs, Gary LeBlanc. He told me about the program and it captured my attention."
Stout would get his "feet wet" with Mercy Chefs with a 6-week stint volunteer effort in Haiti, as untold thousands were in desperate need of food and clean drinking water following the massive earthquake that struck the island.
Was Mercy Chefs an answer to prayer for Stout? Undeniably.
"We've been to just about every major disaster in the United States since 2010," Stout says. "I'm actually on a 400-mile trip home right now -- I just left Wimberley [Texas, where historic flooding left behind death and ruin] having spent the last 12 days there, and I've been deployed for 45 consecutive days, having come from two tornado disasters prior to that."
The efforts of Mercy Chefs, which currently cover most of the Central and Eastern United States, is more than one might first imagine. 
Stout explains that they have a refrigerated box truck (for food) and a 32-foot and 42-foot mobile kitchen where Chefs prepare and serve meals -- meals that include savory meats, seasoned vegetables, a variety of expertly prepared "starch" foods such as roasted potatoes, and homemade desserts along with a drink all served in a "stay warm" container. Mercy Chefs partners with a local church and sets up its mobile kitchen in the church's parking lot, where church and community members can volunteer to help. The meals are offered to all who are in need, for Stout says the old adage holds much truth -- the way to a man's heart is through his stomach.
"We served about 15,000 meals, working 16- to 18-hour days, for 12 days in Wimberley," Stout says. "Of those meals, I would estimate 13,500 of them were personally delivered to people -- victims, first responders, and volunteers. This gives a church unprecedented opportunity to demonstrate the love of Christ to those who otherwise may have nothing to do with the church."
Stout, who has been the manager of the Texas unit of Mercy Chefs for the last two years, explains that they have about 25 or 30 chefs and 150 volunteers who minister through Mercy Chefs on a rotating basis.
"The chefs and volunteers donate their time," Stout says, "so, they can't be expected to be gone from their jobs for weeks at a time. But we are adding more chefs to our list of volunteers almost every day."
Although it would seem that Mercy Chefs would be happy for any help they could get, Stout says chefs are carefully selected through an interview process. Chefs must not only be Christians, but Christians who openly display the love and joy of Christ through their expressions, words, and actions.
"You can't give what you don't have," Stout says simply. 
One example of the ministry impacting a life occurred in Wimberley. Stout says that when they first approached a victim of the flooding disaster, she yelled at them, "I don't want you to talk to me and I don't want you to pray for me!" However, when they presented her with a hot meal with no strings attached, she accepted.
"We went back to her home the next day," Stout says, "We brought her another plate of food, and she greeted us, then asked, 'Would you mind praying for me?' There's a lot of hurt and grief going on during a disaster and a warm, comforting meal opens doors to ministry."
Stout says that he has deployed to numerous states, even making his way out to the East Coast for Super Storm Sandy relief. "Due to our unit locations (Texas and Virginia), we can pretty much be nearly anywhere in the Midwest or East Coast in 8 hours," Stout says. "We can also mobilize faster than most as we keep our kitchens loaded and ready to go. For example, we were on the road within an hour of Vilonia, Arkansas, being hit by a tornado last year."
Stout is not a miracle worker, though. He can't stay on the road indefinitely in ministry without a source of income. In the past, like other chefs, he would have to serve as a part-time volunteer. However, Stout has recently become an Assemblies of God U.S. missionary through the Missionary Church Planters and Developers department. Through the process of becoming an appointed missionary, he has been given the opportunity to build a support team and pursue his full-time calling.
Darlene Robison, senior director of Missionary Church Planters and Developers, says, "It is a delight to welcome John and his wife Rachel to our team. They not only have a great passion for serving hurting people, but they help train and equip local churches to also reach people for Christ through a shared meal."
"What we're doing is planting seeds of hope and faith in people's lives," Stout says. "Someone else will come along and reap the harvest, but we're seeing people with hardened hearts move from 'I don't need Jesus,' to 'tell me more about this Jesus,' and that's what I believe God has called me to do."