NHL-Hopeful Finds God's Plan is Better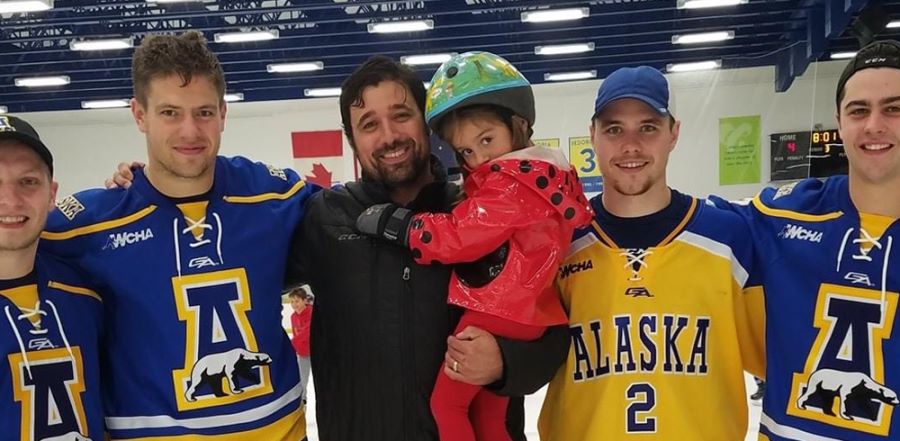 Don't miss any stories. Follow AG News!
Ryan "Rhino" Reinheller grew up in Medicine Hat, Alberta, Canada, which is located about 85 miles north of central Montana's U.S/Canadian border. It's a place where many boys have dreams of one day playing in the National Hockey League (NHL). Reinheller was no different — he even carved the name of his favorite team, much to his father's displeasure, into his new handcrafted desk. His heart's dream was to play for the New York Rangers.

But as Reinheller came to learn, God knew his heart's true desire far better than he did, ultimately planting him where many fail to flourish.

Reinheller was not a big kid — he had the heart for hockey; just not the size or strength that the top players possessed. However, that didn't keep him from pursuing his dream, even if he didn't make the elite teams.

That individualism and determination was reflected in his spiritual life as well. He recalls attending Pinecrest Camp, a church camp, one summer when he was 10 or 11.

"Little Bear was the camp speaker and he had my full attention every chapel as he wore a beaver-skin hat, made fires, and told us about Jesus," Reinheller says. "I knew about Jesus, my parents were believers and we went to church, but this was my first time away from home and I wanted to be sure that it was all my decision [whether or not to accept Christ as Savior]."

When the altar call came, Reinheller slipped his hand up and then went forward, his heart pounding — he was ready!

"I think back to that time in my life, and from that point, it was 100% all Jesus," he says. "I prayed the sinner's prayer and had an encounter with the Lord — it was one of the best nights of my life."

HEART'S DESIRE

Even though he was devoted to God, it didn't seem to help when it came to making the top prep hockey teams — he kept getting cut. But one day after again being cut, a family friend stopped by their house with a piece of biblical advice, suggesting that Reinheller read Psalm 37:4.

The verse reads, "Take delight in the Lord, and he will give you the desires of your heart" (NIV).

"I started to read my Bible every day and pray whenever I could as my way of delighting myself in the Lord," he says. "That next year, I made the midget triple A hockey team in Medicine Hat, which was a huge accomplishment." In fact, it was the desire of his heart and his first step toward the NHL.

In elite youth hockey or Junior A, players move to the location of their team and live with billets — families that take junior hockey players into their homes and treat them like their own child. But just like professional hockey, players can get traded or cut at any time.

Reinheller's first relocation took place when he was 18, when he played for the Weyburn Red Wings in Saskatchewan, about 340 miles east of Medicine Hat. He ended up being cut, returning home to play for the Cubs, a local Junior B team. The next two years, he played for the Penticton Panthers, a Junior A team, nearly 600 miles west of Medicine Hat in British Columbia.

COLLEGE CALLS

Reinheller's goal while with the Panthers was to get offered a D-1 college hockey scholarship. But while playing in a game against their archrivals, Reinheller injured his shoulder on an open ice hit in the second period. He had scored earlier in the game, but the injury took him from the game and to the hospital. That seemed to seal it — no scholarship.

Depressed due to his injury, Reinheller made it back from the hospital to get his clothes just after the game concluded. As he left, a man stopped him. It was Tavis MacMillan, an assistant coach for the University of Alaska – Fairbanks (UAF), a D-1 school with a solid hockey program.

MacMillan was only there for that game, but told Reinheller that he liked what he seen of his abilities and went on to pitch UAF to him. Within a few weeks, Reinheller had visited the campus, met the coaches and players, and after extended prayer, felt a peace to accept the school's scholarship offer, even though it was 2,100 miles away. However, it was his second step toward reaching the NHL and Reinheller gave God all the glory for continuing to give him the desire of his heart.

MORE THAN HOCKEY

The next four years flew by with Reinheller seeing extensive time on the ice, even as a freshman and sophomore. His junior and senior years he was named assistant captain of the Nanooks.

But it wasn't all hockey in Fairbanks. Reinheller attended church — True North Church (then called First Assembly of God) — and became a Young Life leader. Between his junior and senior years, he made the difficult decision to break up with his long-time girlfriend in Medicine Hat as their paths seemed to be diverging.

Shortly after the break-up he went on a missions trip to Mexico with local youth through Youth With a Mission (YWAM). While they were doing some training at the YWAM base in Los Angeles before entering Mexico, a staff member, who he had never met before and had no idea what was going on in his life, shared a word from God with him.

"She told me that God wanted me to know that my vision isn't too big; with Him all things are possible," Reinheller recalls. "Then she said, 'There's one more thing . . ., it's about your wife. Your wife is going to love you for who you are, not for your looks or your talents."

This message was huge, first as it seemed God was confirming his dreams for the NHL. Secondly, as he was still hurting from the lost relationship, it showed him how much God loved him to have someone specifically encourage him like that.

"When I got home from the trip, I wrote out physical, hockey, and relationship goals," Reinheller says, "and under 'Relationships' I put a zero with a line through it — I didn't have room for dating."

A PIVOTAL YEAR

During his senior year, things went well in school and on the ice. Also, as he had done at home in Medicine Hat during the summers, he worked with local high school kids in Fairbanks as a Young Life leader.

Although he was impacting young people's lives for Christ, what Reinheller didn't realize at the time was that the ministry was preparing him for what was to come.

"I met and started to develop a friendship with Ralph Seekins, who owns a local Ford dealership and attends True North," Reinheller says. "He and his family love the Lord and were just really comfortable to hang out with."

Ralph and his wife, Connie, also happened to have a beautiful, awesome, wonderful daughter named Andrea . . ., but wait! That zero with the line through it!

Zero? Line? What? Reinheller laughs, "Yeah, the Lord knows me better than I know myself," he admits. "He knew I wanted to be married and have a family, and when I wasn't even looking for it, He put it right in front of me. When you put God first, He keeps lining things up in your life. You may not know it at the moment, but keep trusting Him as He has a perfect plan."

That summer, he proposed and Andrea accepted. However, he knew that he was still going to leave Alaska in order to chase his dream of playing in the NHL, nothing could stop that — especially after "the letter" arrived.

The letter? An invitation from the New York Rangers to try out at their Manhattan camp! His life's dream was right before him.

THE SECOND ZERO

God used two zeroes to redirect Reinheller's life; the first being the zero he had placed on dating relationships and the second zero was one nobody could have predicted — ground zero.

It was Sept. 10, 2001, when Reinheller flew into New York City for his tryout with the Rangers. On Tuesday, Sept. 11, he arrived early at Madison Square Garden and the testing and physicals began.

"We started to catch wind of something happening — we first heard that a bomb had gone off," he says. "I grew up in a small town, so I just thought it was part of living in a big city, but just stuff you didn't hear about."

The Rangers president and general manager, Glen Sather, then called the players together and told them what was taking place outside and shut down the camp.

"It was 10:30 in the morning, as we walked outside, we could see smoke billowing over the city, sirens everywhere," Reinheller says. "I tried to call home, but I couldn't get hold of anyone because all of the lines were jammed."

Reinheller and some of the other players started walking toward the smoke to see what happened. They got as close to ground zero as they could before police stopped them. It wasn't until they made it back to their hotel rooms late that afternoon that they saw on the television how the Twin Towers had collapsed and the devastating loss of life that included.

A few days later, the players were bussed to Rye, New York, to finish their tryouts for the Rangers. Reinheller was cut and sent to the American Hockey League and then cut again and sent to the Central Hockey League in Tulsa, but things had changed — the 9/11 experience had, as it had so many, impacted his life. His heart's desire was now squarely with Andrea.

MINISTRY IN THE MAKING

Reinheller retired from hockey, went to work for his father in Medicine Hat, and in 2002, he and Andrea were married and living in Medicine Hat.

His parents, life-long Baptists, had been filled with the Holy Spirit with evidence of speaking in tongues during a trip in 1983 to Israel when an evangelist prayed for them outside of the Jerusalem Hilton. Their lives were changed forever!

The family began attending the First Assembly of God Pentecostal church in Medicine Hat, and as Reinheller got older, he began working summers at the Eagles Nest Ranch kids camp as a counselor.

"Well over 10,000 lives have been impacted for Christ [through the camp]," Reinheller says. "My parents helped start the camp."

Reinheller loved being a camp counselor — it was almost as if God had created him for that specific purpose. His caring and compassion coupled with his infectious smile, servant's heart, and love for God drew kids to him and allowed him to be a significant influence in their lives.

WHAT GOD HAD IN MIND

Ryan and Andrea lived in Medicine Hat for several years and even started their own coffee roasting business, but in 2009, while visiting Andrea's parents in Fairbanks, Ryan decided to check out a Nanooks practice at the university.

"[Nanooks'] Coach Dallas Ferguson and I started talking," Reinheller recalls. "He told me, if I ever come back to Fairbanks, he'd love for me to be a volunteer assistant coach on his staff. I asked him if that responsibility could include me taking players to do Mexico missions trips to build houses for homeless people — he was all for it."

The wheels started turning. Andrea's father was readily willing to offer Ryan a part-time job at his dealership so Ryan could work and volunteer with Nanooks — not to mention have his daughter and grandchildren much closer.

"Andrea and I prayed about the decision for several months — we both felt good about it," Reinheller says. "In 2010, I became the volunteer assistant coach for the players at UAF. We have taken missions trips to Mexico every other year since 2011."

As a volunteer coach, Reinheller is out on the ice, helping players develop their skills. However, where his "real" work begins is when players need someone to talk to, are struggling with an issue, or accept his invitation to visit True North church with him.

"I meet one-on-one with student athletes, and not just from the hockey team, at the Woods Center on campus," he explains. "Some are struggling with life issues, while others want to know more about Jesus and becoming a follower of Him. Either way, we're able to sit down and whatever the issue, the answer always involves the Bible. It's pretty cool."

In addition to coaching, mentoring, and church activities, Ryan and Andrea keep busy at home as well — they have five children of their own, ages 5 to a pair of twin 14-year-old boys.

In 2019, Reinheller came on staff, parttime, with Fellowship of Christian Athletes (FCA) as an ambassador, which allows him to raise funds for missions trips, Bible distribution, meetings, and other events to help students connect with God. He loves every minute.

"We held an FCA Speed and Agility camp geared for high school students this summer that was staffed by area coaches, volunteers, and student athletes," he explains. "In the middle of the camp day we had huddles where we talked about giving 100% as an athlete, how God gave 100% for us, and how we can give 100% for Him."

For college athletes, Reinheller says he carries a ping pong paddle with him — as it's a popular past-time sport for many student athletes, especially during the long, dark, and often bitterly cold Alaska winters. Though, Reinheller says, possibly nothing beats their annual bowling outing for camaraderie and relationship building.

"It's held on an outdoor ice rink," Reinheller says, "and each player gets three tries to knock down as many pins as he or she can . . . using a frozen turkey!"

LOOKING BACK

As he reflects on the past 20 years of being given the opportunity to speak the Word of God into so many lives, Reinheller expresses appreciation and thankfulness.

"I wanted to be a hockey player when I grew up, that was my dream," Reinheller observes, "but God knew me better and that this is how I was wired."

Former Nanook players, Matthew Friese and Justin Woods, agree.

Friese, now 28, recalls that it was Reinheller who walked with him through the difficulty of playing every game as a freshman, half the games as a sophomore, and no games as a junior.

"I was a strong Christian and attended True North," Friese recalls, "but I couldn't understand what was happening — I was serving God and doing the right things, but I wasn't getting the opportunity to play."

Friese says Reinheller listened and prayed with him regularly, which helped him through a time of extreme anxiety and depression

"It was a blast to be at practice, not to practice, but because Ryan was there . . . you just wanted to be around him . . . everybody loves Ryan," says Friese who went on two Mexico missions trips with Reinheller. "He also helped me process quitting hockey as God seemed to be leading me in a different direction."

Friese says that it was a "God thing" that he quit. He ended up getting married — with Reinheller being a groomsman — finishing school, and going into business for himself. His freight transportation business has become successful beyond his expectations, and he now recognizes that might not have happened if he had continued to pursue hockey.

Woods, 25, currently plays professional hockey for the Kansas City Mavericks. He looks to Reinheller as the man who helped him draw close to God.

"After I made it through cancer treatments, Ryan and I got really close and he really helped me develop and grow my relationship with Jesus in my junior and senior years," says Woods who helps Reinheller with his FCA summer camps. "He's been such a big impact in my life."

Woods wife, Meagan, is a coach for the UAF volleyball team and has gotten many of the girls involved in Reinheller's FCA program.

"I can't say enough good things about Ryan," Justin Woods says. "He's just been there for us through it all . . . he's a friend but also a father figure for us, helping us, and being a mentor for us. We're really blessed and it's special to have him in our lives."

As for "Perma-Smile" — a nickname given to Reinheller by the UAF hockey players because he never stops smiling — God has undoubtedly given him the true desires of his heart.