Naomi Dowdy — A Missionary Pioneer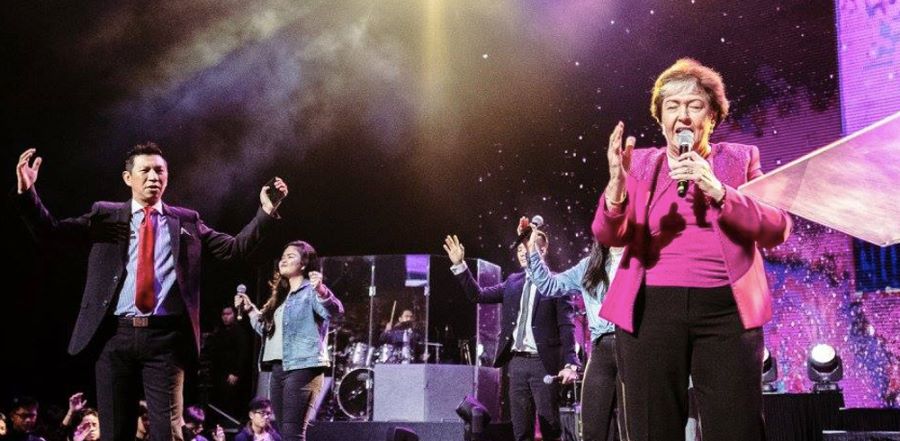 Don't miss any stories. Follow AG News!
SINGAPORE — Churchgoers at the thriving
Trinity Christian Centre
megachurch in Singapore often see Pastor Emeritus
Naomi Dowdy
on the front row praying fervently. As Dowdy grew up in rural Kentucky in a town with only one traffic light, she never could have imagined the way God would use her to reach the nations.
As a teenager, she moved to Nashville. While singing "Let the Lower Lights Be Burning" — a hymn of lights shining in the dark to guide wayward boats — she heard an audible voice say, "That's what you're going to do." Dowdy looked from side to side in the Baptist church she attended and saw no one. She knew she'd heard the voice of God.
Soon, however, Dowdy walked away from church, moved to California, and was a seemingly successful businesswoman living as a self-described "beach bum." She received an invitation to
First Assembly of God
in San Diego from a co-worker.
"I was afraid the walls were going to cave in around me because of my life," Dowdy recalls.
Dowdy later became a missionary evangelist with
Assemblies of God World Missions
and traveled globally for monthlong assignments. After an extensive time traveling from island to island establishing churches and Bible schools, she received a call to Singapore.
"The church had 42 members and 75 problems," Dowdy recalls. God once again spoke to her and confirmed this direction, but she remained resistant. The small church had gone through three missionary pastors in a span of five years. The previous pastors had a mere seven days to leave the country.
When she accepted the role as the first female pastor in Singapore, she knew it would be an uphill battle.
Once again, Dowdy felt God speak to her, saying the church would surpass 3,000 attendees. Feeling cautious about the number, she told church members they would break 150 regulars by the end of the year.
She knew that practical steps had to be applied to take the congregation forward.
"I still had the old mindset that making disciples was doing classes," Dowdy says. "Then God took me through a metamorphosis. If you can get one disciple, can we intentionally make that two?" Out of this, Dowdy developed a cell-based model where disciples could quickly begin discipling.
While pastoring, Dowdy also completed her doctoral studies, "breaking every rule I was studying." While leadership experts urged her to look for people with well-developed talents, Dowdy firmly believed that everyone had potential that could be developed.
"She is a legend," says Dominic Yeo, current lead pastor at Trinity. "She went from missionary status to pastor status. She lived among us and became a Singaporean."
Dowdy says becoming part of the culture was important to her as a minister.
"I started watching movies with Chinese captions," she recalls. "I did any manner of things to better understand the culture and who they are."
As teenagers got kicked out of their homes for accepting Christ as Savior, Dowdy gladly received them into her own home.
"I let the people know that I would fight for them, protect them," she says. "I would be in the trenches with them. If I knew about the problem, they were safe."
Yeo was one of the young men Dowdy mentored, looking beyond his rough exterior to see underlying potential. She describes the role of a disciple as one looking for "spiritual giftedness that has not had the opportunity to be exposed."
Over the course of the following years, the church grew to over 4,000 attendees under Dowdy's leadership. She knew who the next leader would be — the once-unlikely Dominic Yeo. Yeo also serves as the
general superintendent
of the AG in Singapore and was recently elected general secretary of the
World AG Fellowship
.
Today, Dowdy continues active in ministry under Yeo's leadership as she mentors another generation.
"This is my home," Dowdy says of Singapore. "These are my children, and I'm proud of them."