North Texas Kids "Leave Their Mark" at Camps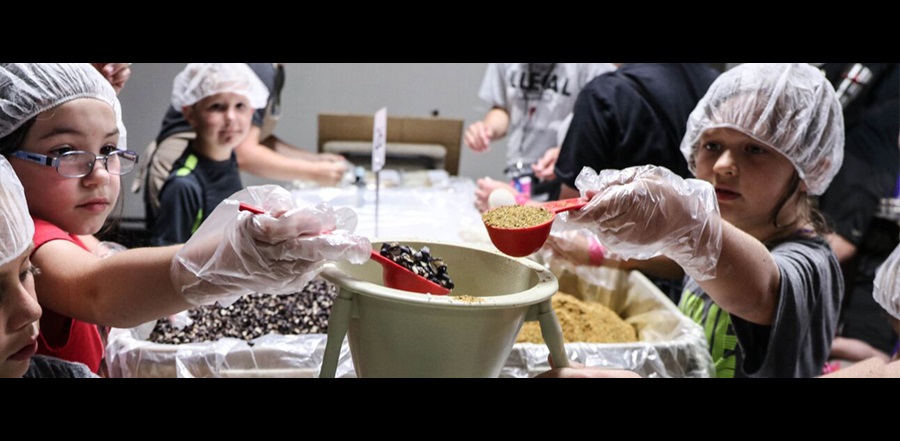 Don't miss any stories. Follow AG News!
"Beans, Spice, Protein, Rice… Put it in a bag, make it look real nice." This chant fills the room, as hundreds of children put their hands to work at North Texas Assemblies of God Kids Camps to provide meals for children around the world. The campers also did their level best to raise funds for Boys and Girls Missionary Challenge (BGMC) to provide Fire Bibles for missionaries to distribute to people around the world.
"Leave Your Mark" is the theme for BGMC this year," explains Michelle Garland, North Texas Kids director. "We wanted children to have the opportunity not only to give money to BGMC, but to help them realize that they can make an impact — leave their mark — on the world by serving right here, right now."
Garland launched the Leave Your Mark initiative in the spring of 2017 and through a partnership with Kids Against Hunger, and Convoy of Hope, an incredible service project came to life this summer.
With the help of churches, individuals, and organizations, the North Texas District was able to raise more than $40,000 to purchase the raw supplies for providing packaged meals for children and families in need in the Philippines and Haiti.
Through the course of five kids camps that took place and overlapped each other July 14-29, some 2,700 kids and leaders left their mark as they bagged and sealed 18,000 pounds of rice, 10,000 pounds of beans, along with spice, and protein — each bag providing a meal for six people. Over the course of the five camps 176,040 meals were bagged, boxed, and placed on pallets, filling a Convoy of Hope semi-tractor trailer!
Kids Against Hunger Central Texas Director Jeff Pedigo witnessed the service project at each camp. He was amazed to see hundreds of kids at a time packaging meals to feed children around the world while at summer camp.
"With every bag, these kids demonstrate the love of Christ to kids in need," Pedigo says. "The food is a combination of rice, vegetable protein, black beans, and Latin spice seasoning with 21 vitamins and minerals. The food is designed to help combat malnutrition."
Garland says that she wanted to help kids understand that there are children and families all around the world who can't have something to eat whenever they want. That in fact, the meals they were preparing may be the only meal those children and families have for an entire day. She also wanted to help campers realize that even though they may be young, they can do things to make a difference that has an impact around the world.
"Kids were coming up to me and telling me how this [preparing meal bags] was their favorite part of camp," Garland says. "One pastor even asked about skipping the games we have at camp and do this instead, all day long. This project was definitely a win for North Texas camps."
Campers also impacted the world and left their mark with their giving to BGMC. Over the course of the two weeks, just short of $15,000 was raised for BGMC and the Fire Bible project. Garland says this is the first year for the bagged meal project and the third year for BGMC giving, with this year's giving exceeding last year's by nearly $5,000.
The two weeks also saw the presence of God impacting lives. Garland says that 366 kids made first-time decisions to accept Christ as their Lord and Savior, 532 were baptized in the Holy Spirit, 705 were called into ministry, and more than 780 recommitted their lives to Christ.
For more information about Leave Your Mark and the North Texas Assemblies of God District visit northtexas.ag/bgmc.