PE Conversations: The Porn Plague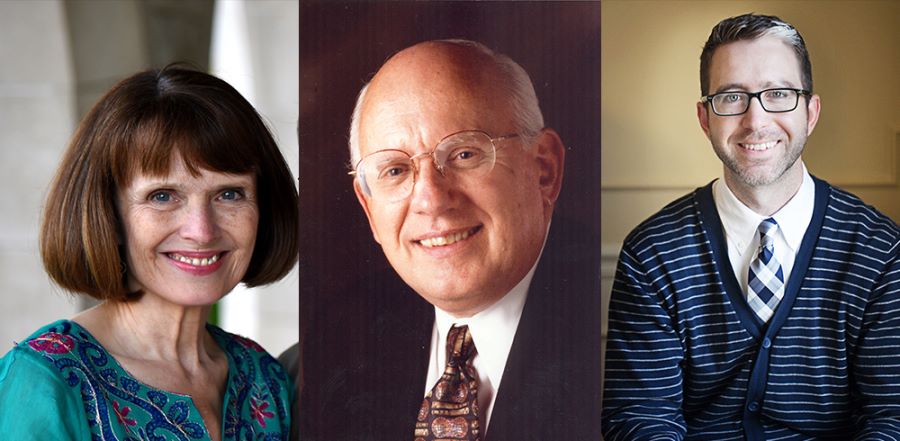 Don't miss any stories. Follow AG News!
As the recent breach in the Ashley Madison adultery website revealed, Christians aren't immune from the lures of sexual temptation. PE News asked a panel of experts to discuss the issue of sexual and pornography addiction. Those participating in the discussion are Assemblies of God Executive Presbyter Beth Grant, co-founder of Project Rescue, an AG World Missions ministry in Eurasia and Europe to women and children in sexual slavery and a board member of the Religious Alliance Against Pornography (RAAP) and the Faith Alliance Against Slavery and Trafficking; Thomas E. Trask, global ambassador for Convoy of Hope who served as general superintendent of the U.S. Assemblies of God from 1993 to 2007 and has been on the RAAP board for 27 years; and Todd Bowman, associate professor of counseling at Indiana Wesleyan University and director of the Sexual Addiction Treatment Provider Institute.
PE NEWS: How is pornography incompatible with a Christian sexual ethic?
BETH GRANT: We dishonor the image of God in our own lives and His intended purposes for us by exploiting others for our own sexual gratification. We trample the image of God in others by using them for our own sexual gratification. Sex is a gift from God to be enjoyed between a married man and woman. By viewing pornography we have implicitly invited a stranger into the most intimate area of our lives, an area ordained by God to be shared exclusively with our spouses.
Many women and all children used in pornography are not there by choice. They have been trafficked and forced in front of cameras to perform sex acts. Many Christians struggling with pornography are unknowingly supporting the trafficking of women and children for sexual exploitation.
TODD BOWMAN: Pornography is incompatible with a Christian sexual ethic due to its emphasis on the objectification of the other, rather than the valuation of another in the eyes of Christ. Pornography actively degrades women through the verbal and physical abuse depicted in a high percentage of pornographic films, as well as reducing them to a sexual object that exists exclusively for the pleasure of the viewer. It reduces men to mindless barbarians whose sole purpose for existence is to achieve sexual satisfaction. In short, it violates God's design for healthy sexuality in nearly every manner possible.
THOMAS E. TRASK: It isn't compatible because of the product produced. It destroys the minds of young men and women, and older ones alike. It's destroying marriages. It's an invasion from hell that the enemy is using today. In years gone by, a person needed to go to a sleazy porn shop; today you can get it on the Internet.
PE NEWS: Is porn or sex addiction real, or just an extreme example of lust?
BOWMAN: While lust can take on a variety of forms, one manifestation that has emerged since the sexual revolution is pornography/sex addiction. Specific benchmarks that qualify these behaviors as addictive in nature include the notion of tolerance, or needing more of a substance or experience to continue experiencing the "high," as well as being progressive in nature, meaning that it persists in spite of negative consequences, such as marital discord, financial difficulties, occupational performance, and physical health concerns. A growing body of neuroscience literature suggests that the physiological underpinnings of chemical and sexual addictions are nearly identical, with some researchers comparing sexual addiction to heroin or cocaine addiction.
GRANT: Viewing pornography literally results in physiological changes visible in MRI images of the brain that lead to addiction and addictive behavior. So while the sin of lust is a spiritual dynamic that can lead to and perpetuate the use of pornography, the physically addictive nature of viewing it makes the bondage all the more crippling and complex to break.
Further, images of the brain viewing pornography indicate usage by Christians is even more addictive than for secular viewers who have no convictions about it.  Because most Christians privately associate pornography with sin and forbidden behavior, the stimulus of viewing it creates even stronger releases of chemicals in the brain that heighten its addictive nature. Yes, lust is involved, but this is much more than a spiritual battle alone: it's physiological, mental, and emotional.
TRASK: It's a real thing, borne out of lust. It's destructive and becomes habit forming. People are bound by it. We don't really know the full depth of it. I used to say to pastors, if you can't control it, get rid of the computer.
PE NEWS: If a person struggles with problematic sexual behaviors only occasionally, is it still sexual addiction?
TRASK: Studies have shown and testimonies have told us it won't be just once a month. People will visit those sites again and again with regularity until it becomes an obsession. It's an evil from which only God can deliver people.
BOWMAN: Patrick Carnes, the grandfather of the sexual addiction movement, suggests that it is the function of the sexual behavior, and not its frequency, that should be used to make this determination. There are some in the Church who would suggest that anyone who struggles with viewing pornography on a semi-regular basis is in fact an addict. This is a dangerous paradigm to operate in as it misunderstands the nature of addiction. When the viewing of pornography has specific rituals associated with it (such as only when a spouse is out of town) and serves the primary function of purposefully changing one's mood (from stressed to calm, bored to excited, for example), it is likely an addictive pattern of behavior, even if it is infrequent. Pornography addiction is certainly present in the Church, but we must be careful to not unintentionally label something as an addiction that may not truly fit the definition.
PE NEWS: If a person is struggling with problematic sexual behaviors, why can't it just be prayed away?
TRASK: Prayer, Bible reading, and living for Christ are strong components to be victorious. We know prayer is powerful. But with many people who become trapped in this there also is a psychological element. For those who have become captive by this, professional help is needed as well. It's not either-or. They go hand in hand.
BOWMAN: The spiritual disciplines are an essential part of any healthy recovery program as they help move us out of the sense of shame and isolation that fosters addiction and into a greater sense of connection and grace that serve as the ingredients of healing. While these elements are a necessary component of recovery, they are rarely sufficient. In Romans 12, Paul makes a compelling argument for the process of transformation and living above the influence of the cultural context that we exist in, and immediately follows these statements with a reminder that we exist as a part of the body of Christ. Most clients I have worked with in my years as a therapist who elect to stay in isolation and secrecy, praying away their addiction, never truly recover. The process of healing often requires a sense of accountability and vulnerability that can only be experienced in bearing our souls to another.
GRANT: Prayer is absolutely essential. Most people struggling with sexual addictions benefit from qualified Christian counselors as well as prayer. Just as a Christian individual with a serious physical disease will not only pray but go for medical help, those struggling with crippling sexual addictions including pornography should seek Christian professional help as well if their problems persist. Lifestyle changes are needed to help protect ourselves from vulnerability and secrecy where Satan can perpetuate our bondage most effectively.
PE NEWS: What role does the Church play in helping individuals who are struggling?
GRANT: The Church should be a place of healing where those who struggle with all kinds of addictions and brokenness can find Jesus and support for the healing journey rather than judgment. Thankfully for all of us, it is for the broken, the sick, and those in bondage that Jesus came. As a reflection of Jesus in our communities, the Church should be the best place that those addicted to pornography and in sexual bondage can find help and healing. If our churches aren't those kinds of places, where can struggling people go?
TRASK: We need to protect and educate young people as well as adults from the dangers and depth of this whole matter so they don't begin to experiment. Pornography is like drugs. A person doesn't necessarily become an addict overnight. He or she begins to experiment. The Church has a responsibility to instruct, warn, and safeguard against it. The Church has a responsibility to deal with those who have become a victim of pornography so that they become delivered through the power of Jesus Christ. They can have a permanent deliverance and not just a temporary abstinence.
BOWMAN: The primary role of the Church in fostering hope and healing for those who are struggling with pornography or sexual addiction is to provide a space where these topics are allowed to be disclosed. Pornography addiction is fueled by a profound sense of shame, and when folks, both inside the church and those coming to the church in search of help, perceive messages that real-life issues like sexual addiction are not safe to discuss, it simply compounds their sense of shame and keeps them trapped in their struggle. In addition to fostering healthy conversations about sexual struggles, it is important to also offer a model of healthy sexuality from a biblical perspective. It is not sufficient to simply help a parishioner stop a behavior; they need a new experience of God and of themselves as they heal, and may flounder if the space created by the cessation of the sexual behavior is not filled with a healthy model. The pastoral staff taking the lead in modeling preventative behaviors, such as implementing Covenant Eyes, or some similar product, on their personal devices and all Internet-connected devices at the church can be helpful in keeping the staff above reproach. Establishing an addiction recovery ministry within the church can help create a culture where folks can become more authentic in sharing their hurts, hang-ups and habits.